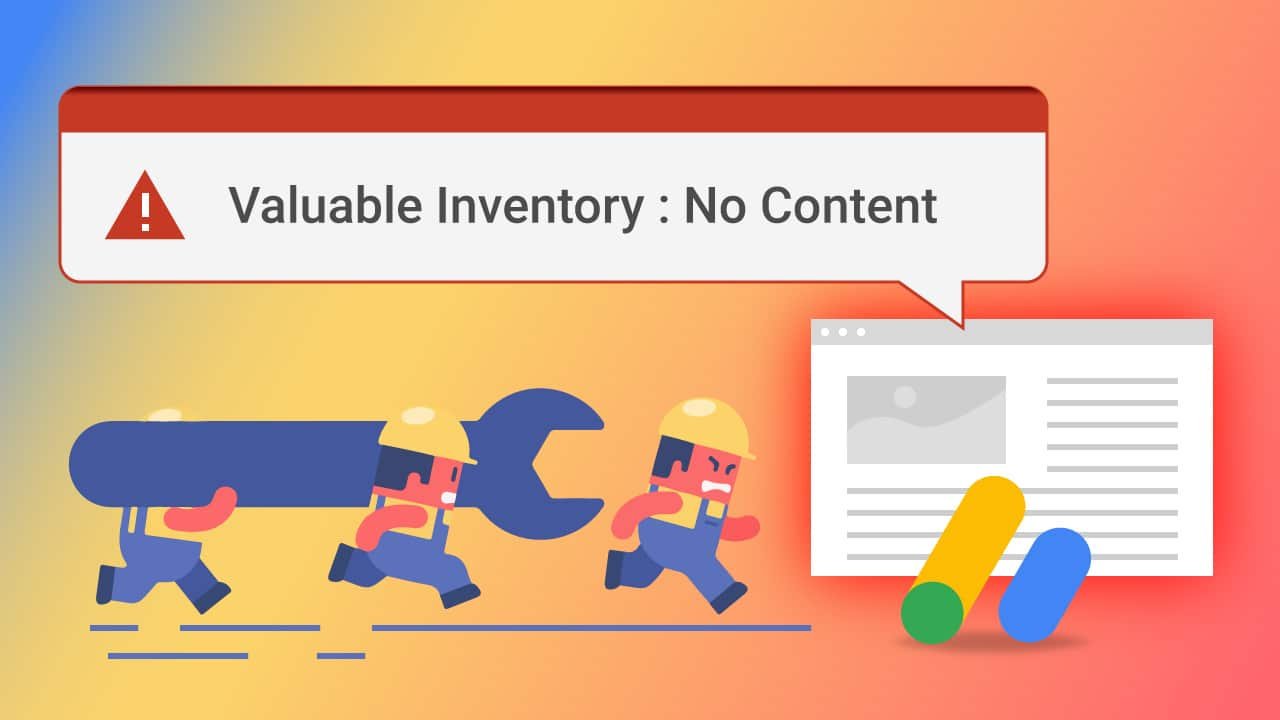 If we see the AdSense community forum and try to figure out the top account, rejection causes, "Valuable Inventory: No content policy" would be on the list.
Despite lots of alternatives present on the internet, Google AdSense is still the first choice for most bloggers. Because of its effortless integration on blogs, high revenue sharing, and relevant ad serving, bloggers prefer AdSense to any other ad monetization network.
But, compared to the previous decade getting AdSense approval on your site is getting tougher. Even though vast numbers of blogs send their applications for AdSense approval, many of them rejected various policy reasons. As AdSense tries to facilitate a healthy ecosystem between the publishers and the advertisers, they have some strict content policies which publishers need to follow if they want to publish AdSense ads on their site. One policy violation is prevalent, which causes account rejection, that is, Valuable Inventory: No content.
In this article, we will discuss the policy violation. We will elaborate on what is the violation is about and how to avoid it.
So, let's get started with
What is Valuable Inventory: No content policy?
The no content policy simply means that you do not have enough content to show AdSense ads on your site. Let's dig deeper.
AdSense is the contextual ad network, which shows content-relevant ads on blogs. If we exclude the retargeting advertisements, AdSense crawlers read the contents on your site and place ads on them. AdSense always prioritize valuable content. That means you should have informative ads on your blog, which helps people. Many bloggers who only focus on the AdSense earnings do hurry to apply for it. They just quickly a couple of articles on their site and send them for approval. As a result, when your site gets checked manually, they reject it because it does not have enough content on it. That is a significant policy violation. This "no content" violation does not limit to the few articles or blogs on your site. It has some more elements,
More media less content:
Media files such as images, videos are an integral part of your blog. But sometimes bloggers put more videos, photos, and flash than the content or writing. The concept behind doing this type of practice is that people think this will make their content large, and more ads will appear on them. But it is definitely a practice AdSense will not welcome. When AdSense is your first priority, you should always give your focus on quality content, not how big you made it. So, these types of blogs mostly get no content policy reason.
Not having many articles or blogs:
For many reasons, AdSense does not approve new blog sites, and having not enough content is also a reason for rejection. Many bloggers do not spend much time preparing a good amount of blogs on their platform. That may also cause this no content policy. After writing 4-5 blogs, they applied for AdSense and got denied.
Placing too many ads:
To gain more ad revenue, sometimes people place too many ads compared to their page and content. There is a standard amount of ads people should implement on their blog so that the readability remains good and users do not get bothered. That is the reason this policy violation might occur too.
Placing Ads on Login or signup pages:
For many reasons, sign up or login areas are more congested, and many people visit that page. That's why many bloggers think why not monetize that page too. But it is not the right thing. On the signup or login pages, you cannot place not much content, and AdSense has strict policies that it will not show ads on the pages which have no to less content.
AdSense bots cannot find any text content:
AdSense bots frequently come to the site and check for the quality of the content. If they got prevented to your site due to some technologies, they might show you that no content because they did not find any content, but actually you have.
How can you avoid Valuable Inventory: No Content policy?
Let's start with the first reason for a policy violation or not coming under the AdSense policies.
Maintain the text content and media content ratio:
As stated before, AdSense is a content-based ad network, and you should be using media as a requirement, not other intensions. You will find nowhere how many images or videos you should place in your article. It is solely on you that how many photos will fulfill your blog.
Write at least 30 articles before apply:
Before applying for the AdSense, at least writes 30 unique and valuable articles on your blog. If you have 30 or more articles and have written them consistently, AdSense will see that you are providing helpful information and have lots of them already, so your chances get high to get approval.
Follow ad placing limits on pages:
If you are manually placing ads on your pages, you should follow the ad limits on a page. According to the different types of ads, there is a specific limit. To get specific information AdSense ad placement policy page can give more precise information.
Do not place ads on the login or sign up page:
AdSense bots are smart enough to count the content quantity on a page in comparison to show ads. That's the reason login or sing up pages should be ad-free.
Do not use any login or bot checking options on your site:
Using any login or bot checking option in order to visit your site will prevent AdSense bots from checking your site. So, you will not want to use these on your site.
Besides them, having pages such as privacy policy, terms of use, and cookies policy pages are often caused no content policy violation.
Thanks for reading. We hope this was informative. Read more AdSense related articles below,