Earn Money
TikTok Vs. YouTube – Which Is Better To Earn Money Online?
Know How You Can Make Money Online From TikTok By Creating Videos?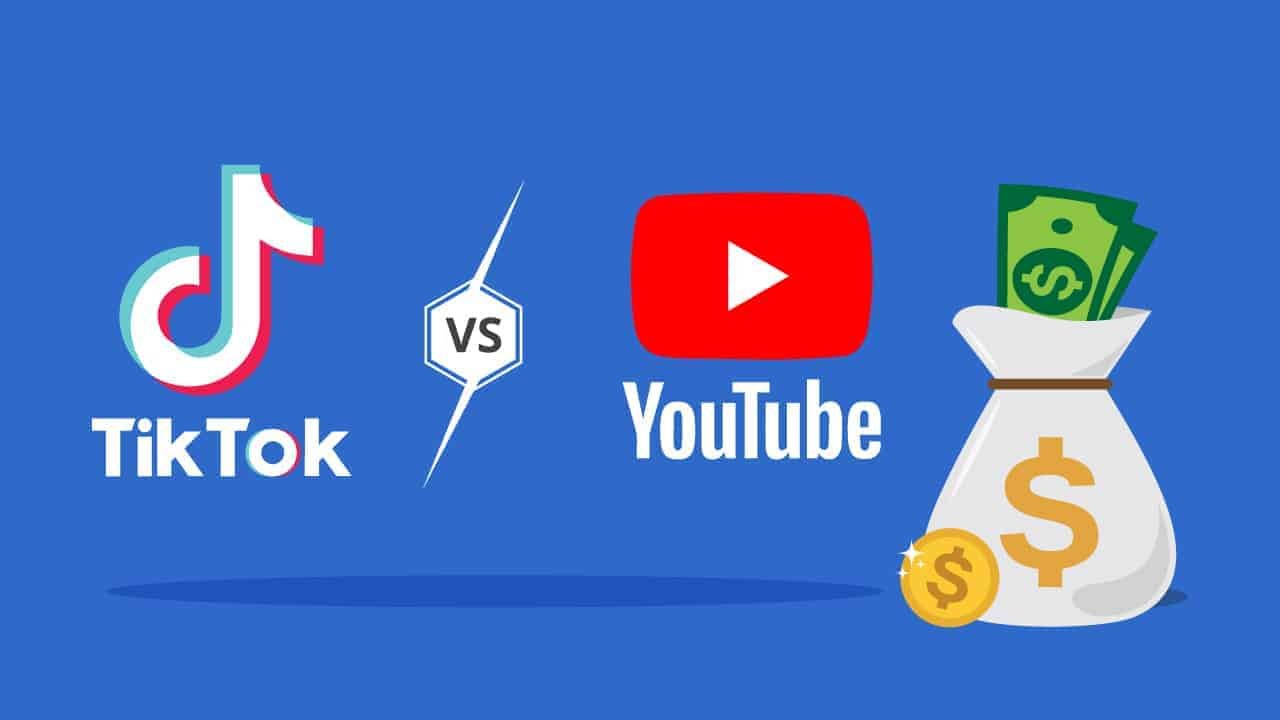 If you create videos and want to earn money online by creating videos, then which platform is better among YouTube and the recently populated TikTok?
Nowadays, you might hardly find any online user who is not aware of TikTok. People from almost all generation is floating in TikTok storm. Maybe you also have a TikTok account. This app records the highest numbers of installs on smartphones within a short period. As so many people are making videos spending hours and hours on that, some of them are also trying to find is there any money making opportunity on TikTok?Coming the question on mind is simple. Where millions of audiences are interacting, it is very much possible that we can make money from it. In this article, we will discuss the TikTok and its money making opportunity. Also, we will give a piece of comparative information about biggest video platform, YouTube. We will be discussing the earning possibilities among TikTok and YouTube.For those who are not aware of TikTok, take a short look at this.
What is TikTok?
TikTok is a short video creating and uploading platform where people can make 3 to 15-sec videos featuring various types of effects, music, and many more. Using the platform is entirely free, and most of its users use the smartphone to operate the app. The app is available in both android and iOS users. The craze for TikTok is increasing day by day. If you look at some statistics, you will be amazed to see that, TikTok has over 1.5 billion installs on Playstore and iOS. TikTok has 500 million monthly active users all over the globe.
Now see what is YouTube as compared to TikTok?
In short, there is no comparison can be made between YouTube and TikTok.There is only the main similarity you can find in TikTok and YouTube is that both are video creating and sharing platform. But there are lots of differences in their mechanism, how people interact there with videos, how you make money on both platforms and rest. YouTube is the second largest search engine just after Google. Every day people watch billions of hour's videos on YouTube.
Moreover, it is a search engine that serves information in the shape of videos. But, not only information, expecting the contents which are restricted for normal people, does not comply with the standard internet usage; you can find almost every type of video. It may be entertainment, news, games, movies, and anything.
Now, as you know, TikTok and YouTube are different types of video-sharing platforms, and maybe most of you already know that with YouTube, you can make money online.  But can you really earn money online from TikTok?
As compared to TikTok, YouTube has a variety of contents. That's why many companies promote their business on YouTube. Let's see,
How to earn money online from TikTok?
TikTok does not provide any revenue to the creators for making videos, no matter how many videos they upload or how many views they got. But there are plenty of ways you can make money with it.
Earn money online from the TikTok emoji:
The best way to earn money online from TikTok is to live stream and emoji. On the TikTok app, you will find an option of live streaming similar to YouTube. When you come to live there, people can encourage you or empress their thoughts by sending emojis. Here is the income. These emojis are not free. You need to buy them from TikTok. These are count as coins. There are different rates of coins. When you pay to TikTok, they give you emojis, which you can convert to emojis. When you send anyone the emoji, the creator gathers those emojis' At the end of the month, and they can collect all their emojis and convert them to money and pay them out.
Gifts from the TikTok Company:
Looking towards your popularity, creativity, how many fans you have, TikTok often provides many gifts to its video creators. That is not a sustainable source of income but still can have a good impact if you have a huge fan base and your people like your videos.
Earn money online by Sponsored videos on TikTok:
Similar to YouTube, you can upload sponsored videos on TikTok. Companies often try to find people who have a good influence on people. On the TikTok, if you have a considerable number of the fan base, you can sponsor any product or service. As per your popularity, you will get the sponsorships.
Making money from popularity:
When you have an immense reputation, you can do so many things with it. No matter what the platform you are famous, if you have a massive audience, you do many things with it. If lots of people are connected with you, it is an excellent thing that you can influence them. You may get an invite for many products or service inauguration or any other purpose, and you can earn money from it.
Earn money online from YouTube:
Neither YouTube nor TikTok directly pays you to make money online. Also, they do not offer money on how many views you get on videos or how many fans or subscribers you have.
Video monetization on YouTube:
YouTube has a video monetization program where people can be a YouTube partner and show advertises on their videos and makes money from there. It is an excellent way to earn money from YouTube, and most of the YouTube creators follow this money making opportunity.
Affiliate Marketing on YouTube:
Another option you have is to do affiliate marketing. You can promote affiliate products to your YouTube audience. On YouTube, you can make long and descriptive videos that help you to generate sales from affiliate business.
Similar to the TikTok, gaining so much popularity can give you help you a lot to make money. You can get alluring offers from companies. You can chek out: How To Earn Money From YouTube? Popular Earning Methods Explained, to know in details how you can earn money online by creating videos on YouTube.
Verdict:
If we compare both the video-sharing platforms, there are lots of differences present not only in money making approaches but also in how the whole process goes. YouTube is far old than TikTok, and YouTube has its own functionalities. However, as TikTok will gain more popularity, more companies will try to put their advertisements like YouTube. But in general if you want to earn money online YouTube currently has many more options compared to TikTok. TikTok is mainly for entertainment purpose video sharing platform but YouTube is beyond of that.
Read more money-making articles: