Earn Money
TikTok Vs. YouTube – Detailed Comparison Explained
YouTube Or TikTok, Know Which Is The More Useful Platform For Video Content Creators?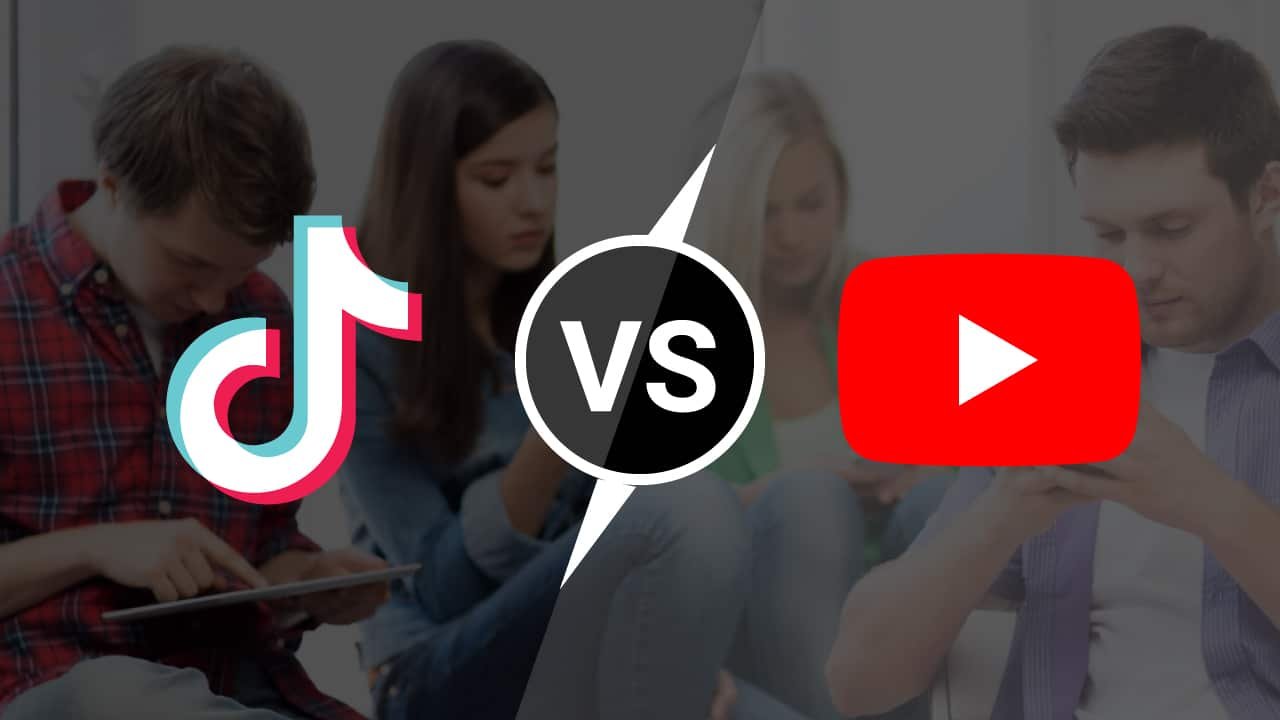 TikTok vs. YouTube is one of the most searched terms on the internet amongst video content creators. They want to know more where they can earn more.
Now a vast number of content creators are online, making videos in a massive amount. They are mostly interested in the earnings on YouTube and TikTok. That is because currently, these two platforms are immensely popular to share videos.
Just a couple of years ago, YouTube was dominating the video-sharing platform across the internet in terms of most users, watch times, the number of videos, most popular entertainment platform. But it was until the arrival of TikTok. Now in terms of users, TikTok is giving strong competition to the old player in video sharing, YouTube.
The journey of YouTube started so many years ago, but TikTok is comparatively young. But in this short period, TikTok has gained so much popularity that many people started comparing it to the video-sharing giant YouTube. From the day of TikTok's launch now TikTok is much more than a simple video sharing platform. But, is it right to draw a comparison between YouTube and TikTok? This article will help you reach the answer if you have the same question on your mind.
Here you will come to know a specific context on TikTok vs. YouTube. We will go through some point based differences, which will help you to understand their core differences, their functionality, their earnings, and many more. We will distinguish their significant differences on many vital points, which would be enjoyable as well as informative.
The differentiation we will walk through on the points;
Genre Of YouTube And TikTok
How YouTube And TikTok Make Money?
TikTok Vs. YouTube User Comparison
YouTube vs. TikTok Comparison In The Video
TikTok Vs. YouTube, In Terms Of Earnings
The Popularity of Both Platforms
1. Genre Of YouTube And TikTok:

The first point is the genre, that means here we will cover the platforms they are? Who operates them and other necessary information about them? As they are both the most popular platforms on the internet and do not require more information about them, we will describe just an overview.
First see,
About YouTube:
YouTube is a US-based video sharing platform where people can upload videos. That platform is owned by the internet giant Google. Since it's establishment, the platform gained billions of viewers, tons of videos on it. As time passes, Google has made numerous changes to that, and every android user ha it on their devices pre-installed.
Whether you are looking for entertain videos, breaking or live news streaming, movies, live events, song releasing, everything is happening on YouTube. As it is a free platform, anyone having a Gmail, can create his/her free channel on YouTube and upload videos there.
About TikTok:
Most of its parts are made in China if we see on our smartphones, but there are very few popular social media apps. Most of the popular social sharing platforms, whether you take Facebook, Instagram, or Snapchat, are all US-based. But until the arrival of TikTok.
Tiktok is a popular social media platform for creating and sharing short types of videos. It was founded in 2012 and owned by Chinese based company Byte Dance. It was renamed as Tiktok when Musical.ly bought in 2018. Now it is the second most downloaded application on the App Store and Google Play. Tiktok makes it easy to combine music, filters, and several effects into a video, and making it easy for people to express themselves. Here you will get about 15 seconds to 1 minute to make a video. It is trendy among young audiences because everyone is between the ages of 16 to 24.
2. How YouTube And TikTok Make Money?
Earn money with TikTok or YouTube or how to earn from these platforms is no doubt the most searched terms about them, but as we need a clear differentiation among both platforms, we need to highlight how both social platforms make money. Get start with,
How TikTok makes money?
As it is an immensely popular platform, many people have an eye into it. Not only getting well known on TikTok, but many people also want to know behind this huge setup, high tech mechanism, server costs, where the earning is coming. Running a worldwide app is not a matter of thousands of bucks. So, how the TikTok owner earns from TikTok?
Well, there is not specified information available. We just guess about TikTok's money-making options.
Sometimes ago, TikTok introduced advertising for businesses, individuals to promote them on the platforms. When you have 500 million audience base, it is the first approach that platforms take to make cash from there. Through TikTok advertising now people can promote their business. It is similar to other ad networks, where you get so much functionality to control ads. By creating the TikTok advertising campaign, you can reach out to millions of potential customers. This is mostly the primary income source of TikTok.
TikTok users can buy coins in TikTok, and those can be used for various purposes. Firstly if you are a user, buy coins from TikTok spending real money, you can give those coins to some TikTokers on a live streaming session. According to currencies over the world, You get coins as per your currency, and you can use them. This is also a good earning source for TikTok.
If we see both platforms, YouTube has better options to promote products, and still, it is the first choice for businesses. That is because YouTube has various types of audiences. Also, demonstrating the products on YouTube is much more comfortable. But, TikTok has also reached billions of users, which makes it alluring for businesses and brands.
How YouTube makes money?
Well, compared to TikTok, it is much popular and much more reach to almost all types of users. Compared to TikTok, they have more category videos so, YouTube has more options to earn money.
That is a similar thing to TikTok ads. Still, as it has a more user base and a considerable number of advertisers reach a variety of audiences, it's earnings are quite massive. On YouTube, Google serves various types of ads, skippable ads, non-skippable ads, banner ads, ads on YouTube home page, and many more. Although the revenue from YouTube has not been specified, this is the primary revenue source of YouTube.
Recently YouTube has come up with a membership program for viewers similar to Amazon Prime, Netflix, where people get access to premium videos. Here on YouTube, people who go for a premium get an ad-free experience on videos, background play, and many more. It is also a revenue-generating source for YouTube.
On YouTube channels, there are options for joining them. If you are interested in any specific channel, you can take membership to their channel. After that, you start getting exclusive content from the creator. There YouTube takes a percentage of the membership. It is also an earning source of YouTube.
YouTube is on the platform for a long time. They have lots of more options and functionality on them, which gives much more earning source to it. Whereas TikTok is a newcomer. For every platform, it takes time to see the earnings. But in a short time, TikTok's valuation is impressive.
3. TikTok Vs. YouTube User Comparison:
The user base is an important point to make a detailed comparison between YouTube and TikTok as both platforms are video sharing and watching platforms the user base also should be same but actually not. There are a lot of differences between the audiences on YouTube.
YouTube User base:
YouTube has 2 billion monthly users worldwide. According to reports, almost 14 percent of traffic comes from the USA, 8 percent from India. So, these are two big countries having a massive audience. It is the second most popular social media platform just after Facebook. According to Statista, 81 percent of YouTube users are aged between 15 to 25 years.
The user base in TikTok:
According to reports, TikTok has over 800 million monthly active users worldwide, and 43 percent of TikTok users are from India. Forty-one percent of TikTok users are aged between 16 to 24. Although the journey of TikTok started far later on YouTube, this platform is gaining high popularity in a very short time.
4. YouTube vs. TikTok Comparison In The Video:
Both platforms are video sharing platforms. Here the essential thing is videos, Various types of videos. They are in different duration, different types. In terms of videos, there is no difference, but in terms of content, there are differences. So, let's have a distinction between YouTube and TikTok in terms of videos.
YouTube video:
On YouTube, people uploads 500 hours of video every minute across the globe. There are no such upper or lower limits of video duration. You can upload any type of videos on YouTube if they comply with YouTube policies. From education, to entertaining, from demonstrating educational things, to online classes, Vlogs, comedy, and almost everything you can imagine, is available in the shape of videos is present on YouTube. It is excellent for promoting business, releasing new songs, gaining so much popularity.
TikTok video:
TikTok is a short video sharing platform where you can upload video duration up to 15 seconds. So, in that short timing video, you can create videos by lip-synching with music, create short comedy videos, add many visual effects, can dance, or skills, act. Actually, most of the videos are entertaining. According to reports, TikTok gets 1 billion videos views per day, which is massive.
5. TikTok Vs. YouTube, In Terms Of Earnings:
That is probably the most interesting and desired thing for many people with more earning opportunities on YouTube or TikTok? Most of the content creators, whether they come on YouTube or YouTube or both platforms, their main goal is to earn money. So, you will get a better clarification on the earnings of both platforms. As mentioned above, how these platforms make money will help you better understand the money-making process here. Firstly see
How to make money on YouTube?
If you want to make money on YouTube, there are lots of options. There are lots of people who are already lots of creators who are making money. Most of the popular YouTubers who have subscribers in millions, use the primary earning method that is,
Making money from Google AdSense:
After complying with The monetization criteria on YouTube, creators monetize their videos with AdSense ads. Google AdSense is a good way to make money. Google shows advertisements on their videos and shares revenue for that with the video creator. They serve various types of advertisements as mentioned above on how YouTube makes money section.
Earn money from YouTube from affiliate marketing:
If for any reason you cannot use AdSense, You can earn money without Google AdSense. Promoting affiliate products on YouTube is the second-best option to earn money. Affiliate marketing is one of the buzz words among online earners. Through their videos, they refer products to their audience; every time purchase occurs, they get a commission on that.
Selling your own product or service:
Now, people are more engaging in video content, so making videos is a great idea to sell out your own product or service. Showcasing your product, describing it, is a very effective way to sell your products. Besides, lots of businesses consider YouTube to promote their business. That is an excellent platform where you can introduce your product or service to a broad audience.
Earning on YouTube through Super chat and Super Sticker:
If your YouTube channel is monetized, you might get an earning option, YouTube Super Chat, and Super Sticker. On your Live streaming, when lots of people text you, and if someone wants their chat to be highlighted, they will send you money. That is also a legitimate income source on YouTube.
How to make money in TikTok?
Here you will find your answers related to TikTok earnings per month, TikTok earnings per month. Well, firstly you are looking for a similar type of earnings of YouTube, that is not going to happen.
TikTok has a massive number of audiences worldwide, so it is great for brands and businesses. If you are famous enough on TikTok, you might get a proposal from big brands to promote them through your account. You might get handsome cash to promote them on TikTok.
Promoting affiliate products:
Promoting affiliate products would also be good to earn money using TikTok. You can promote affiliate products through your TikTok videos. It is similar to promoting them on YouTube. But as you get fewer duration, you have to find the better way to do it on TikTok.
TikTok users can buy coins through real money and use them for many purposes. Once you go live on TikTok, you avail of the chance to receive coins. If someone gets pleased with your video, they can give you coins. After collecting those coins, you can convert them into diamonds and later transfers them through your PayPal account. That is the inbuilt earning source on TikTok.
If you are searching for how to monetize your TikTok videos like YouTube, there are no options currently. TikTok does not give you money for posting there, nor YouTube does. The earnings can be as per your number of followers and video quality
6. The Popularity of Both Platforms:

Currently YouTube has more number of users, but TikTok users are also rising high in numbers. Below see some points on popularity Of YouTube and TikTok,
YouTube popularity:
Just after Facebook, YouTube is the second most popular social media platform.
Every day, people watch 1 billion hours of video on YouTube.
YouTube is the second most used search engine just after Google.
TikTok popularity:
TikTok is the fastest growing social media platform in the world.
It has over 0.5 billion installs on Google Playstore.
It is the most downloaded app on Apple App Store.
Users spend 52 minutes on average per day on TikTok.
TikTok is available in 155 countries.
Thanks for reading. We hope this was interesting. Read more articles,