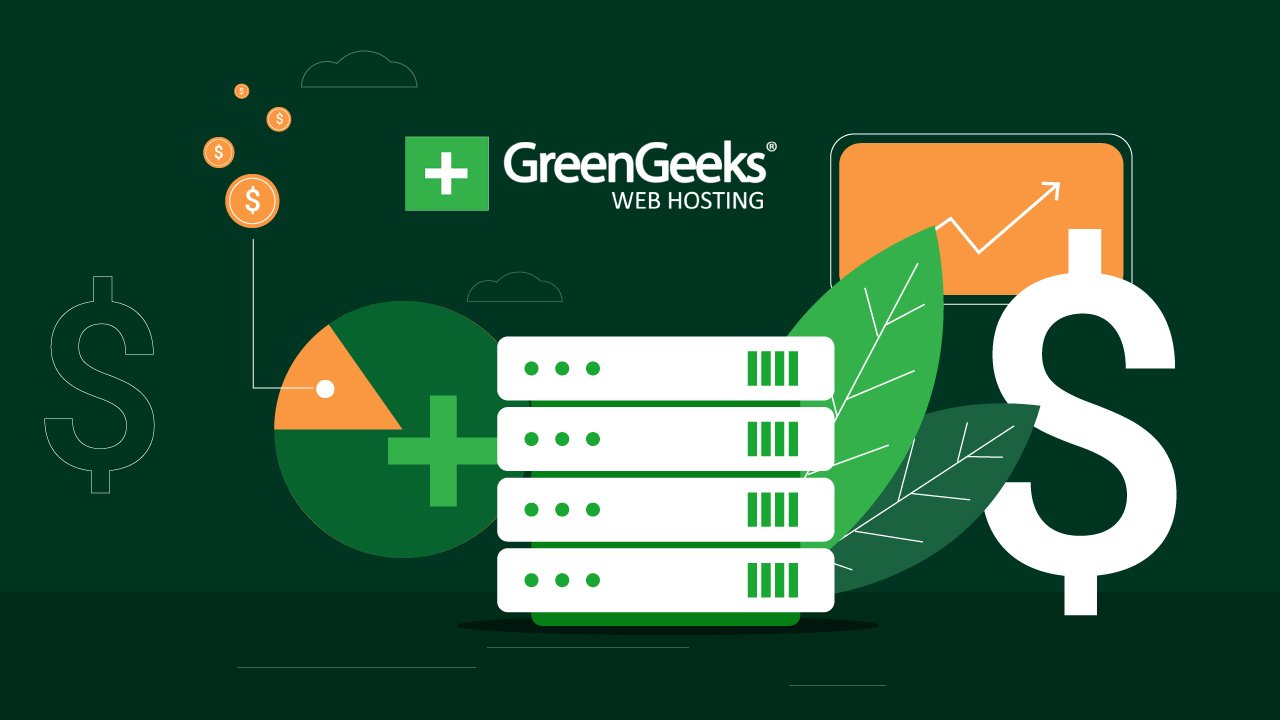 If you are interested in affiliate marketing and have narrowed your niche to web hosting, the GreenGeeks affiliate program might be a great option.
There is no end to hosting companies that offer very alluring commissions to their affiliates. But it's not all about the amount of commission that helps bloggers and website owners fill up their pockets. The company should have a good reputation and also the product and service are also up to the mark.  GreenGeeks has a positive image for people who are concerned about the environment and climate change. By taking various initiatives, the company claims to offer a green hosting service that does not have any carbon-positive impacts on nature.
However, as an affiliate marketer, you have a great opportunity to join, the GreenGeeks affiliate program, and earn hefty commissions.
But if you move forward, you would like to know more about it. So, here we have curated all the important points that you would be interested in before considering joining.
Here we will be covering topics,
What is GreenGeeks?

GreenGeeks web hosting solutions.

What is the GreenGeeks affiliate program?

GreenGeeks affiliate features.

GreenGeeks affiliate commissions.

How much commissions GreenGeeks offer?

When do you get paid from GreenGeeks?

Is it worth joining the GreenGeeks affiliate program?
So, let's get move on.
What is GreenGeeks?
GreenGeeks is by far the most notable green web hosting company. Green hosting companies use renewable sources of energy and use eco-friendly energy efficient technologies so that they can minimize global warming and bad impacts on nature due to the same. However, GrreenGeeks is a California-based company that was founded back in 2008.
Now, if you are not familiar with the green web hosting term, you may consider reading: What Is Green Hosting Service And Why Should You Care About it?
After all these years the company has become a pioneer not only in adopting green initiatives but also a very affordable yet powerful hosting provider.
The company is offering so many features to the users that are enough to run a successful website. 
Companies offer key features that attract users the most to choose their service over others. Below we are mentioning some of the highlighted features of GreenGeeks web hosting that not only help them acquire more customers but also, makes the job easier for affiliates to sell their products to people.
However below we are mentioning the features that GreenGeeks offers to every package even with the cheapest plans.
Free domain for one year:
Yes, most web hosting companies do the same and the good thing is GrenGeeks is no exception at all. You get your domain free for one year. After that, you have to renew it. It is a good gesture from the company's end, as you are just starting your business, and they are helping to get started. Once you have established, now you can pay for your hosting and other expenses.
Free SSL certificates:
SSL certificates not only secure your website from hackers but also, protects user information from going to the wrong hands. Also, SSL certificates effects on SEO rankings of your site. But, it's not a free service. You need to buy the certification separately. The good thing is, GreenGeeks offer a free SSL to your site that offers a basic layer of security.
Daily automated backups:
Ste backup is a must-have feature for your website whether you are running a business with it or not. If we ignore the fact about attacks on your site by spammers which is not a good idea at all, you may several situations where you may need to restore your website. If you do not have a backup of your website, you may face severe losses and damages. Your reputation might be destroyed.
So, GreenGeeks backs up your website on a daily basis so that you do not face any unwanted troubles.
24×7 customer support:
After-sales support becomes even more significant when you are providing services related to web hosting. Things are way more complex than other services. One single mistake may lead your website to crash or something other mishappens. In all that unpredicted situations, a dedicated customer support team is very important. You get 24×7 support via different channels in GreenGeeks.
SSD storage:
GreenGeeks web hosting company has Solid State RAID-10 Storage Arrays, that give you much higher speed and performance compared to usual storage. Most companies nowadays started offering SSD storage, but they are quite expensive once. But here at GreenGeeks, you get those at affordable pricing.
These features are common with almost all packages from the company. Customers should check these points before making their move in choosing to host their website or application.
However, let's check the packages and plans that are available to purchase.
The hosting plans GreenGeeks offers:
Shared.

WordPress.

VPS.
Reseller.
GreenGeeks Shared hosting:
GreenGeeks offers three shared hosting plans.
Lite:
The Lite plan is for beginners where you can integrate only one website. If you are likely to start your first-ever website for business or blog, this plan is equitable for you. It is the cheapest plan you can have. The pricing starts at $2.95 per month.
Pro:
The Pro plan is suitable for intermediate users. You have created your website a couple of times ago, and now, traffic is coming from organic, and you are looking for more resources and performance. This plan starts at $4.95 per month.
Premium:
If you have an online business, just have a website full of traffic, or looking to start an online store, the Premium plan is the answer. The cost is $8.95 per month.
These are the shared hosting plans that can support each and every type of business.
Let's come to the WordPress section.
As we know, WordPress is the most popular CMS in the world where most people prefer to create their websites, hosting companies now offer to host solutions that have WordPress-centric features and necessary security options.
GreenGeeks WordPress hosting features:
GreenGeeks WordPress hosting plans are identical to the shared hosting packages even with the pricing and names.
You get same,
Plans here.
The Lite plan is suitable for one website.
If you want to host two or more websites, you have to choose between Pro and Premium plans. These plans offer enhanced security and performance features.
Managed VPS hosting:
Managed WordPress hosting is the solution for people who are looking for features, personalization, and security like a whole server but don't have a budget. Typically people switch from shared hosting to VPS, when their requirements rise.
GreenGeeks offers managed VPS hostings.
The packages are divided according to the RAM options. There are three RAM options are given.
2GB RAM.

4GB RAM.

8GB RAM.
2GB RAM:
The 2GB RAM version is the entry-level VPS hosting. That offers features such as 50GB SSD,10TB transfer, and 50GB SSD disk space.
The price starts for this hosting plan at $39.95 per month.
The next one is,
4GB RAM:
This VPS hosting solution is the best-selling VPS hosting in GreenGeeks that starts at $ 59.95 per month. It offers 4GB RAM, 10TB data transfer, and 75GB SSD disk space.
Lastly,
8GB RAM:
That is the most powerful VPS hosting solution in GreenGeeks. It offers 8GB of RAM, 150GB SSD space, and 10TB of data transfer. The plan is suitable for big websites which get huge monthly traffic on them. The pricing starts at $109.95 per month.
All the hosting plans 
All the VPS hosting plans include features such as,
Free SSL.

Free website migration.

cPanel.

Data centers from various regions in the USA, Canada, and the UK.

Dedicated IP.

Advanced security.

300% green hosting.

Pto-active monitoring to counter any unwanted issues.
Also, as per their commitment to nature, they will plant a tree for each account created on GreenGeeks.
Reseller hosting:
Many people have deep knowledge of web hosting but they do not want to become an affiliate. However, becoming an affiliate and a reseller are two different things. As an affiliate, you get a fixed percentage of each and every sale you made. But as a reseller, you can convince people and charge the amount as per your preference. 
However, you can resell hosting to people with GreenGeeks.
Reseller hosting:
Many people have deep knowledge of web hosting but they do not want to become an affiliate. However, becoming an affiliate and a reseller are two different things.
GreenGeeks offer three different reseller hosting plans as per the features, and performance.
RH-25:
It is the basic reseller hosting plan that offers 60GB of SSD disk space, 600GB data transfer, 25cPanel accounts, and more. The plan starts at $ 19.95 per month.
The next one is the,
RH-50:
This reseller hosting plan is the best-selling in this segment which offers 80GB SSD disk space,800GB data transfer, and 50cPanel accounts.
Lastly, the
RH-80:
That is the most expensive reseller hosting plan is GreenGeeks which costs $34.95 per month. Customers get features of 160GB of SSD storage, 1600GB data transfer, and 80cPanel accounts with this package.
Here, we would like to mention, if you are likely to resell web hosting, you are going to need very deep knowledge of the whole matter. Once, you get the hosting, you need to split them into the hosting accounts which you are going to sell.
However, these are a basic overview of GreenGeeks web hosting plans and features. Now, let's come to the GreenGeeks referral and its features.
What is the GreenGeeks affiliate program?

GreenGeeks affiliate network is a lucrative way for bloggers, affiliate marketers, and content creators, to promote GreenGeeks hosting solutions to people and in return earn a handsome commission on qualified sales. 
GreenGeeks affiliate program is no doubt one of the best hosting affiliate programs, which is absolutely free to join. For a single account signup, affiliates get a huge $100 commission and according to the number of sales, the commission rises.
Signing in to the GreenGeeks affiliate network is super easy. Below we are mentioning some notable,
GreenGeeks affiliate network features:
As an affiliate, you might be interested in knowing the features of the company. Below, we are mentioning key elements of the GreenGeeks affiliate program,
Dedicated affiliate team:
As a new affiliate, you may have many queries and confusion about the product. Many affiliates lose their affiliate accounts when they do practices that are not allowed. When you join an affiliate network, it should have a supportive team, that can assist you on any matter. For affiliate marketers, not all companies are helpful enough. But that is not the case with GreenGeeks, they have a dedicated affiliate team to support affiliates.
Your referral link might not work, your monthly payments not getting settled, and many other things may occur. You will require support in that situation the most.
Lots of promotional material and banners:
When you signup into an affiliate network, you are provided with a unique referral link. You can musk the link into attractive texts, and call-to-action buttons. But it does not mean that you will click those CTA buttons. To attract more people to click on your affiliate links, you may require attractive banners and engaging promotional materials. These banners are made of HTML and other codings with links placed inside. 
These promotional banners are very helpful in gaining more attention from potential customers. GreenGeeks offer those promotional banners for all affiliates. They are available in different shapes and sizes. According to your preference, you can use them wherever you want.
Advanced real-time statistics:
Evaluating the results of your effort is impossible without a detailed and precise analytics report. All the contents of your website, their engagement, and performance, can be tracked through third-party analytics tools such as Google Analytics, SEMRush, and many more. But to track the affiliate links, you will require an analytics mechanism from their end. Many affiliate programs, lack analytics reports, which makes it difficult to predict the outcomes of the affiliate. 
However, GreenGeeks offers advanced real-time tracking reports. That means when someone clicks on your affiliate URL, you come to know in real-time. You get various detailed reports too such as how many conversions you got from the clicks, how many people ignored, and more.
Competitive commission:
Even though there is a fixed commission for each sale, as per the number of sales you make, you can earn even more if you perform the best. GreenGeeks watch for the best-performing affiliates.
Besides, they offer multiple landing pages to tailor traffic for higher conversion, unique affiliate tracking URLs, custom campaign tracking, and many more.
As an affiliate the most important thing is the commission percentage, what is the earning potential through the affiliate program you are about to join.
So, we are going to mention earning related points from the GreenGeeks affiliate program.
What is the commission in GreenGeeks?
GreenGeeks commission differs by the number of sales you make each month. Higher sales attract more commission on sales. There are different earning tires which are as follows,
1 sale per month: $50 /sale.

2 sales per month: $60 /sale.

3 sales per month: $70 /sale.

4 sales per month: $80 /sale.

5 sales per month: $90 /sale.

6+ sales per month: $100 /sale.
If you can manage giving more than 10 sales in a month, you can ask for a custom commission percentage.
What is the payment cycle for affiliates in GreenGeeks?
GrenGeeks has a 30-days referral payment because they offer a 30-days money-back guarantee to customers. The payment is settled on the 15th day of every month.
Payment methods for affiliates in GreenGeeks:
GreenGeeks affiliates can cash out their earnings via PayPal or wire transfer.
Is it worth joining the GreenGeeks affiliate program?
GreenGeeks has made its name in the green hosting segments. It is a renowned name for the same so, as an affiliate, you need to put less effort to consider people choosing the company as their hosting solution.
Also, the commission percentage is quite high. The company has paid over $6.5 million as commissions to its affiliates. The company states that more than 15k affiliates have joined the GreenGeeks affiliate program. It is immensely popular among web hosting affiliates. So, if you are looking to walk on the same path, it would be a great addition to your affiliate business. 
Thanks for reading. Explore more affiliate-related articles,