Digital Marketing
Excellent Tips To Reduce Your Email Bounce Rate
You Need To Pay Serious Attention While You Face Hard Bounce Rates On Your Email Campaign.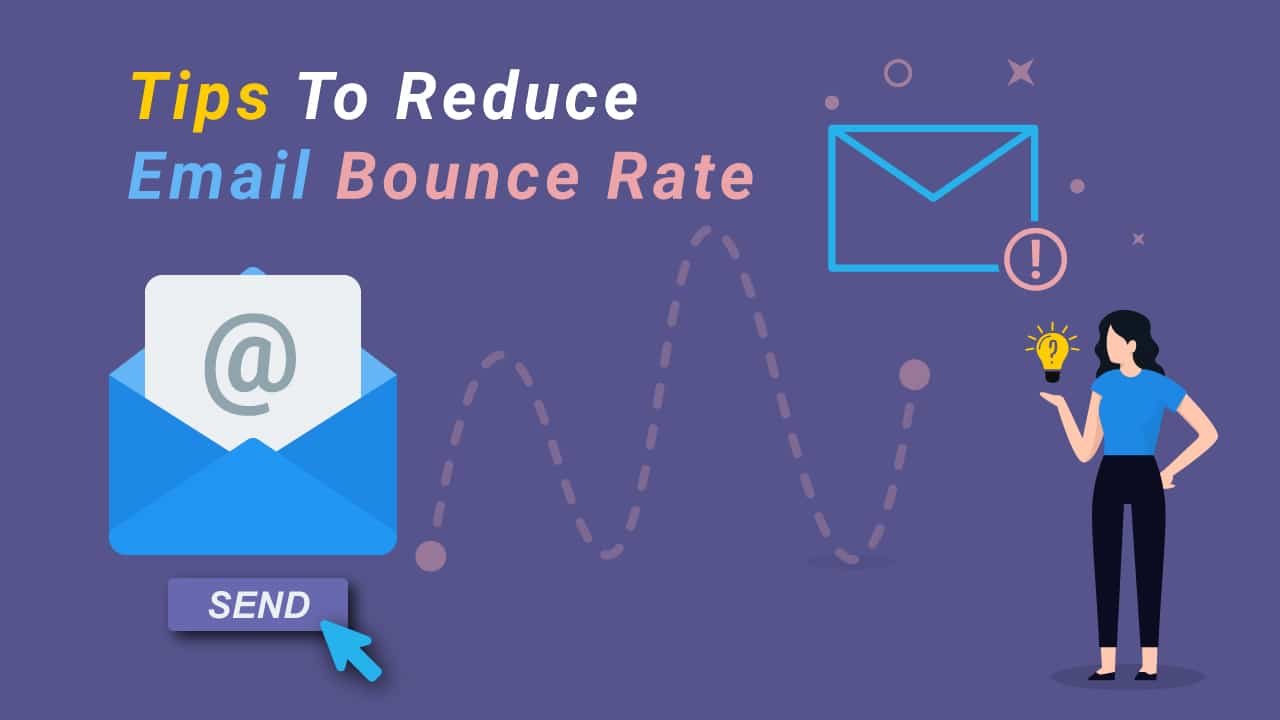 Email marketers often face a problem of email bounce rates which not only impact their current campaign performance but also on their next newsletter marketings.
Email marketing is an excellent way to promote your business, to reach a large number of people. Now, almost every business uses email marketing, whether to inform about a new product launch, fresh offers.
If you are running an online business or want to stay in touch with your customers, you probably have been using it. People often face a common issue on newsletter marketing that is bounce rate. It occurs when you send an email to someone, but it does not get delivered and return to you. This is a usual problem, but you cannot let it go by taking any further action on this. It will bring some serious negative impacts on your email marketing campaign unless it gets solved. In this article, we will go through email bounce rates, what is all about, and how we can fix that issue. Before we dig deep, have a brief look at-
What is email bounce?
When you hit the "send" button after creating your email, your SMTP server takes your email and try to deliver to the recipients you have selected to. But for many reasons, it does not get delivered. It bounces, and the SMTP collects that and returns the mail to you. When you try to send emails, and it does not get delivered, you get informed about it by your email provider. They also specify the reason why the bounce-back occurred.
For running a newsletter campaign, you rely on your ESP(Email Service provider). They use the technology, and it calculates the bounce rate of your campaign. However, the calculation is pretty simple enough. Take the number of bounced emails and divide it with the number of emails you had sent. Then multiply it with 100. That's the email bounce rate of your campaign.
There are two types of bounce rates, Soft bounce, and Hard bounce.
Soft bounce rates:
A soft bounce happens for some temporary reasons, which are mostly not in your hand. It would happen for reasons such as,
If your recipient's mailbox is full, your email will bounce back.
Server down also may cause of email bounce backs.
Bulky emails that contain large files, images attached along with mail often bounce back.
Email service provider when facing a soft bounce, they try a couple of times again to send the email to your recipients.
Hard bounces:
Hard bounces are the maters you should be worried about and take the necessary steps towards to prevent this. These bounced emails are those who never be delivered to the recipients you wish to send. Like the soft bounces, hard bounces would be for many reasons,
The first prominent cause would be the email address you are giving may not valid.
There might be the domain is no longer available.
The email content is also a significant concern in the email bounce rate. If your email is containing some spam type words, then you are probably going to see hard bounces.
IP blacklisting might experience your hard bounces. Sometimes performing some unfair practices, your IP reputation gets down. That might be a reason for your hard bounces.
Now,
should you be worried about it?
After reading the above portion, you might figure out, bounce rate is a big problem, and with the soft bounces, you do not have much to perform. However, you should be severe on the hard bounce rates. If you face the bounce rate high and don't take any action, your email campaign performance will go down. You will face email deliverability issues.
How to reduce email bounce rates?
There are plenty of practices you can try to reduce the email bounce rate.
Grow your email list genuinely:
Do not go for purchasing an email list from somewhere on the internet. People do not like to get emails from somewhere they don't have an interest in. On your collected email list, you don't know are they really interested or not. Instead of that, if you go for a permissible email subscribing form on your site, it is best. People are on your website; they already know about you, and interested people will sign up for your newsletter. So, it will increase the engagement, and so your email marketing performance will improve.
Keep monitoring your campaign:
Always keep watching your campaign that what is the performance. When you see any hard bounce rates, take prompt action on the emails where you face the problems. It's is inhabitable to remove those email address fro your email address. If you do not eliminate those errors, your deliverability rate will fall day by day.
Choose a reputed email service provider:
Choosing a reputed email service provider for your campaign is very important if you want to reduce your email bounce rate.. The cheap is not always the best option. If you are not using any dedicated IP, you might be affected by the mistakes or spam practices performed by someone else. Except for the dedicated IP, you are using a shared IP like any people have been using with you. As a result, if the IP has a bad reputation, the bounce rate will increase high. If you are looking for effective email marketing tools, you can give a try
These are one of the topmost email service providers and used by so many marketers worldwide.
Maintain the consistency of sending emails:
If you see your inbox, you will probably find it is stuffed with so many emails. That's the story of most of the people. They get too many emails per day, and no one would appreciate getting any unnecessary emails. Now, what is mean by unnecessarily? If you take too much time to drop a mail, people might easily forget about you. They will then consider you as spam, even though they have signed up for your newsletter. So, make a schedule and drop them emails periodically.
Focus on your email content:
As your marketing effort, you will always try to allure people. You will craft excellent looking emails packed with outstanding images, graphics eye-catching buttons. Besides that, you should be aware it does not seem like spam for people. All the things on your emails should be user-friendly, where people can easily get an idea of your mail. You should avoid using spammy or tricky things in your mail; otherwise, your recipients will mark it as spam. That will cause your hard bounce rates.
Thanks for reading. We hope these tips help you to reduce your email bounce rates. Read more related articles,