Digital Marketing
5 Effective Email Marketing Software Or Tools For Online Marketers
If You Are Looking For The Best Email Marketing Software In 2019 Read This Full Article.
The email marketing software is the most important thing for online business. Select the right email marketing tools for your email campaign.
Now the competitions of online business have increasing day by day. In this situation, if you want to build a successful online business, then you should need a good email marketing software. According to Satista, approximately 269 billion emails were sent and received each day in 2017. And it could reach 333 billion in 2022. A good email marketing tools have lots of benefits. Whether you are a business entrepreneur or a marketer, you always try to keep in touch with your clients, but it is not always possible to get it. So, in this aspect, you should need a perfect email automation system. Which will still help you keep regular contact with your clients. Besides that, if you are not familiar with email marketing and its effective strategy, then you can read:-
There are many email marketing software or tools which is available in the market. But sometimes we do not find the right platform. Here in this article, we want to share some genuine and reliable email marketing tools. We hope it could be helpful for your online business.
The benefits of email marketing software
Most cost-effective process.
Build a strengthen relationship with your clients.
Increase organic traffic to your website.
Drive more conversation.
Increase your selling.
You can reach a broader audience in a single time.
It can increase your credibility and brand awareness.
You can get a higher Return on investment (ROI) of your business and lots more.
We can say that the benefits of email marketing never seem to end. Emails are still now more powerful and useful tool than any other digital platforms. Let's check out the some best email marketing software or tools.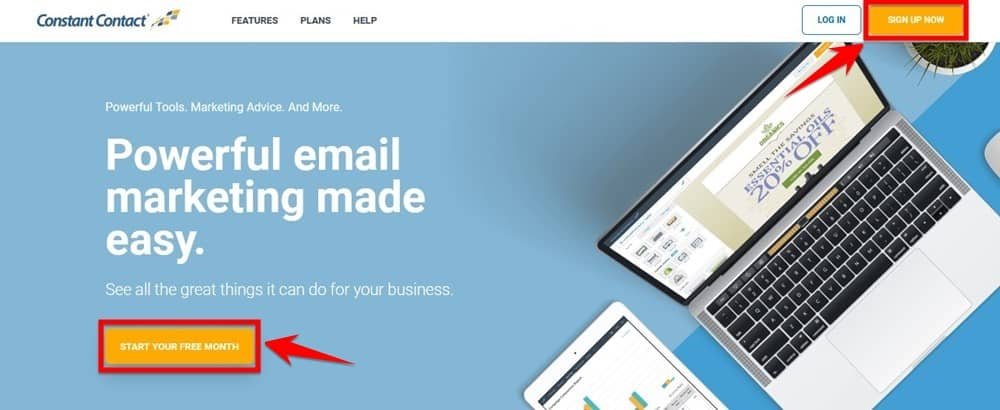 Constant ContactConstant Contact is one of the most significant email marketing tools in the world. They provide the most accessible software for email campaigning. It has customized and responsive template which is supportable for every device. With the help of user-friendly software, you can manage email lists, contacts, email templates, calendar, and more. Each account gives you access to easy tracking and reporting such as social media sharing, list segmentation, and Facebook ads integration. Besides this, you can find a powerful e-commerce integration with Shopify store. With the help of their email plus option, you can also create a coupon for any events, donation, online surveys and more. Beyond these unique features, you also get a ton of useful guides and services which very helpful for those who don't have an email marketing experience. Besides, you will get access to live chat, email, and phone support.
The features of Constant Contact email marketing software
User-friendly and Easy to use.
Customize the email template.
Email automation system.
Segmentation contacts.
Third-party integration.
Contact management.
Real-time tracking system and lots more.
The pricing and plan of Constant Contact
There are two plans provide Constant Contact. Each plans pricing is depends on your number of contacts.
Email Plan: Starting from $20/Month.
Email Plus Plan: Starting from $45/Month.
There is also a 60-days free trial (no credit card required). After that, the pricing starts as low as $20/Month. Finally, we can say it is a great tool but it suitable for small business owners.
SendinBlue is another excellent tool which gives you an excellent opportunity to create beautiful and highly engaging emails. Here you can find the power of both email and SMS campaigns into one unique platform. You can create a clean and professional newsletter for your audience with the help of HTML editor. You can also create a personalized email with the help of responsive templates. Besides these features, you can send transactional email, create workflows, and you could track your performance with this automation tool.
The features of SendinBlue email marketing tools
HTML editing system.
You can Personalize your email campaign.
Free responsive template gallery.
Contact segmentation.
Send automatic email campaign at the right time with the learning-powered algorithm.
You can use a tracking system to analysis and monitoring your performance.
Real-time statistics.
Advanced open and click through rate report.
Compatible for all third-party integration system and lots more.
The pricing and plan of SendinBlue
The SendinBlue has versatile pricing and plans which is suitable for all business entrepreneurs and marketers.
Limited Free Plan: Send up to 300 emails per day with $0/Month.
Lite Plan: Perfect for new marketers. Send up to 40,000 emails per day with $25/Month.
Essential Plan: Ideal for growing businesses. Send up to 60,000 emails per day with $39/Month.
Premium Plan: Best for marketing pros. Send up to 120,000 emails per day with $66/Month.
Overall, the plans are pretty flexible. You can also include SMS to your account, but the pricing will vary based on your sending requirements.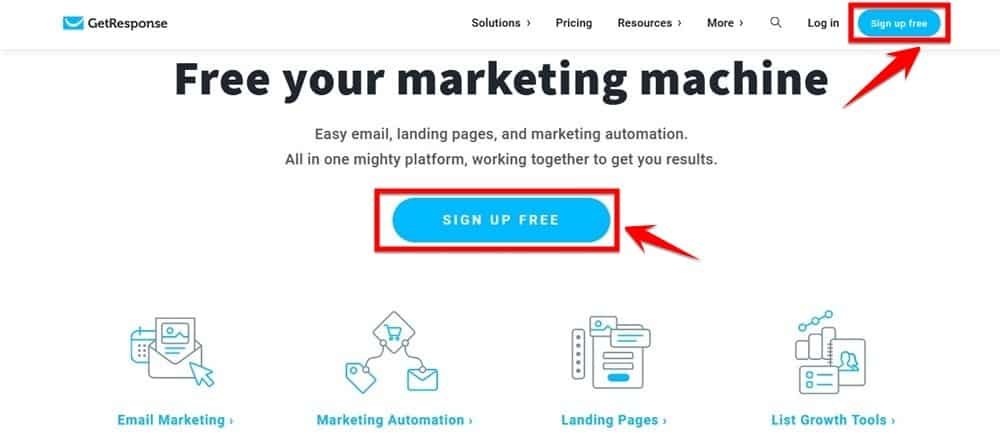 If you are a beginner, GetResponse is the best place for you. It is effortless to use. With this effective automation tools, you can send a smart automated campaign. The drag and drop option can help you to create campaigns, segment contacts, and designing the content for specific groups. Besides that, you can track or monitor your regular campaign basis. The GetResponse comes with responsive forms, landing pages, A/B testing, autoresponders, and software integration. You can also get support through phone, live chat, and emails.
The features of GetResponse email marketing software
Create a professional email campaign.
Build fully scalable workflows.
100% responsive Landing page builder.
Drag and drop creator.
Webinar integration.
API integration system.
Get maximum ROI.
Comprehensive reporting system and lots more.
The pricing and plan of GetResponse
Email Plan: Perfect for beginners. Price- $15/Month.
Pro Plan: For growth-focused marketers and small businesses. Price- $49/Month.
Max Plan: For marketing pros with advanced needs. Price- $165/Month.
Enterprise Plan: For high-performance solution. Price- $1,199/Month.
Also, it is excellent and advanced tools which could be helpful for your business.
Mailchimp one of the popular email marketing platform. It comes with easy email creating system, autoresponders, segment contact, and a simple tracking system. Also, you can set your campaign with time, A/B testing, geo-location based segmentation, and lots more. Besides that, you can integrate the Mailchimp with WordPress, Magento, Shopify, and many other platforms. Their advanced support system also offered by email and live chat.
The features of Mailchimp email marketing tools
Create better and responsive email campaigns.
Landing page creator.
Email automation system.
Personalized segmentation.
Time-based sending.
Service and app integration system and lots more.
The pricing and plan of Mailchimp
Free Plan: It is free forever. Price- $0/Month.
Grow Pan: It includes level up features. Price- $10/Month.
Pro Plan: Entreprise and businesses use. Price-$199/Month.
Overall, the plans are suitable for all businesses. You can choose the plans as per your required subscribers.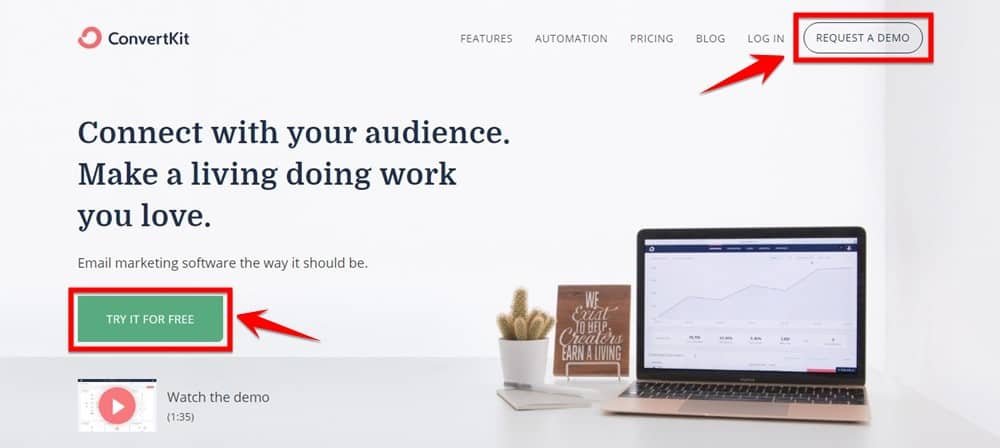 The ConvertKit is a powerful email marketing platform for bloggers, authors, and marketers. It has a powerful automation system, and attractive forms. With the help of these tools, you can track your subscriber's growth. You can also increase more conversions with the automated email system. You can easily create your segment contacts those who are interested or those who are purchased from your site.
The features of ConvertKit email marketing software
Autoresponders system.
Create a responsive email Campaign.
Easy tracking system.
Contact segmentation.
Increase your ROI.
Improve your workflows and lots more.
The pricing and plan of ConvertKit
0-1 subscribers:  $29/Month.
1K-3K subscribers: $49/Month.
3K-5K subscribers: $79/Month.
5K+ subscribers: Custom pricing.
No matter which plans you choose, you will have access to the same features. Besides that, you can use a 14-days free trial from ConverKit.
Conclusion:
All of these email marketing software or tools are genuine and authentic. If your searching for a reliable email marketing tools, you can choose one of them. But before you select the right platform, you should need to focus on your business goal and niche. Thanks for reading this article. We hope you have enjoyed the article. If you have any suggestion or queries, you can comment down below.