Web Solution
5 Best WordPress Plugins For Blogs And Business Websites
Read The Article And Find Out The Best WordPress Plugins For Your Website.
Are you looking for the best WordPress Plugins for your site? So, read this article and choose the right Plugins to take your business to the next level.
WordPress is the most popular Content Management System (CMS) for creating any website. From bloggers to business owners, WordPress allows users to create content in an easy-use format. When we run a WordPress blog or business website, we need some WordPress Plugins to enhance our site's functionality and efficiency. Numerous Plugins are available in the virtual world; some of them are free or premium. However, due to the complex process of installation, Winky themes, and broken functionality, finding the right Plugins is very hard. So today, in this article, we want to share some best WordPress Plugins for your blog or business website that will give you a great user experience on your WordPress Site.
1. Yoast SEO WordPress Plugin
Search engine optimization (SEO) is a very crucial element for driving targeted traffic to your website. So when you start a blog site, you can't go very far without the help of SEO. Yoast SEO Plugin is one of the most used and best Plugin for all your SEO needs. Yoast has the most comprehensive SEO tools that will help you to improve your on-page SEO. For examples of that, you can optimize your focus keywords, Meta description, image title, automatic internal linking, and H2 tags.
As well as, it also analyzes the readability of your blog and calculate the Flesh Reading Ease score. Also, you can share your Metadata on facebook and twitter easily. This will helps you to boost your website traffic on Google and social media channels very quickly.
Key features:
Readability checker.
Create custom Meta Header/Description.
Google search results snippet preview.
Internal linking suggestion.
Generate XML sitemaps.
Create focus keywords and their synonyms.
Social site integration.
And many more.
Pricing of Yoast SEO Plugin:
Yoast WordPress SEO Plugin offers two types of services one is free, and another is premium. Yoast offers its premium plan, starting from $89 per year for one site.
 Click Here To download the free version of Yoast SEO WordPress Plugin.
2. Jetpack WordPress Plugin
Jetpack is one of the most popular multi-featured WordPress plugins. The people behind WordPress.com make this Plugin. Jetpack Plugins prevent unwanted intrusions with effective brute force attack protection, malware scanning, and spam filtering. You can optimize your site speed and take control of your SEO with the help of Jetpack's site accelerator. You can also browse hundreds of professionally-designed WordPress themes to find the right one for your site.
Jetpack will help you to schedule social media promotion of your newest posts, pages, and products before they're published. Also, you can track and monitor various website data and statistics with the help of great analytics tools. The Jetpack has both free and premium options.
Key Features:
The robust security system for antivirus, malware, and threat detection for your WordPress site.
Great SEO tools to optimize your site for search engines.
Automatic site backup.
Generate sitemaps.
Anti-spam filtering system.
Get a free content delivery network (CDN) with Photon.
Easy proofreading system for checking your spelling, grammar, and writing style.
And many more.
Pricing of Jetpack Plugin:
Jetpack WordPress Plugin also offers two types of pricing plans one free, and another is premium. The premium plans are starting from:
Personal plan: $200/Month.
Premium plan: $420/Month.
Professional plan: $960/Month.
Click Here To download the Jetpack WordPress Plugin.
3. WP Rocket WordPress cache Plugin
WP Rocket is one of the excellent cache Plugin for WordPress Sites. Its useful page caching system gives you ab ultra-fast loading time, which is very essential for improving your SEO and conversion rate. As well as, WP Rocket reduces the weight of your HTML, Javascript, and CSS files. So your web pages will serve better and fast results within a few seconds. It is a developer-friendly plugin and there is no need for any coding system to install the WP-Rocket Plugin. You will get a faster website even better in a few clicks.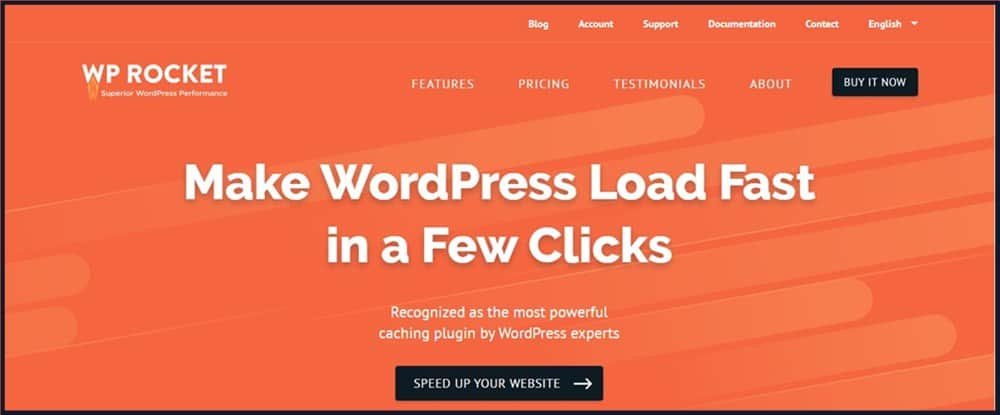 Key Features:
Easy and simple configuration system and no need programming knowledge.
Get the opportunity of fast indexing on search engines.
Ultra-fast loading site.
You will get the opportunity to use the most popular CDN Content Delivery Network services (Such as MaxCDN).
It will help you to detect mobile visitors very effectively.
Developer-friendly Plugin.
And many more.
Pricing of WP Rocket Plugin:
Single plan: $49 for 1 Website.
Plus plan: $99 for 3 Websites.
Infinite plan: $249 for unlimited Websites.
Click Here to buy the WP Rocket WordPress cache Plugin.
4. Akismet Anti-Spam WordPress Plugin
Akismet is an excellent anti-spam plugin for WordPress, and it is developed by the team behind WordPress (Automattic). It automatically checks your comments and prevents all malicious or spam content from your site. You don't need to worry about spam comments on your WordPress site. So, you can focus on more important things and your works. Akismet Plugin is suitable for any professional, commercial, and blog WordPress sites. It is open-source software ,and to use this Plugin ,you must have an Akismet.com API key.
Key Features:
Automatically checks all comments and remove the spammy things.
You can see the status history your admin screen.
Moderators can see the number of spam comments from each user.
A discard feature that blocks the worst spam and saving your disk space and speeds up your site.
Pricing of Akismet Plugin:
Akismet Anti-Spam WordPress Plugin has simple and affordable pricing. It has three pricing plans Personal, Plus, and Enterprise. Whenever you want to go with a Personal plan you have to create a customized plan.
Plus: $5/Month for one site.
Enterprise: $50/Month for unlimited sites.
Click Here to download the Akismet Anti-Spam WordPress Plugin.
5. Social Snap WordPress Social Media Plugin
At present, social media platforms are playing a vital role in the promotion of any content or business. So, to enhance your social networking marketing you need to use a social networking plugin for your WordPress site. Social Snap is an ultimate social media Plugin that will help you to drive more traffic and increase your social engagement through your blog post. Easy to use setup and super-fast loading system gives makes it different from others. You can easily create your auto-scheduling content for your futuristic post or event. In addition, it also offers Advance analytics tools which will help you to monitor your audience in real-time. With the help of this Plugin you can share your post to all popular social platforms like:
Facebook.
Twitter.
Pinterest.
LinkedIn.
WhatsApp.
Telegram and many more.
Key Features:
Customizable share buttons.
Easily control your total share and increase your click-through rate.
You can easily recover your old shared post.
Fully responsive design and fit for all devices like mobile, desktop, laptop, and tablets.
Great analytics tool to overview your social campaign.
Track the top-performing post.
And many more.
Social Snap WordPress Plugin pricing:
Social Snap offers three types of excellent pricing plans for its users Agency, Pro, and Plus. In addition, it also provides a risk-free transaction and a 30 days money-back guarantee.
Plus: $27.30/Per Year for 1 site.
Pro: $69.30/Per Year for 3 sites.
Agency: $209.30/Per Year for 15 sites.
Click Here to download the Social Snap Social Media Plugin.
Conclusion
Finally, we can say these five best WordPress plugins are necessary for all kinds of WordPress sites. With the help of these WordPress plugins, you can enhance your WordPress site's functionality and increase your search engine traffic as well. However, choose the WordPress plugins that are needed for your site first.
Thanks for reading. We hope you have enjoyed this article. if you want to read more WordPress related article, then you can read: