WordPress
Top 5 Free And Premium Instagram Feed Plugins For WordPress
Are you looking for the best Instagram feed plugin for your WordPress site? Probably you might be confused about which one you should pick.
It is quite possible, as there are so many options both free and premium.
With over billions of monthly active users, you cannot ignore the importance of social media. When it comes to social media, Instagram is immensely popular among people and has around 500 million daily active users. That makes it unavoidable for website owners as well as for marketers.
However, WordPress's plugin section is already bombarded with tons of plugins and it makes it quite hard to opt for the right plugin. Each category has so many options, 
Instagram Feed plugin by Smash Balloon:
We talk about the top-rated Instagram plugin WordPress, Instagram Feed plugin by Smash Ballon would be on the top. You can guess about its popularity by looking at its stats. Over one million active installs and 4.9 stars out of 5. 
This plugin allows you to display attractive Instagram posts from your Instagram accounts. You can create multiple feeds to showcase on your site.  Each feed is able to show contents from multiple accounts. That is excellent because that's how you can keep maintaining the content flow to your site. 
The Instagram Feed Pro offers two options free and Pro. The Free version already gives so many in-built features but if you require enhanced features, you can go for the Pro version. With the premium plan, you get more customization options like carousels, custom links, lightbox, and video integration. You would also be able to moderate your feed to show or hide specific images, posts, hashtags, and more. 
Feed Them Social:
Feed Them Social is yet another excellent Plugin for WordPress if you want to show Instagram posts to your WordPress site. This plugin is not only exclusive to Instagram but also to social media like Facebook, Twitter, and Pinterest. Just like the Smash Balloon, it has available in both free and premium versions. The free plan allows you to show Instagram feeds, of course, Facebook feeds, groups, Twitter feeds, Pinterest boards, latest pins, and more. 
With the premium plan, you can display YouTube video feeds, and Facebook video feeds, and carousels. If you require a plugin to show feeds from multiple social media profiles, then Feed Them social would be a great solution. The plugin allows you to show display content from multiple social accounts.
10Web Social Photo Feed: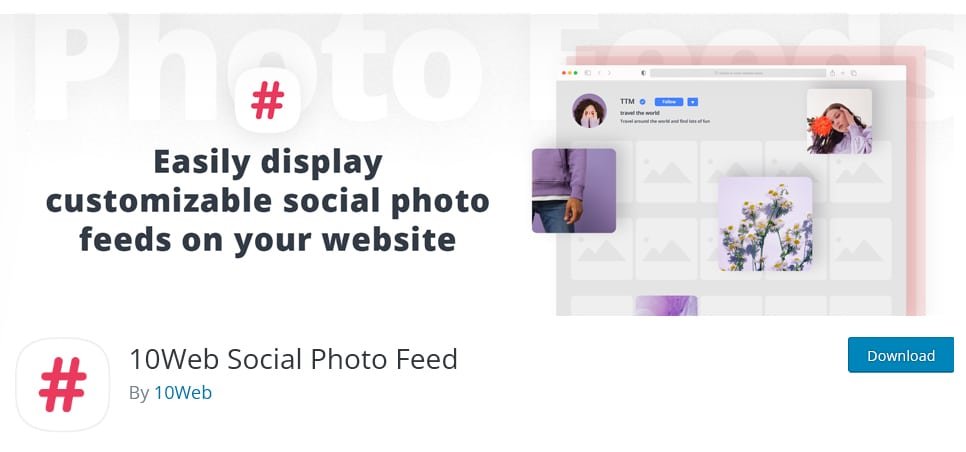 10Web Social photo Feed is also a popular Instagram plugin that has over 60k active installations. You can switch to a free or paid version as per the customization you require. The free version of the plugin allows you to retrieve Instagram posts from a specific account or hashtag. You can customize the way how you want to showcase the images and videos to people. There are two display options static pagination layout and dynamic autoloading.
The pro version allows you to show the feed from multiple accounts and hashtags.
WPZoom Social Feed Widget:
WPZoom Social feed Widget offers a wide range of customization on how you want to show content from Instagram to your WordPress site. You get a feature-rich widget after installing the plugin to your website. You can place the widget at the header, footer, between posts, or anywhere else. The free version lacks customizable options. you can choose how many posts you want to show on your website. You can add a call to action button tailored to your desired account. Once everything has been set, the posts can be seen through in website sidebar, footer, header, or directly into a specific page or post. 
AccessPress Instagram Feed: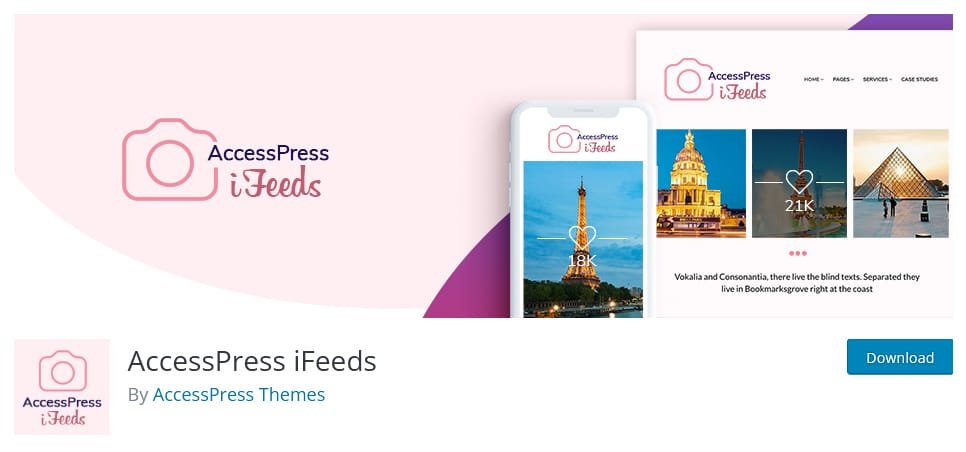 It is a freemium plugin that offers three layouts to choose from; a slider, a lightbox, and a basic gallery layout. Similar to the WPZoom Social feed Widget, you get a built-in widget. By using that you can place the feed almost anywhere on your website. The free plan offers some of the basic options and customization options. To avail of the advanced options, you need to go for the premium plan. 
With the premium version, you will get more styles, and layouts to choose from, additional filters to edit photos.
Thanks for reading, explore more articles on WordPress.