SEO Tips
These Are The Best SEO Analysis Tools In 2019 For Website Monitoring
If You Are Looking For best SEO Optimization Tools Of 2019 Read This Full Article.
Whether your site is a blog site or a business website or informative site to grow up the performance of your site SEO analysis tools are must be needed.
In this article, we are going to inform you about some best SEO analysis tool available on the internet today. Some of the SEO optimization tools are premium, and some of them are free. We are going to tell you about both free and paid SEO monitoring tools. But before we go for the tools if you are not familiar with SEO you can read-
The auditing and monitoring of a website is not an easy process. It requires lots of time and resources to do so. Generally, there should be a closer look to monitor hundreds of pages of a good web editor, and which seems to be very difficult for a human being. There are plenty of SEO analysis tools available in the market, which can make this audit and monitoring work easier. These types of SEO tools can check on every webpage and identify the problems on your website very quickly. So, you don't have to spend the time for manual testing. Also, we would like to say that such SEO monitoring tools will not only work for your auditing but also assist on your website's ranking. Now we are suggesting you some best SEO analysis tools which could be helpful for your web audit and SEO ranking. Let's get started.
SEO Monitoring Tools Ahrefs
Ahrefs is one of the most advanced and powerful SEO analysis tools currently available on the internet. It has lots of powerful tools that allow you to improve your website SEO.
The features and benefits of SEO Monitoring Tools Ahrefs:
Competitive Analysis

: This tool gives you the ability to check your competitors. Which keywords they are ranking organically. How much traffic are they getting for those keywords?
Keyword Research

: They have over 3 billion keyword database. From there you get thousands of relevant keyword suggestion according to your niche. This tool also shows you the difficulty of keywords, the annual searching volume of the keywords, SERP ranking history of keywords and many more.
Backlink Research

: Every SEO analysis tool has their own specialties and some specific features. Ahrefs SEO tool is excellent for the backlinks. According to some SEO experts and Ahrefs, they had the largest index of live backlinks.
Content Research

: This tool is very helpful for article writers and bloggers. This tool enables you to show which content is best ranking when you put any keyword there. You can find all the articles which are related you're given keywords.
Rank Tracking

: With this tool, you can track your ranking on Google for both desktop and mobile across 170 countries. You can get your daily/ weekly/ monthly ranking report through your mail.
The plans and pricing of SEO Monitoring Tools Ahrefs:
Ahrefs has four plans for their service. The packages are below:-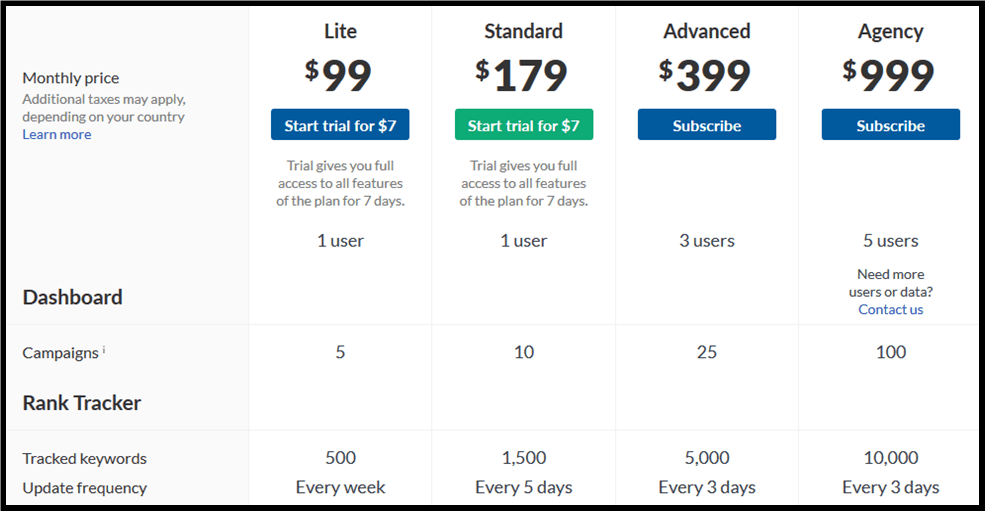 Moz is also an excellent SEO analysis tool. This tool also offers excellent features, but it is most famous for the rank checker. Some of its features are as mentioned.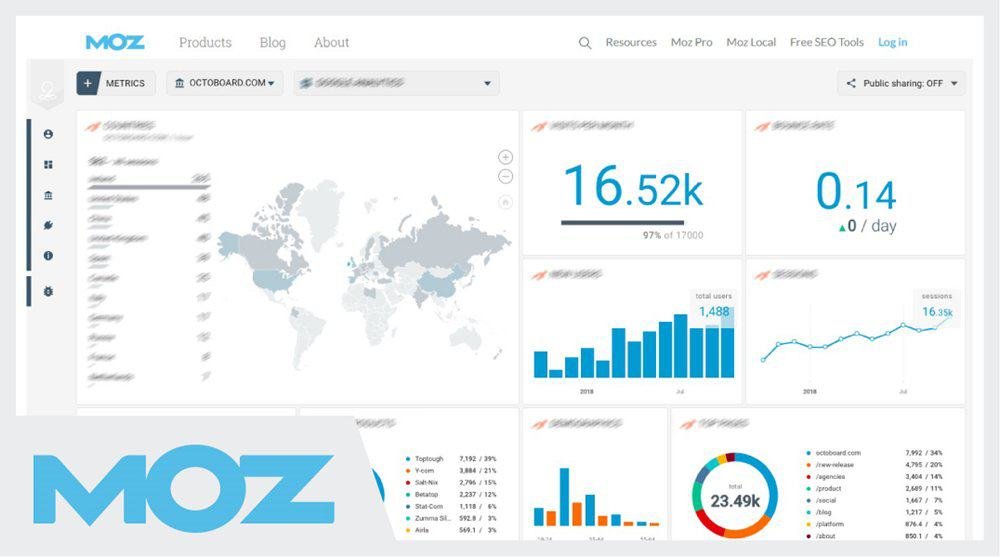 The features and benefits of Moz SEO Tools:
Keyword Research

: You can get more relevant keywords for your content with this toll. It gives you strategically target keywords. They also offer the difficulty of the keywords and accurate keyword volume.
 

SEO Audit & Crawl

: Once you set your website URL on Moz it starts crawling your site. This tool finds to your site if you have harmful issue which can affect your website SEO.
 

Backlink Research

: This backlink research tool Finds new backlinks for you and maximizes the links which you already have.
Rank Tracking

: Actually keywords ranks and you get your site ranking. Know about the keywords searching by people local and national.
The plans and pricing of Moz SEO Tools:
Moz SEO analysis tools has four different plans. The packages are below:-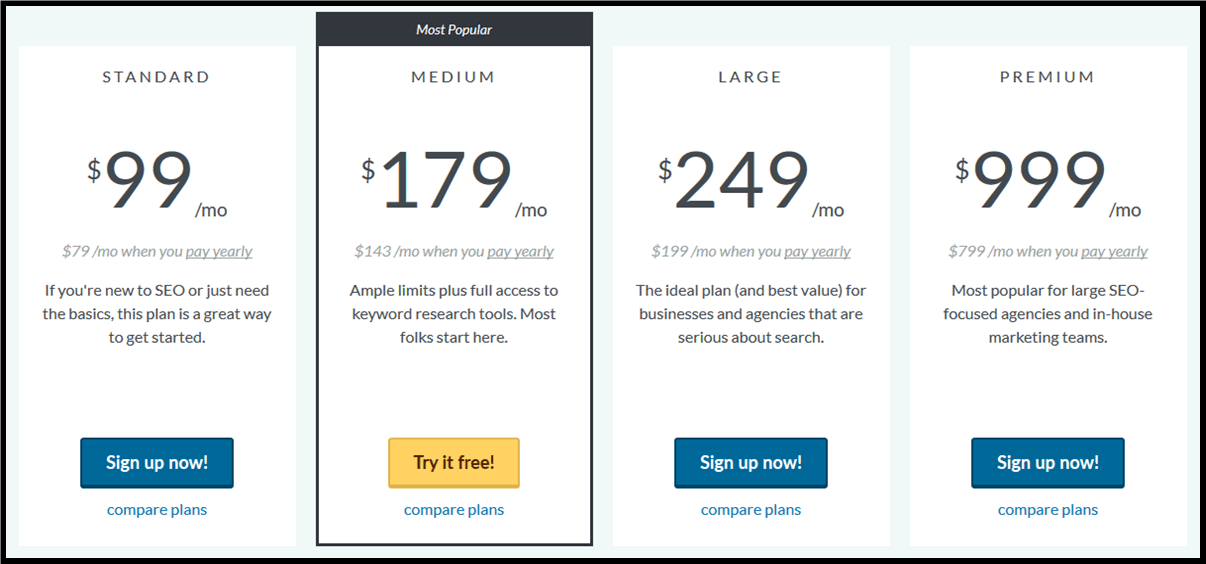 Free SEO Analysis Tools Varvy
Varvy is another popular SEO tool. This tool is free to use.
Some of the key features of Varvy are:
Mobile SEO Tool

: This tool is for checking how much mobile friendly your site is the performance of your site for mobiles.
Page Speed Tool

: You will get information of CSS size of your site, JavaScript size, whether your images of the site are optimized or not, your server response time, and many more important things.
Javascript Usage tool

: With this tool, you can find your external Javascript files, external Javascript file locations, Inline Javascript, Total Javascript size.
CSS Delivery Tool

: You can check your external CSS file locations, Internal CSS, Total CSS size.
Link Report Tool

: This tool informs about your internal links, external links, and Nofollow links.
Other features of this SEO tool is HTTP tool, Google Guideline Tool, Address Schema Tool, Ask Google tool and many more as told before all features are totally free.
Majestic SEO Analyzing Tools For Link Building
Majestic is also a tool specialized in link building. Though it has lots of several other features to become a useful SEO tool, people mainly prefer Majestic for link building. Below we are mentioning some of its key features.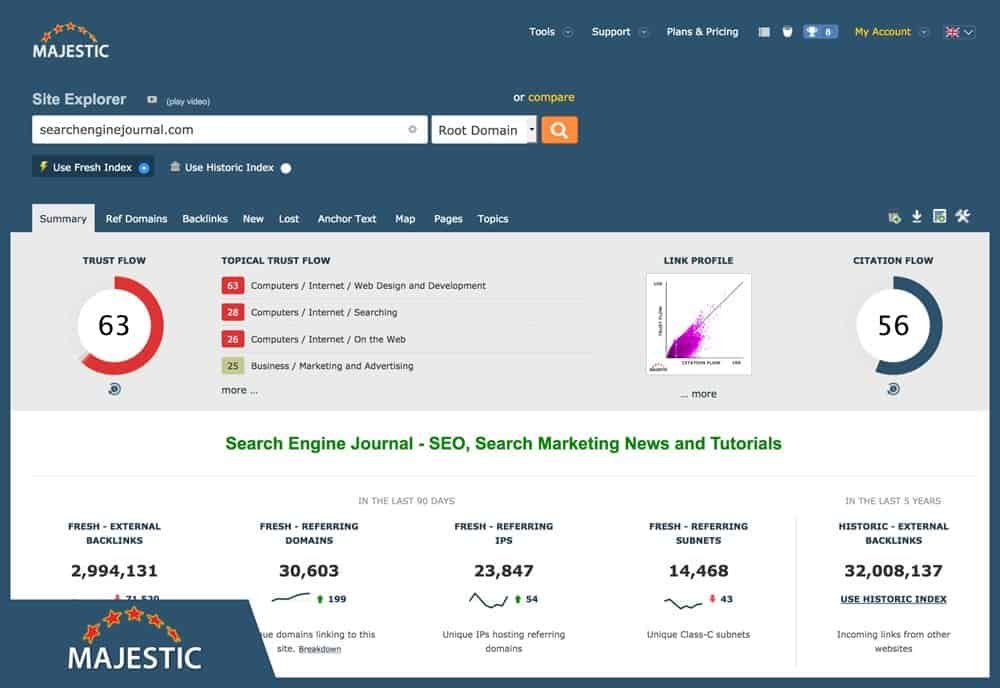 The features and benefits of Majestic SEO Analyzing Tools:
Site Explorer

: Like the name, the tool finds out all the details of your site. It shows you referring domains, external backlinks, total inbound links and so many other information of your site.
Backlink history checker

: Their backlink checker tool gives you detail about backlinks of your site and your competitor's backlinks. You get the report on root domains, subdomains, individual URLs. Search the links and filter them as per your need. It has several more useful tools like bulk backlink checker, Comparator, The majestic million, Clique Hunter, Neighborhood checker.
The plans and pricing of Majestic SEO Analyzing Tools:
Majestic SEO analysis tools have three plans. The packages are below:-

Found SEO tool is a free online tool which can automatically identify your Common SEO issues. To get automated SEO audit instantly, you have to put your website URL on this site.
The features and benefits of Found SEO tool:
The tool has three main parts which are extremely powerful.
It can fix any type of technical issues like domain canonicalization and XML site map.
Content related topics such as keywords and metadata analysis.
Beside of that features it also work on image analysis, domain authority and total links. This free tool gives you all initial report what you actually need. So, you can easily achieve your goal with this tool.
SEMrush SEO Analysis Tools
SEMrush one of the reliable and genuine SEO analysis tools which works keywords research to online market. It has massive power to boost your organic ranking. To know better what is SEMrush and can you achieve better SEO using it you can read- What Is SEMrush? And How Can You Achieve Better SEO Using It.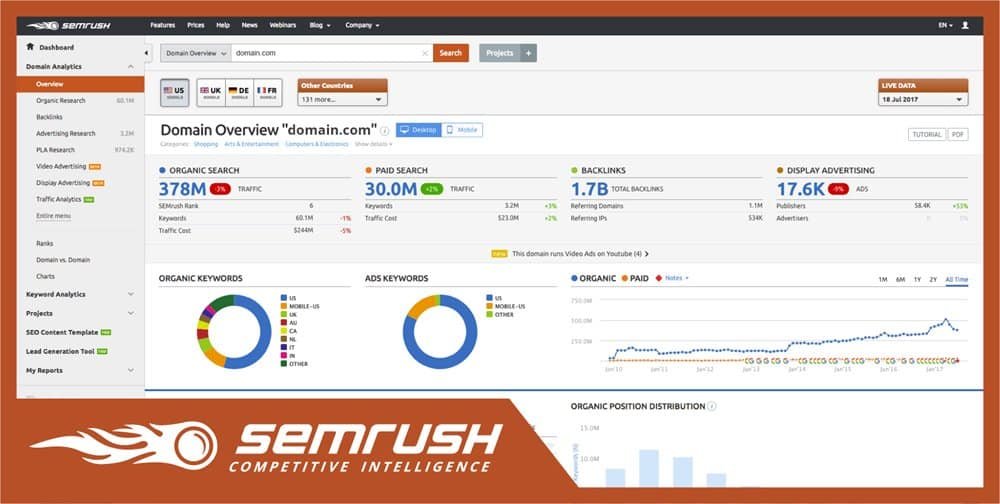 SEMrush can do lots of works for your website like competitors analysis; find the most profitable keywords, domain comparison, site audit, link building and lots more.
The features and benefits of SEMrush:
You can beat your competitor's with the best keywords.
You can do a technical site audit for your website.
Discover the short tail and long tail keywords.
You can do Backlinks analysis. You can also optimize your internal and external links.
Find the right keywords for SEO and PPC campaigns.
The plans and pricing of SEMrush SEO Monitoring Tools:
This tool has three suitable packages. The packages are below:-
WooRank is the top rated SEO tools which can analyze your website effectively and boost your site rankings. With this tool, you can easily analysis your website rankings, as well as online visibility through social media, usability and much more.
The features and benefits of the WooRank SEO Tools:
With this SEO tool, you can check your title, meta description, and headings. If something goes wrong, you can quickly solve the problems. It can directly show you how your site looks in search engines.
If you have a mobile-friendly website, you should need to attract those who access the internet from their Smartphone or tablets. With this tool, you can make your site mobile friendly, as well as it also helps for your SEO ranking for a long time.
This SEO analysis tool not only works on your SEO elements like on-page. Beside of that, it will make your usability much better against your competitors. It can fix any issues regarding your site URL, Favicon, Custom 404 page, Asset minification, Asset compression, Asset cacheability, and languages.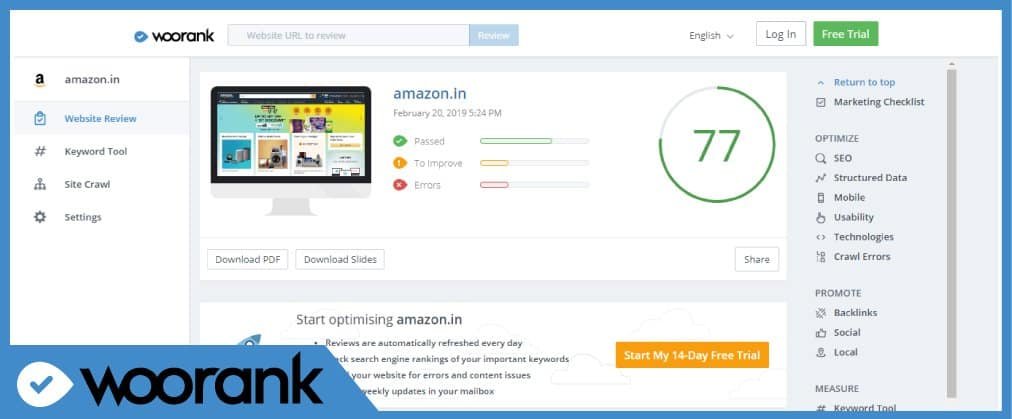 WooRank also checks your server problem, SSL, and analytics your site speed.
It can help to analyze your quality backlinks and their score. It also checks the most important factors like anchor text, domain authority of your backlinks.
It can analyze your social presence on Facebook, Twitter, LinkedIn, Google+, and many more.
WooRank has a great keywords research tool. By this tool, you can track the profitable keywords which will benefit for organic rankings.
The plans and pricing of WooRank SEO Tools:
It has three available pricing plans depending on the site or your business. The packages are below:-
BuzzStream SEO Analysis Tools
BuzzStream is one kind digital marketing tool. It will help you to create effective and high-quality link building. Their outreach link building tools help to improve your SEO rankings.
The features and benefits of BuzzStream:
BuzzStream provides you effective email management facility on your website. You can easily integrate your email account with BuzzStream. It will store all your historical data in one place, and automatically manage your email system. So, it works like an email marketing which can help on your digital marketing process.
BuzzStream allows you to create a bookmark system on your toolbar. Whenever you add a link to the other site, it will automatically scan the site and collect all the information and save it on their link building database. With this tool, you can easily find and use your contacts in the future.
With the help of BuzzStream link building tools, you can easily track and monitor your potential link partners.
The plans and pricing of BuzzStream Tools:
The BuzzStream is available in the market with four ranges of plans. The packages are below:-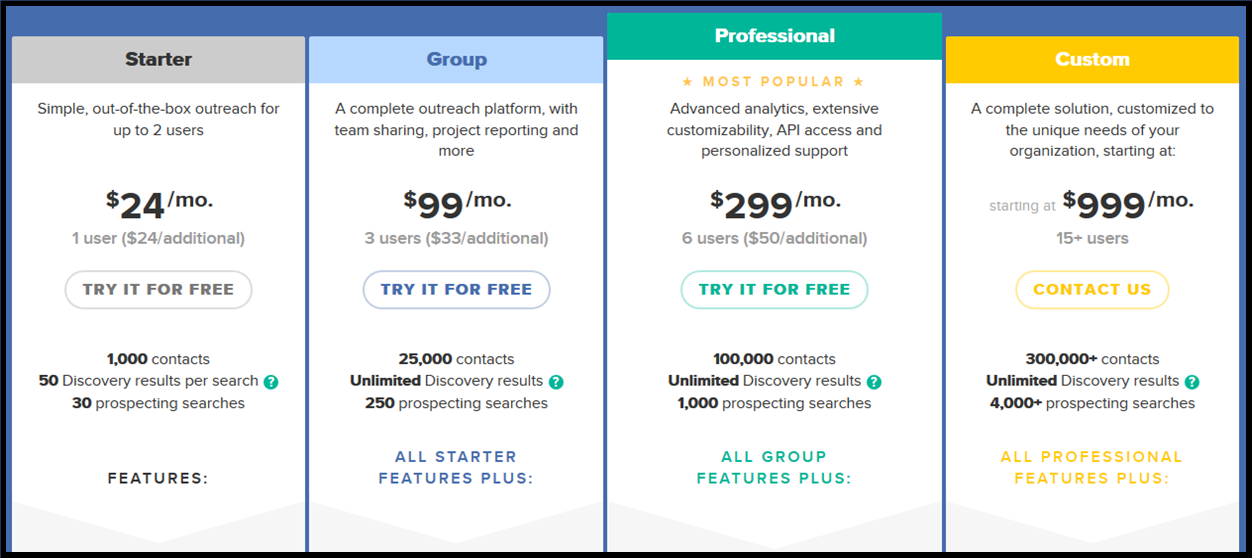 Each plan has different features depending on the link building project. If you are an agency or organization, then you need to get a larger plan. Finally, we want to say that BuzzStream is only a link building tool and not an SEO analysis tool. So, if you're going to check or audit your website's ranking, then you have to use another tool.
The Google Webmaster or Google Search Console is totally free of service which is offered by Google. Actually, Google Webmaster helps to connect your website with the Google search engine and improve your SEO. With this SEO analysis tools, you can effectively monitor your site.  Belo we are mentionning The features and benefits of Google Webmaster SEO optimization tool.
The features and benefits of Google Webmaster Tool:
Structured data testing: With the help of Google Webmaster tools, you can easily detect your website content structure and website content source.
HTML improvement

: Google Webmaster tools can detect and fix all types of HTML errors like Meta description, duplicate Meta, non-indexable content, title tags, etc.
Search Traffic

: With the help of Google Webmaster tools you can easily check your webpage rank, organic impression, organic click, keywords analysis, and internal links.
Mobile usability

: Google Webmaster tools can check your webpage if it is mobile friendly or not. Beside of that it can detect any types of mobile usability issues and problems and help to fix the issues.
Google Index

: You can check your website indexing status and blocked resources. If you want to remove any URL which is included in your website, you can do it easily from this tool.
Website Crawler: Google Webmaster can help on your webpage crawling. If the tool found any types of crawling errors, it can quickly inform you.
Google Webmaster or Google Search Console is an essential part of your website. It has lots of features and benefits which could be helpful for website SEO. In the future, we will try to discuss more details about Google Webmaster.
Previously we have written an article on the three most popular premium SEO analysis tools. Moz, Ahrefs, SEMrush. You can read- Which Is The Best SEO Tools Among The SEMrush, Moz and Ahrefs?
If you are searching for SEO optimization tools, this article might help you to find your preferable and most useful SEO monitoring tool by which you can improve your website ranking and SEO performance.
Thanks for reading. We Hope you enjoyed the article. If you have any suggestion or queries, you can comment down below.