SEO Tips
Which Is The Best SEO Tools Among The SEMrush, Moz and Ahrefs?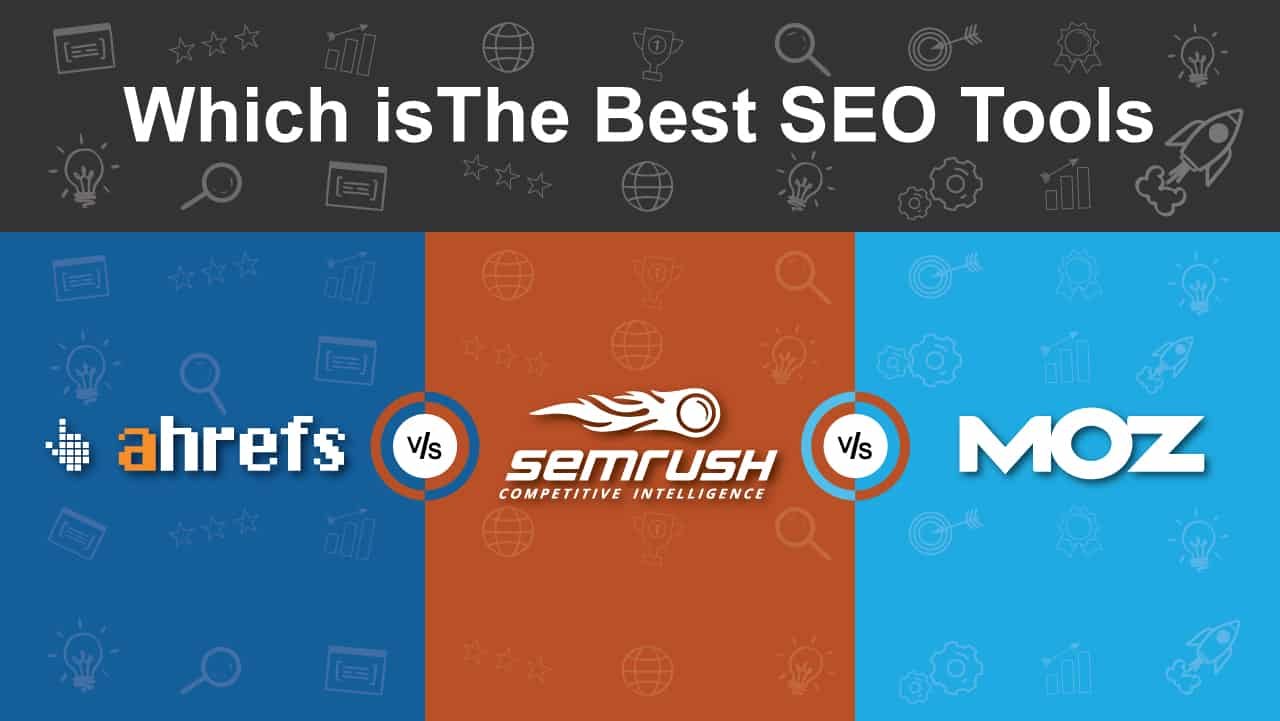 There are lots of SEO tools in the market. Try to evaluate the best SEO strategy among the best SEMrush, Moz, and Ahrefs without waste your time and money.
In recent time the massive amount of people are involved in the Internet Business. Beside of that, every business has a competitor. In this situation, if you want to increase your business, you need a perfect SEO tool. From keyword research, backlinks analysis to position tracking all of you requires to pay attention in this competitive world. There are lots of free tool in the market, but that does not give us properly results what we need. In this article, we want to share our in-depth research on Best SEO tools. We hope our experiments and analysis could be helpful in your Search engine optimization work and avoid running the wrong route.
Now we are discussing the three most popular SEO tools used by people.
SEMrush SEO Tool

SEMrush is the most leading SEO tools which work keywords research to online marketing. It is a handy tool like a spy who gives you all reports what you need to beat your competitors.
The Benefits of SEMrush:
Competitor's analysis.
For every niche find the most profitable keywords.
Find and fix all your website's issues.
Do site audit.
Make domain comparison.
Link building opportunities.
Find the traffic of any site and so on.
Key Features:
Beat your competitor's by the best keywords with keyword planner
Discover the short tail and long tail keywords.
Find the new organic competitor's.
Do in-depth research on backlinks analysis.
Give the right keywords for SEO and PPC campaigns.
Find the less competition keywords.
SEO Related Work:
Optimize your internal and external links.
Add tags where they are missing.
Make title, meta description, and other HTML tags unique and comprehensive for users and search engines.
Correct the broken images and provide them with an alt attribute.
Find duplicate content pages and so much more.
The Pricing of the SEMrush Packages:
Pro: $ 99.95/Month (Ideal for beginners and bloggers)
Guru: $ 199.95/Month ( Ideal for small business owner)
Business: $ 399.95/Month (Ideal for marketing agencies and big companies)
So you have seen the features of SEMrush tool what you need for a perfect SEO. SEMrush is suitable for small to medium size business, blogger and SEO consultants. But our in-depth research on that we want to say one thing it the most profitable keyword research tool among all of them.
Moz SEO Tool
The Moz SEO tool one of the best SEO tools developed by SEO expert Rand Fishkin. It is an incredible tool which is work on keyword ranking, domain authority, and page authority checking. It also does link analytics, page optimization report, open site explorer and many more for your search engine optimization work.
Benefits of Moz for SEO:
Link Analysis – This tool helps you to create powerful backlinks for your business.
Keyword Research – This keyword research tool discover you're your needful keywords volume wise, difficulty wise, opportunity wise and potential wise.
Open site explorer – Open site explorer tools help you to find out spammy sites, top keyword ranking, broken and unlinked link phrases.
Rank tracker – Rank tracker can help you to show the position of your competitor's in Google quickly.
Spam analysis – This tool always checks and monitor your website from malicious links which would be cause for a penalty from Google.
Mobile ranking analysis – At first creates your site with mobile responsive and tracks your mobile ranking position.
Key Features of Moz:
Global keywords were tracking from various locations. Find the long tail keywords and organic search.
Discover the best keywords for your site.
Analyses the essential links with the best evaluate method.
Site crawl for your website SEO.
Optimize your content and find the winning strategies.
The Pricing of the Moz SEO Tool Packages:
Standard: $99/Month (Ideal for bloggers)
Medium: $179/Month (This package also Ideal for bloggers)
Large: $249 (Ideal for SEO agencies)
Premium: $599 (Ideal for marketing agencies with a big clientele)
Basically, the Moz SEO tool has the best metrics for domain authority and page authority checker among all SEO checker. It can crawl 2, 50,000 pages and 300 keywords can be tracked.
Ahrefs SEO Tool

The next one is Ahrefs. This is also a favorite SEO tool among other SEO tools present at the moment. It is unique in backlinks building. You know link building is essential to improve SEO strategy. With the Ahrefs you can do so and effectively.
Key Features of Ahrefs SEO Tool:
Site Explorer- With the site explorer you can get any website or URL's
Organic search traffic and backlinks profile.
Alerts- You can get notification of new & lost backlinks, web mentions and keywords rankings of any website or URL.
Rank Tracker- You can monitor your rankings on Google compared to your competitors.
Content Explorer- You can find the most popular contents of any topic with just a keyword.
Site Audit- You can check your website's complete SEO health by site audit.
The Pricing of the Ahrefs Packages:
Pricing Lite – $99( It is perfect for the starters)
Standard – $179 (It is ideal for the experienced bloggers)
Advanced – $399 (perfect for the SEO agencies who does lots of SEO works)
Agency – $999 (This is perfect for big marketing agencies)
The Ahrefs is especially best for high-quality link building opportunities for your website. Beside of that, it can do the technical audit and keyword planner for your site and competitors.
Thanks for reading this article. If you have any suggestion or query, please drop down your comments below the comment box.