Web Solution
Pricing And Features Of The Best Managed WordPress Hosting Providers
See Who Is Offering Best Hosting And Choose The Right Managed Hosting For Your WordPress Site.
You need hosting for your site and many well-known and reputed managed WordPress hosting providers are now available with their unique features and pricing.
WordPress is the most popular open source content management system ( CMS ) currently available on the internet. You can guess their popularity by hearing that 33 % of websites are running online are WordPress sites. Even so, many popular websites are built on WordPress like; TechCrunch, BBC America, Sony Music, Microsoft news and many more. You can make a website on WordPress for free, but if you want to make a self-hosted WordPress site, you will need to buy hostings. Looking towards the popularity almost every hosting provider has made individual hosting plans for the WordPress sites. People get more additional features for their WP sites with WP hostings. If we consider e-commerce, then only two hosting plans for WordPress shared WordPress hosting and managed WordPress hostings. Two types of hostings are for two types of users. If you want to know in detail about shared and managed WP hostings, you can read:-
What Is The Best Hosting For WordPress Between Shared And Managed  
However, in this article, we will cover some best and well known managed WordPress hosting providers, their pricing and features they are offering. Let's get started.
SiteGround managed WP hosting
SiteGround is a hosting provider company. They offer a wide range of hostings plans. You can find web hosting packages for blogs, small and large business websites, e-commerce, and almost all kind of sites. You get two popular website builders on SiteGround; WordPress and Weebly. When it comes to WordPress, SiteGround has a significant lead on that because WordPress recommends SiteGround for hosting WordPress. Also, they offer hassle free website transfer. If you need to migrate your site to SiteGround, their team will help you to do so. It is a leading name among managed WordPress hosting providers.
The pricing and features of WordPress hosting at Site Ground:
They offer three plans for managed WordPress hostings;
StartUp.
GrowBig.
GoGeek.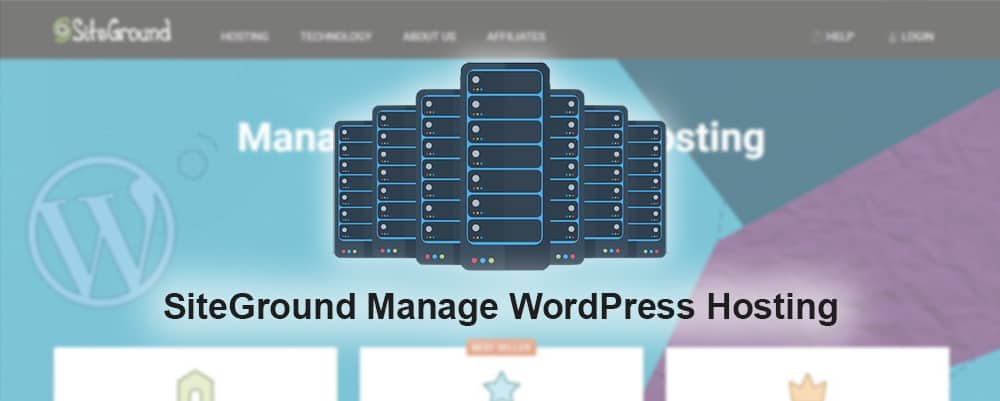 StartUp:
This plan is for the WordPress beginners. StartUp plan features 1 website, 10 GB space and approximately 10,000 monthly visitors. For the first time, the price of this plan is $3.95 per month, but when you go for the renewal, they charge $ 11.95/mo.
GrowBig:
GrowBig is the next plan for SiteGround. It gives you unlimited websites, 20 GB web space, and nearly 25,000 monthly visitor capability. For the first time, you have to pay $ 5.65, and when the time comes of renewal, you have to pay $ 19.95 per month.
GoGeek:
This is the highest plan of SiteGround managed WordPress hosting plans. You get $11.95 per month, and the renewal price is $ 34.95 per month. You get unlimited website option 30 GB of web storage and sufficient for monthly 100,000 visitors.
All three plans include essential WordPress features like
Free WP Installs.
WP Auto Updates.
Free WP migrator.
Free SSL and HTTPS.
Unlimited MySQL Data Base.
Free Email.
Free Cloudflare CDN.
And other functions. Now as you can see the renewal pricing for all three plans is quite expensive as compared to the starting price. But looking towards there 24/7 support and excellent features, the pricing seems reasonable. On the SiteGround you don't get the free trial option, and the free Website transfer option is only available for GrowBig and GrowGeek hosting plans.
HostGator managed WordPress hosting
HostGator is also a popular web hosting company. They provide shared, VPS, dedicated web hosting service. On their managed WordPress hosting service you get features like free SSL certificate, you get access to various WordPress themes through the MOJO marketplace, auto backup with one-click restores and any more. They have three managed WordPress hosting plans;
Starter Plan.
Standard Plan.
Business Plan.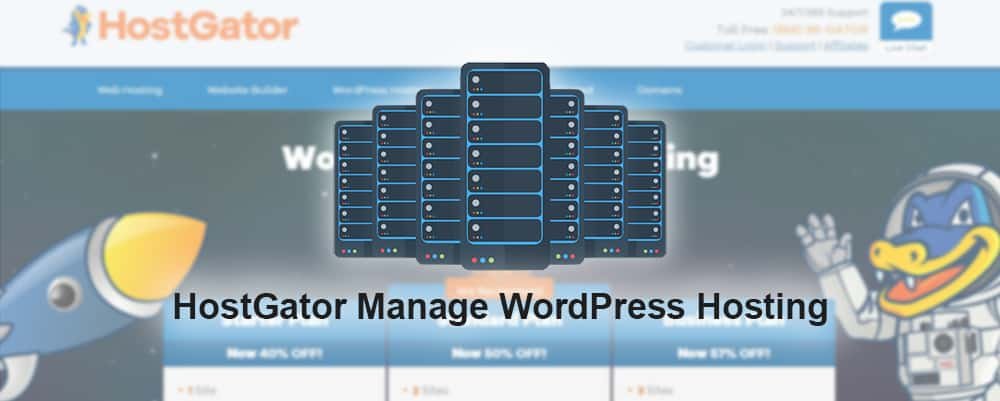 Starter plan:
This is the basic package, and you can host 1 website with this plan. Monthly 100,000 visitors and 1GB backup available on the Starter Plan. You can migrate 1 website to Hostgator for free with this plan. The Starter Plans costs $ 5.95 per month.
Standard Plan:
With the Standard Plan, you can host 2 sites, monthly handle 200,000 visitors, and 2 GB automated daily database backup. Up to 2 sites can be migrated to HostGator for free, and this plan will charge you $ 7.95 per month.
Business Plan:
This is the most high-end package for managed WordPress hosting in HostGator. You can host and migrate up to 3 sites with this plan. 3 GB database backup, 500,000 monthly visitors people, get with this plan. The pricing for this package is $9.95 per month.
With all the plans some features are available like;
Free SSL.
Unmetered Storage Space.
Automatic malware removal.
GoogleAdwords credit of $100.
You also get an email for any hosting plan, you choose. Like other managed WordPress hosting providers, HostGator has 24/7 supporting team.
Bluehost has a huge advantage like the SiteGriund we hosting. It is also recommended by WordPress on their official site. Bluehost is a famous and old hosting company. They provide a long list of hosting plans.
Read:- Bluehost Web Hosting Reviews And Detailed Features Of It
At a side, they have hosting plans for small or medium businesses, new blogs and they also have to hosting for the big enterprises. For WordPress, they have shared, managed, and e-commerce plans. Three managed WordPress hosting plans;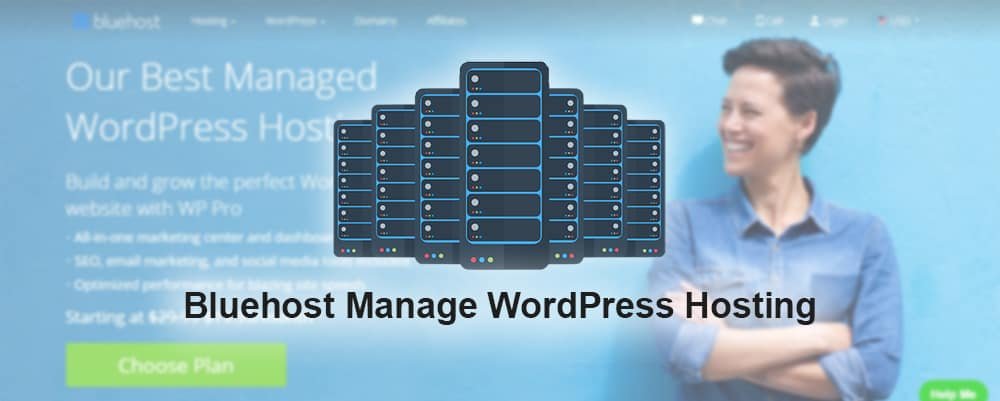 Build:
This is the basic plan for managed WordPress hosting priced $19.95 per month. You get basic Jetpack Site Analytics, 100 premium themes, Marketing Center( to track your blog, social media traffic without ever leaving the dashboard.
 Grow:
The Grow plan is priced $ 29.95 per month. In this package premium Jetpack Site, Analytics has given. Bluehost SEO tool, 10 GB video compression, WordPress live ticket support has given on Grow. All the Build plan's features are included in Grow plan.
Scale:
This plan gives jetpack Pro, unlimited backup and restores, PayPal integration, WordPress Live Chat Support, unlimited Video Compression and the all build, and all features of Build, Grow plans. It will charge $49.95 per month.
Pricing of managed WordPress hosting on Bluehost is quite expensive, but they offer lots of features for all their packages. All packages included some common characteristics.
Unlimited Websites: You can build unlimited WordPress websites.
Unlimited Domains: You can point unlimited domains to your Bluehost managed WP hosting.
No Traffic limits: There is no specific number of visitors your hosting can handle.
Unlimited Subdomains: Create unlimited subdomains as per your needs.
Staging Environment: You can check an update before you publish any post.
Unlimited web storage: With WP Pro package you don't need to worry about storage shortages.
A2Hosting managed WP hosting
A2Hosting is also a famous brand for shared hostings, WordPress hostings, Reseller, and Dedicated hostings, domains and other web related solutions. Their WP hosting plans start in just $11.99 per month. For WP website hosting they have three packages;
1-SITE.
3-SITE3S.
UNLIMITED.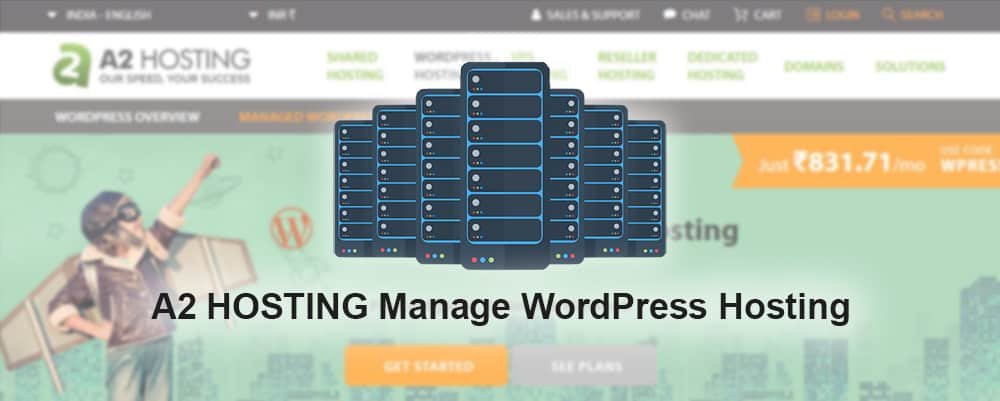 1-SITE:
This is the starter plan, and you get only one website to build on this hosting plan. It also features 10 GB storage, Plesk web hosting control panel, automated backups, and many more. This plan costs $11.99 per month.
3-SITES:
This is the favored plan on A2Hosting managed WP hosting plans. You can build 3 WordPress sites and get 25 GB of storage for the pricing of $18.99 per month.
UNLIMITED:
This plan is the most expensive plan among these three. You can build unlimited websites on the hosting, and 40 GB storage is offered. It starts at $36.98 per month.
The plans have some common features like;
Powered by Plesk web hosting control panel
Free website transfer to A2Hosting.
You get free Jetpack personal license.
 Free SSL, CDN, and SSD for all plans.
Webmail.
Spam protection.
Unlimited Subdomains.
Hundreds of free WordPress templates.
And lots of other features.
Dreamhost managed WordPress hosting provider
Dreamhost is also recommended by WordPress on their official site. They provide shared, dedicated, VPS hostings, Cloud Hostings, domain names. As they recommended by WordPress they have three types of WP hostings; Shared WP hosting managed WP hostings and WooComerce Hostings. For the managed hosting they offer three plans:
DreamPress.
DreamPress Plus.
DreamPress pro.
DreamPress:
This plan can support 100k monthly visitors and offers 30 GB of SSD storage. You Jetpack free pre-installed on it, and it costs $16.95 per month.
DreamPress Plus:
DreamPress Plus can support monthly 300k visitors and give 60 GB SSD storage. You get Professional jetpack and unlimited CDN with this plan at the cost of $ 24.95 per month.
DreamPress Pro:
This plan is for high-performance sites. Monthly 1 million visitors can be supported, 120 GB SSD storage, Jetpack professional, unlimited CDN are with the plan. $71.95 per month is the pricing of the package.
Some typical features of managed WordPress hostings in DreamHost are:-
Pre-installed SSL certificate.
Unmetered bandwidth.
Built-in catching.
On-demand backups.
Automated backups.
Free domain privacy feature.
24/7 support.
and lots of other features.
Kinsta managed WP hosting
Compared to other web host companies Kinsta is quite a new company on the market. They use the Google cloud platform to give service. They have such a large number of managed WordPress hosting plans, and their entry-level plan costs $ 30 per month. Their packages are.
STARTER.
PRO.
BUSINESS 1.
BUSINESS 2.
BUSINESS 3.
BUSINESS 4.
ENTERPRISE 1.
ENTERPRISE 2.
ENTERPRISE 3.
ENTERPRISE 4.
And so on.
STARTER:
This is the entry-level plan starts in $30 per month and offers one WordPress installs, monthly 20,000 visitor capability and 5GB disk space.
PRO:
The $ 60/ mo plan gives 2 WP installs, monthly 40,000 visitors and 10 GB of disk space.
BUSINESS 1:
It costs $ 100/ mo and features 5 WP installs, monthly 100k visitors capacity and 15 GB disk space.
BUSINESS 2:
The BUSINESS 2 plan gives you 10 Wp installs, monthly 250k visitor capacity and 20GB SSD storage at the price of $ 200 per month.
BUSINESS 3:
20 WordPress installs, monthly 400k visitor capacity and 30 GB storage available on this plan at the price of $ 300/ mo. Also, you get 500 GB free CDN here.
BUSINESS 4:
BUSINESS 4 plan gives you 40 WP installs, 600k monthly visitor capacity, 40 GB SSD storage, and 500 GB free CDN. This plan costs $ 400/ mo.
ENTERPRISE 1:
The ENTERPRISE 1 plan charges $600/ mo and offers 60 WP installs, 1M monthly visitors, 80 GB storage, and 1000 GB free CDN.
ENTERPRISE 2:
For the $900/ mo you get ENTERPRISE 2 plan which gives 80 WP installs, 1.5M monthly visitors, 120 GB storage, and 1000GB of free CDN.
ENTERPRISE 3:
With this plan, you get 120 WP installs 2M monthly visitors, 150GB SSD storage, 1000GB free CDN for $ 1200/ mo.
ENTERPRISE 4:
ENTERPRISE 4 plan gives 150 WordPress installs, 3M monthly visitors, 200 GB storage and 1000 GB free CDN at the price of $1500 per month.
The features which are included with all plans are:-
Free migrations.
24/7 support.
Free SSL certificates.
White leveled cache plug-in.
PHP7 support.
And lots of more.
If you need something more, you can contact their team for more customized packages. As you can see the pricing of managed WordPress hosting in Kinsta varies a large scale. They have a wide range of options to choose for all kind of business and WordPress sites.
All the features of managed WordPress hostings and the pricing of managed WordPress hosting are full of diversification. They have some unique features on unique pricing. So as per your needs, you can choose the right one. The reviews of the companies also carry to persons and their experiences.
Thanks for reading. We hope you get a better idea of managed WordPress hosting providers. If you have any queries or suggestions, you can comment below.