Earn Money
Mistakes To Avoid As A Newbie Freelancer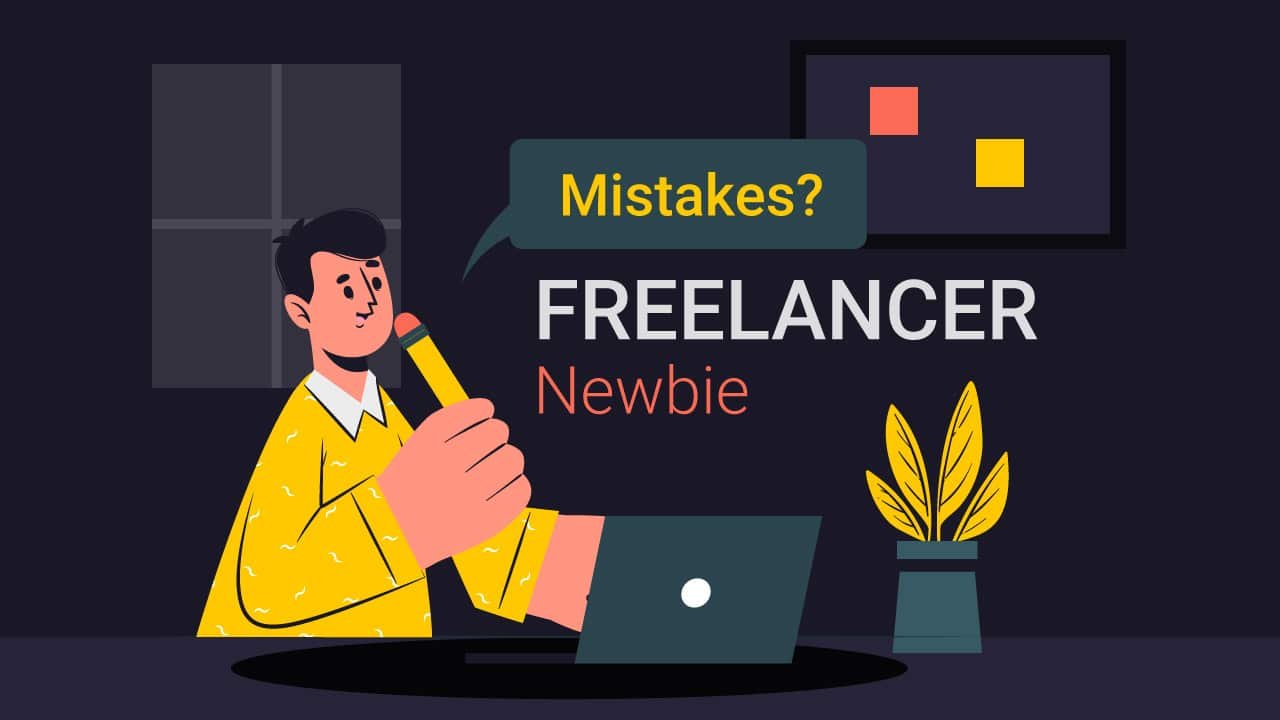 Lack of jobs, unpleasant work environment, and difficulty joining an office at a specific place are so many reasons people choose freelancing.
The term has become so popular that you might find a huge competition on the freelancing sites. Despite the overcrowded platforms and tough competition, new and new freelancers are coming to the field, and many of them successfully earn a handsome amount of cash. But beginner freelancers often make mistakes that make their journey arduous. In this article, we will highlight some mistakes that newbie freelancers often make. So, let's get started,
Jumping without knowledge:
Yes, that's the primary point you should be caring about. Freelancing is not by means that you can complete the task as you want. Many beginners just put their step into freelancing and choose a niche where the earning is quite impressive. But this practice will take you nowhere. Most probably, you would end up your freelancing career before it starts. Having experience is a different thing from knowledge. For example, graphical designing works, website development, and designing works are high in demand and often have high earnings. But they are also very tough things to do. If your thinking is to watch some YouTube videos on the niche, and I'll be an expert on that, you are making a big mistake. That's not the thing that happens. Before you bid for a task on freelancing sites, you need to have the proper knowledge.
Pushing yourself too much:
Newbie freelancers often put themselves in to hurry to adopt too many tasks fill their pockets with cash. To fulfill that, they grab too many orders together and try to complete them all at once. But they end up undelivered all the projects into the given time. That creates a very bad impression on your employers. They will give you low ratings for your delay. That will minimize your possibilities to get new tasks. Instead of taking too many tasks at once, beginners should focus on the quality, not the quantity, because the more quality you will provide, the more your ratings will be, and you will get more tasks in the future. Most importantly, your reputation will increase, which will attract high ticket clients in the future.
Dropping your price so low:
Every career is arduous at first, and there are we need to really work hard to strengthen our feet in the field. There is nothing exceptional on freelancing. In fact, in freelancing, where similar freelancers are directly interacting with the same clients, discussing the pricing and the expertise, it is obvious that newcomers would feel depressing that they have very few spaces in the field. In that situation, many beginner freelancers drop down their pricing so low to get a task completed. Their pricing is nearly free to the work. That's a really bad thing. There are always even and odd people everywhere. You might think that lowering your bid will be a great thing, but it does not necessarily mean that it will give you lots of orders. Suppose you are offering WordPress designing, and no need to mention there are so many designers is around.
There are is not a fixed price as it is not a product, but still, it has a standard market price that all designers follow. In freelancer sites, every freelancer sets their pricing, which can ben be seen by everyone. If you put relatively low pricing, clients may assume your work is not up to the mark; otherwise, why are you offering so low a price. So, you need to look at the people in your similar niche what pricing they are offering. You can drop your price slightly, not too much.
Trying multiple niches:
One of the main reasons freelancers do not get succeed is trying to fill multiple shoes. You might have multiple talents in different segments. You might be good at writing, photography, designing at once, but it won't be good to showcase them on freelancer sites. Clients on freelancers are in search of professionals and experts. People can be good at many things and cannot be experts in all categories. That's the case with most people. When you mention that you can perform multiple tasks on your freelance account, people will most likely take you less seriously, and they might ignore you too.
Overcharging:
Lowering your charges has various odds, and overcharging also has some impacts too. As a newbie, you don't have lots of experience and reviews that will help you get more clients in the future. So, you can't keep your charges super high. There are other experienced freelancers competing with you. Then why any client would pay you higher when you are just starting out your journey. So, you should keep your pricing decent.
Unable to identify fake clients:
Not all the tasks you get are real, and you often encounter fake clients. Especially as a beginner, it is even harder to identify fake clients. Fake clients lose your valuable time and money, and of course, your confidence. There are some symptoms that you can look for. Most of the fake clients will ask you for lots of free samples. Now, once you provide them with the samples, they will get vanished. Actually, they only require one piece of information. Another way to identify fake clients is they are never satisfied with your work. So, if you have made so many corrections but still your client is not satisfied with your work, there is a strong indication, it's a fake.
Thanks for reading. Explore more articles,