Gadgets
Philips BT50B Really Has Good Quality Sound According To Size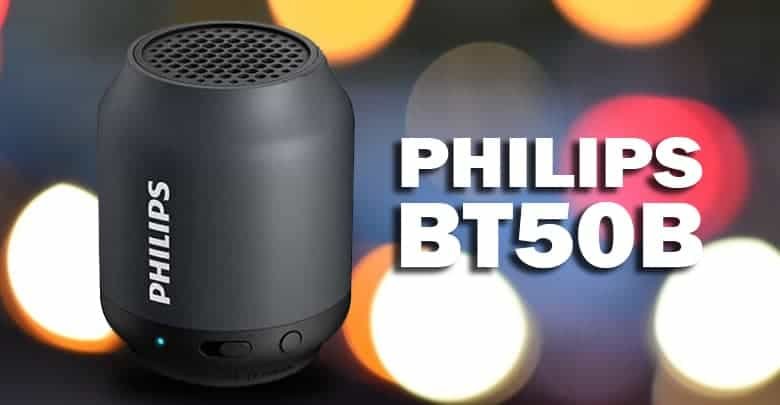 The Philips BT50B Bluetooth speaker, a compact speaker and comes with anti-clipping function. The design of that speaker is also quite a different.
Though the Bluetooth speaker is made of plastic, it is hard enough, and as because of its size the speaker is easily portable. The sound quality of that speaker is very detailed and sharp. Its design of Philips BT50B looks very interesting and attractive. Let's see its design and other specifications below.
Philips BT50B design:
This Philips BT50B speaker is a little bit a circular shaped and feels premium on hand. At the top, the speaker is placed, and plastic protection has given there. At the bottom, rubber protection has provided to give the speaker an extra grip on the surface. The dimension of the Philips BT50B is 6.1 x 6.1 x 7.6 cm, and it is very lightweight; 90 grams.  Around the speaker, there is a small LED light. Besides that, there is a toggle button.
That enables you to off-on or use AUX option. With the 3.5 mm AUX cable, you can connect your Smartphone, laptop or any other devices as well as other Bluetooth devices. But here you don't get any volume adjusting buttons with this Bluetooth speaker.
Battery and other specifications of Philips BT50B:
This Philips BT50B has ten meters of Bluetooth range. It maintains a standard distance with that speaker and the device. But unfortunately, you don't get here microphone. You cannot take calls with that Bluetooth speaker. To enjoy the music on that speaker, you need at least android 2.1device and the Bluetooth 2.1 or above. The speaker's output power is 2W which gives loud and crisp bass experience as its size. The Philips BT50B speaker has a lithium polymer battery inside which provides you with 5-6 hours of run time on a single charge.
There is Anti-clipping function used on the Philips BT50B. This function allows you to play music louder and distortion free, even when in a low battery situation.
This tiny and stylish Bluetooth speaker is compacted delivers an excellent crispy bass. The pricing of that speaker is Rs. 1499. If you like its features and design, you can buy it from the below "BUY NOW" button.
BUY NOW
Thanks for reading. If you liked it or have any suggestions, please comment below.