Gadgets
Check Out This Amazing Barrel Shaped Artis Bluetooth Speakers
Artis is a famous brand for producing high-quality Bluetooth speakers. They have a wide range of wireless speakers to choose according to size, performance.
In this article, we are bringing you five Artis Bluetooth speakers which are cylindrical. These speakers have loud bass and come in affordable budget. Let's get started.
Artis BT222 Bluetooth Speaker:
This barrel-shaped Bluetooth speaker has a soft-touch plastic finish body. The dimension of this Artis BT222 is 24.5 x 11.5 x 11.5 cm, and it is only 1.2 kg. There are two speakers inside and 3-inch Subwoofer. At the one side, there are operating keys are given. Besides the on-off power button and mode change buttons you get there dedicated pause-play buttons, volume rockers, play previous-next buttons. As the additional connectivity options, there is AUX port for playing Music via wires, microSD card slot for playing music directly with a memory card, USB port to insert a pen drive. The operating range of this Bluetooth speaker is 10 meters.  This speaker is powered by a Lithium Polymer battery which can give 4.5 hours music playback timing.
The speakers deliver high quality dynamic and crystal clear sound experience. At the edges, you get hooks to put a strap on that speaker. This Artis BT222 comes in black color option, and the pricing of that speaker is Rs. 1989.
Artis BT111 Bluetooth Speaker:
Artis BT111 speaker has a cylindrical shape and looks like leather type design. But the speaker is made from plastic. The speaker dimension is 25x12x12 cm, and it is 1.31 kgs in weight. This is a compact Bluetooth speaker, gives high quality and loud sound for any outdoor usage like outdoor parties, picnics. Metal grills cover the speakers. In front of one metal grill, Functional buttons and connectivity options are given. For the controls power buttons, music pause-play buttons, mode button, and a LED indicator have given into this Bluetooth Speaker. Along with Bluetooth, there is a microSD slot to put a memory card, USB port for the Pendrives AUX cables for play music through a wire; built-in FM options are given.
The Bluetooth connectivity range of the speaker is ten meters.  The speaker has a rechargeable battery inside to provide 4.5 hours of music playback time. The price of that Bluetooth speaker is Rs. 1749.
Artis BT99 Bluetooth Speaker:
The Artis BT99 Bluetooth Speaker is made from plastic. It feels soft and premium on hands. The speaker dimension is 23 x 10 x 10 cm, and it is 871 gms in weight. It gives crystal clear and powerful bass experience. On the left side of the speaker, there are connectivity options like micro USB port for charging, USB port to insert Pendrive, AUX cable port for listing through plugging up wires. There is a LED indicator, and the on-off button is also placed. On the other side, there is mode changing button, volume increase-decrease buttons and pause-play buttons are placed.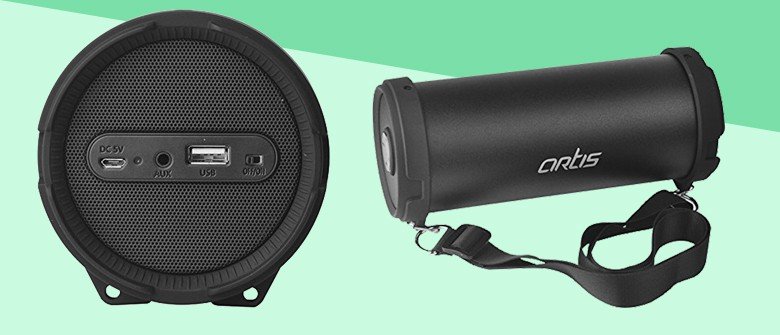 The Bluetooth speaker is powered by a rechargeable battery which can give 4.5 hours of music play time. You get holding strap with this speaker to carry on your shoulder. This Bluetooth speaker comes in Brown and Black color options. It cost Rs. 1299.
Artis BT54 Bluetooth Speaker:
The Artis BT54 Bluetooth speaker has a matte finish from outside. It is also a cylindrical shaped Bluetooth speaker. The dimension is 18 x 6.5 x 7.5 cm of the speaker, and it is 522 gm in weight. There are metal grills in front of the speaker. In one side the on-off power button, previous-next button, mode changing button and, Volume increase-decrease buttons are placed. There is also an LED indicator is positioned. For the connectivity there is a USB slot has given to insert Pendrives, microSD slot to enter memory cards, AUX cable port is available along with the Bluetooth. This Bluetooth speaker can give up to 47.5 hours of playback timing.
It has 150mAh Lithium Polymer battery inside. It could be a perfect option for outdoor parties or picnics as it has powerful bass and crystal clear sound. The price of the Bluetooth speaker is Rs. 1049.
Artis BT306 Bluetooth Speaker:
This Artis BT306 Bluetooth Speaker is expensive among these five speakers. The speaker is made from good quality plastic. But the speaker is covered by rubberized material. According to the price, the speaker feels more premium. The speaker is 23 x 10 x 10 cm of dimension, and the speaker is quite heavy. It is 1.5 kg in weight. There is a leather strap has given to move the speaker easily. For the connectivity there is TF card reader, AUX cables have given along with the Bluetooth. For controls there are on-off power buttons, volume increase-decrees buttons, mode changing buttons, pause-play buttons, and previous-next buttons are given.
There is subwoofer also inside to provide the deep bass. The Bluetooth speaker comes in two color variants; Black and Brown. The speaker price is Rs. 2499.
Not only looks, but these speakers also have so many similarities in them. Hope you have enjoyed this. If you like this or have any suggestions please comment below.