Earn Money
Udemy Review And How To Earn From Udemy
Make Money From Udemy Easily By Reading The Full Article.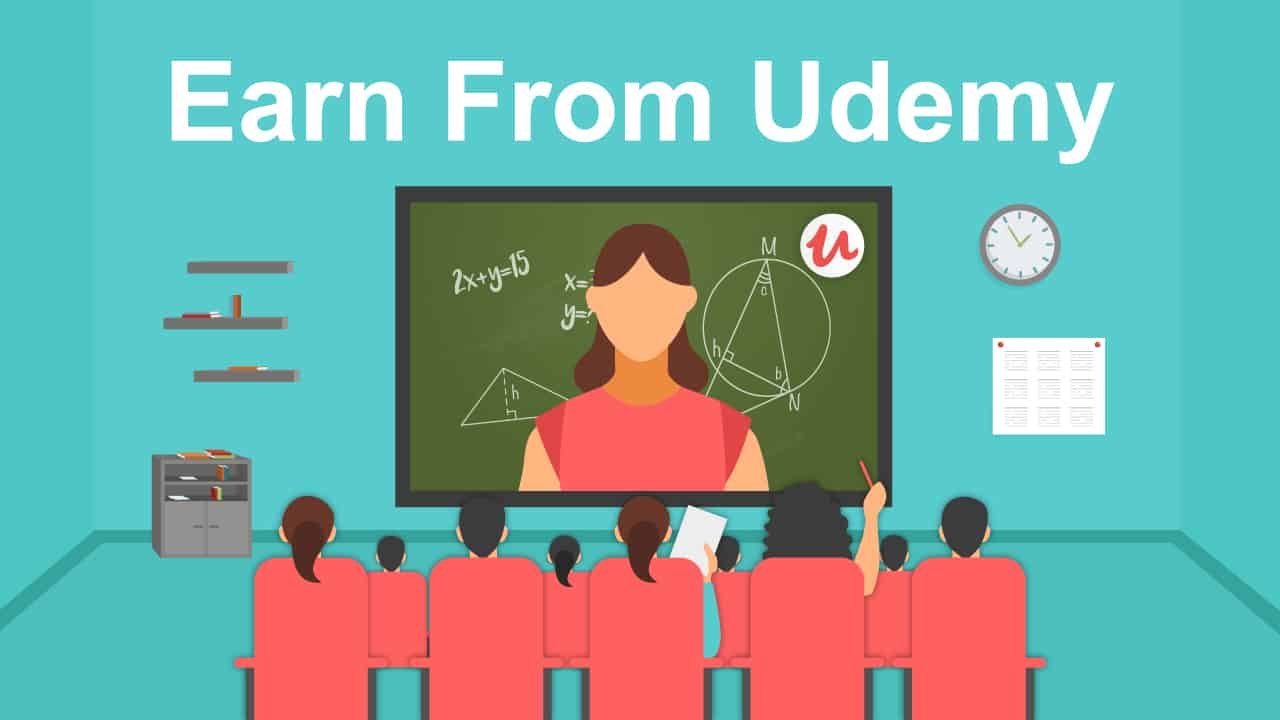 If you have talent in any field or have knowledge on any subject then you can earn from Udemy by becoming an instructor and sell your courses to students.
Conventionally the education system is students who want to learn, and they go to an institution join any course and learn their wished topic. To teach the students the institution on course provider charge money. This concept has not been changed yet. Sometimes taking education becomes hard for students because of the distance between the student and the education premises. But thanks to the internet this situation now has changed on a large scale. Compared to earlier days now learners can learn, join courses from anywhere on the planet if he or she has an internet connection. Now on the internet, several platforms are available where students can easily access to courses by paying. Udemy is such a kind of platform.  Moreover, teachers from around the world can earn from Udemy.
What is Udemy?
Udemy is a California based e-learning company where students from all over the globe can join courses and learn. It is a global market place of having more than 100,000 courses virtually. This digital platform is an excellent place where top instructors create courses, business teams, students come and learn virtually by viewing videos, joining live classes, getting PDFs and other notes.
On Udemy there are 30 million students are learning and 42k talented instructors are available for now. You can choose the Udemy courses in 50 different languages.
Udemy overview:
If you want to become an instructor to earn from Udemy, buy a course or becoming an affiliate you have to signup first. When you enter to Udemy homepage, you will see three main options for "Categories," "Udemy for Business," and "Become an instructor."
Categories:
The category section is for students who seek for their required course. As we told before there are over 100k courses are available. Some of the top categories are-
Development.
Business.
IT $ Software.
Photography.
Music.
Personal development.
Marketing.
Design.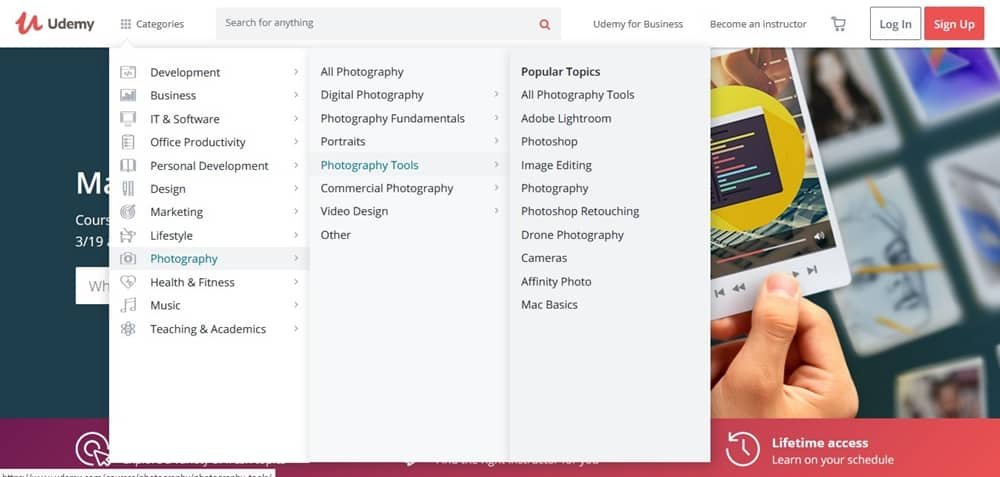 Though these are top categories, you will find so many subcategories too. From health & fitness to e-commerce site development, from pet care to art classes,  from memory and study skills to commercial photography. You can find almost any course you can imagine it. If you have any specific course to choose you can get it by typing on the search box. After finding courses when you click there, you will get lots of information to know about the course.
When you click on the courses, you can see a preview of the course. A short introduction video about the course.
" What You'll learn section" gives you some specific points you are going to learn if you go for the course.
On the description, the creators of the course write in detail about the context of the course. They also tell about the requirements you need to understand the course.
At the below of the course the rating for that course. People share their opinions who already have attended the course.
You will get full information about the instructor who has created the course.
Also when you go to a course category, you can filter the courses by the ratings, the course duration.
If you want to purchase a course there, all these information mentioned above will help you devise that is the course would be beneficial for you or not if you're going to gift a course to someone you can do so.
Become an instructor to earn from Udemy:

By creating video courses you can earn from Udemy. Students come to Udemy, and if they buy courses, the creator of the course gets the royalty on that. Making a course on Udemy is easy. You can make a course by creating videos, texts sliders, PDF files and many more. In addition, creators can add assignments, practice papers, quizzes and many more. Instructors can create video courses by their smartphones, DSLRs. But one thing should be noted that the video and audio quality should be high. Udemy team check the quality of the videos and sound.
Udemy has their supporting team if you find any trouble while creating your course or creating videos. The instructor community of Udemy is also upfront to help you guide you and inspire you to make your course live.
Udemy for Business:
Every workplace, business needs to improve their skills. For the businesses, Udemy has a separate category "Udemy for Business". There you can find 3000+ especially business-related courses which can help businesses to give a good impact to the business. Udemy for business has two plans; "Team Plan" and Enterprise Plan."
With the Team Plan, you can add 5-20 people and have to pay $240 per user per year. On the Enterprise Plan 20+ people needed and the charges vary to the number of persons.
How can you earn from Udemy?
If you want to make money on Udemy, there are two ways,
Become an instructor.
Join Udemy Affiliate.
Become an instructor to earn from Udemy:
Udemy rewards instructors when any student purchase courses of them yet Udemy don't take any fees to upload courses. There are some revenue sharing conditions, and they are below mentioned.
If an instructor sells a course by the instructor coupon, Udemy will share 97 % revenue with the course creator. To sell, the instructors of the course can create coupons as a marketing strategy. They can give discount through the coupons.
If any student buys a course organically without any instructor coupon, then Udemy shares 50 % revenue.
If you can make excellent and demanded courses, there is a chance to earn a massive amount of cash. Udemy's revenue sharing is very aggressive.
Become an affiliate marketer of Udemy courses:
Now every company whether it is an e-commerce company like Amazon or a domain hosting company, they run an affiliate program. Lots of bloggers who have high traffic on their blog or site, earning a massive amount of money from affiliate marketing. If you are not familiar with the word affiliate marketing, you can read:-
However, if it is not possible for you to make a course, nevertheless you can earn from Udemy by becoming an affiliate marketer. If you have a website or blog, you can promote a course and can get competitive commissions on sales.
You will get a dedicated affiliate manager, so many banners to promote courses. In addition, you get many promotional assets and tools to drive your sales. When someone purchases any cour from your affiliate banner or links, you get the commission on that.
Conclusion:
At the prospect of a student, Udemy is an excellent platform. A student from a remote area can access the courses at affordable prices. In fact, some of the courses are free, and the maximum courses are below $200.  You can reach the courses on computers, tablets, and smartphones.
On the other hand, instructors get chances to earn through their talent. If you have talent on something and want to sell your courses to your own platforms there is the main difficulty is about getting students. Udemy a big company, they run ads and invest vast amounts in selling the courses. For an individual person its' quite tricky to that.
If you want to read more earn money related contents you can read:- Everything You Need To Know About Freelance Earning Sites, and Everything You Need To Know About The Ghostwriting Jobs.
Thanks for reading, we hope you have enjoyed the article. If you have any suggestion or queries, you can comment down below.