India
WB Guv urges Mamata for meeting on law and order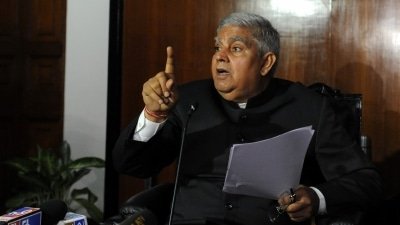 Kolkata, July 23 (IANS) West Bengal Governor Jadgeep Dhankhar on Thursday urged Chief Minister Mamata Banerjee to meet him on the issue of the state's deteriorating law and order situation.
"Given the enormity of decline in law and order I have urged Chief Minister Mamata Banerjee to urgently brief me," the Governor tweeted.
He also condemned the attacks on opposition leaders across the state and criticised the role of the police.
"Political leaders and opposition MPs and MLAs being virtually hunted out of public space by partisan police acting as political workers. This cannot be allowed in a democracy," Dhankhar said.
The statement came a few days after he met Union Home Minister Amit Shah in New Delhi on Monday where he conveyed his concerns on the issue.
"As Governor of the state I am extremely worried. I requested the honourable Chief Minister to come forward and have a meeting with me. I hope she will give the highest priority to this," he said.
Reacting to the development, senior Trinamool Congress leader Tapas Roy attacked Dhankhar saying when six other states in India are trying to battle locust swarm invasions, we are dealing with the state Governor.
"Now the first priority for the Chief Minister is to manage the COVID-19 situation and save lives. But he is holding press meets and hurling attacks on the state government's role every day," Roy added.
–IANS
sbn/ksk/