World
Voting on for French local elections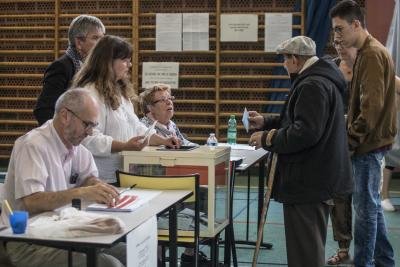 Paris, June 28 (IANS) Polling stations across more than 4,600 French towns opened on Sunday for the second round of the local elections, which were delayed three months ago due to the coronavirus pandemic.
Around 13 per cent of municipalities, where in the first round on March 15 no candidate garnered more than 50 per cent of votes, are set to elect their Mayors, reports Efe news.
In total, around 16 million eligible voters (38 per cent of the census) can cast their ballots in Sunday's polls which are being held amid by precautionary hygiene and social distancing measures to curb the spread of the infection.
Wearing masks, maintaining safety distances and regular disinfection of booths and premises will be mandatory.
In the first rounds, fears over COVID-19 deterred many and affected voter turn-out which barely exceeded 45 percent, the lowest in history for French local elections.
Participation will be key on a day polls predict a grim result for President Emmanuel Macron's La Republique En Marche! which is not expected to take any significant cities or towns.
Prime Minister Edouard Philippe is one of En Marche's few candidates who is set to preserve the city of Le Havre, but even that does not guarantee his continuity in office.
The Republican conservatives, who traditionally take a larger number of seats in local elections, may risk losing some of their strongholds including the city of Marseille, the second largest in France, where they have governed for 25 years.
The Socialists will likely hold onto Paris, led by incumbent Anne Hidalgo, but the balance of the current coalition with center-left suits may be shaken with a larger vote share given to The Greens, who pollsters predict will make large wins in major cities like Bordeaux, Marseille, Lille, Lyon and Montpellier .
The far right will witness a drop in support compared to the 2014 elections, but they are expected to win Perpignan, which with its 120,000 inhabitants would be their greatest conquest in a quarter of a century.
–IANS
ksk/