India
Turkey to resume business operation amid COVID-19 normalization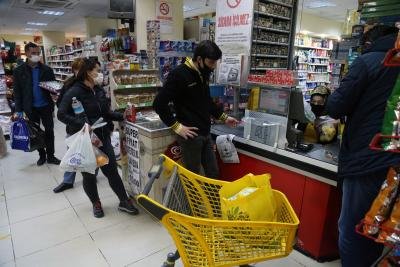 Istanbul, June 1 (IANS) Many businesses across Turkey prepared to resume their operations for the first time after over two months of closure amid a slowdown in the COVID-19 pandemic.
Restaurants, cafes, parks, beaches, daycare centers, kindergartens, libraries, sports facilities, swimming pools, and museums will be operational as of June 1 as part of the new normalization process which was announced on May 28 by Turkish President Recep Tayyip Erdogan after a cabinet meeting on Sunday, Xinhua news agency reported.
Following the announcement, the Health Ministry prepared a guide in particular for the eating and drinking industry at which it explained the new rules in a detailed way.
The guide said that the distance between the tables should be 1.5 meters in all directions and 60 centimeters between the chairs to ensure the social distancing rule, and the hygiene rules should be strictly followed to combat COVID-19.
Several restaurants in Turkey's biggest city Istanbul on Sunday disinfected their facilities and redesigned their seating arrangements in line with the ministry's guide.
Under the new measures, restaurants will only accept customers with facial protective masks, and the clients will be allowed to take off their masks only during eating.
Turkey will also lift restrictions on domestic travels as of midnight on Sunday, and public personnel will return to their jobs on Monday.
Turkey's national flag carrier Turkish Airlines announced on its website that it would start its domestic operations with a limited number of flights departing from Istanbul to four major cities, including the capital Ankara, and western Izmir province, as of Monday.
The carrier will begin to fly to other cities on June 4 and launch its international flights on June 10, it added.
Meanwhile, bars and night clubs will remain to be closed, and the restriction on the movements of those aged over 65 and under 18 will continue.
The death toll from the coronavirus in Turkey has climbed to 4,515 and the number of confirmed cases totaled 163,103, according to the figures announced by the Health Ministry on Saturday.
–IANS
rt/