World
S.Korean Prez, Kim Jong-un exchange letters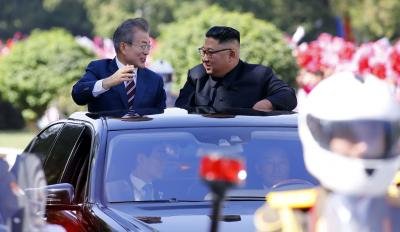 Seoul, Sep 25 (IANS) South Korean President Moon Jae-in and North Korean leader Kim Jong-un exchanged letters earlier this month, in which the two leaders touched on "expectations" for the recovery of Seoul-Pyongyang relations by overcoming the ongoing difficulties from the coronavirus outbreak, the presidential Blue House in Seoul said on Friday.
In a statement, the Blue House said that Moon sent his letter on September 8 and Kim replied to in on September 12, reports Xinhua news gency.
In his letter, Moon pointed out that both Koreas are going through "big predicaments," from the coronavirus to heavy monsoon rain and typhoon damages, Yonhap News Agency reported.
Moon expressed his appreciation for Kim's "strong commitment" to respecting the lives of people.
The President said the current situation is regrettable in that South and North Korea can't help each other despite the challenges.
In response, Kimsaid he thought in person about the "grave burden" that Moon is shouldering by himself and that he knows the President's "difficulty, pressure and efforts" to overcome the troubles better than any other person.
Kim said he sincerely hopes to share the difficulties and agony that the South is suffering.
He added he would wait for the day to come when this year's "terrible" moment passes by quickly and a series of "good things" will happen.
"I once again eagerly wish that southern compatriots' precious health and happiness will be kept," Yonhap quoted Kim as saying in the letter.
"I sincerely wish for everyone's well-being," he added.
–IANS
ksk/