India
Rajasthan exploring 'Atmanirbhar Bharat' to bring economy back on track: Chief Secy (IANS Exclusive)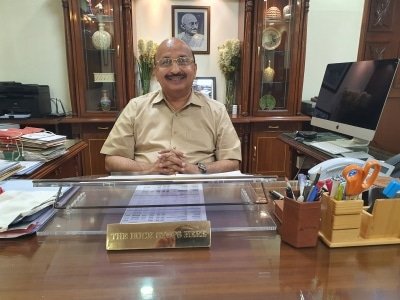 The state has now poised to bring the economy back on track. Rajasthan Chief Secretary D.B. Gupta speaks exclusively to IANS and shares the plan of action of the state government to gear up the economy, which includes planning big for 'Atmanirbhar Bharat' and boosting local businesses. The state government is in the process to map 10 lakh labourers who have returned to Rajasthan amid lockdown so that they can be settled in the state.
As the US-China trade war escalates, the state government is also eying companies from across the globe who would like to shift base from China.
Here are excerpts:
Q. What's the present state of economy in Rajasthan in view of the corona crisis?
A. Rajasthan, like other states, has been hit hard by Covid attack. As the lockdown was announced in March, in April, we received only 25% of the expected revenue. There was no revenue coming in May as April witnessed a complete shutdown. However as some sectors were opened in May, we are supposed to get around 25-30% revenue in June in the first week — we'll get the figures by June 5.
Overall, a loss of Rs 3,500 crore was seen in March. The biggest revenue loss was on account of excise which resulted in zero returns.
However, when we opened liquor shops, we received Rs 115-crore revenue on the first day. Further, commercial tax, GST could not be collected during lockdown as shops were closed. In lockdown-3, as markets were opened partially, we expect 25-30 per cent revenue to come in.
Q. What are the present challenges before the state?
A. Although markets have opened, our labour force has gone back to their native places. That is posing a big challenge before us. Meanwhile, on the other side, we have 10 lakh migrant labourers returning to Rajasthan. So we are working on a three-pronged strategy to resolve the challenge of the migrant crisis.
First, our labour department has started mapping these labourers to evaluate which skills they fit best. Once the mapping is done, we will share the report with industry chambers such as FICCI, PHDCII, and CII so that their information is available in public domain. This way, the industry as well as the labour would benefit.
Second, we have decided to absorb 7 to 8 lakh people in MNREGA. And finally, we are planning to train these labourers under skill development. This should work well if labourers from UP and Bihar don't return to our state, and also our labourers also remain unwilling to go to any other state. Presuming that there is no further migrant movement till Diwali, we are putting this plan into action.
Q. MNREGA has registered the biggest number in the state. What are its pros and cons?
A. As many as 44 lakh workers have registered with MNREGA in Rajasthan, which is the highest number in the country registering with the scheme.
With this big number of labourers, we also need to have bigger projects. Currently, due to unavailability of such projects, we have decided to use this labour force into digging water reservoirs. As monsoon is approaching, these reservoirs will be full of water which can be used to enhance water capacity in future. Also, we will use the labour force in making proper kaccha roads in villages with PWD help. These passages will later be converted into pacca roads through Pradhan Mantri Gram Sadak Yojana. At present, these rural passages are being built by pouring mud which dissolves in rains.
Q. Any strategy to cash in on Atmanirbhar Bharat?
A. We have formed a special team on MSMEs under Additional Chief Secretary Industries, Subodh Agrawal. Under Atmanirbhar Bharat, loans are being given on non-collateral basis and we are working to derive its maximum benefits.
The team is busy exploring opportunities in beekeeping in tribal areas, as well as on bamboo work. We are also looking at traditional works which can be taken up in diverse topography, as MSME sector has been made more liberal and its scope has been widened. We are working to promote local businesses.
We have formed a task force on agriculture and horticulture as well. We are also looking at local factories that manufacture local products such as isabgol (psyllium husk), jeera and dhaniya. Now, these will be marketed from local set-ups, which will be ready soon.
Q. Rajasthan has a slice of Japan being present in the industrial belt of Neemrana. Any plans for its expansion with Japan and US planning to shift their companies out of China?
A. The Rajasthan government has been in contact with Japan and US officials on setting up manufacturing facilities in the state. While Japan has sounded positive on prospective investment in Rajasthan, talks are on with the US officials.
I have had elaborate discussions with Japanese Ambassador in India, Satoshi Suzuki, on making Rajasthan a preferred destination for investment. We are also in touch with South Korea on the investment issue.
In Giloth, near Neemrana, we are creating a special zone to house Japanese and Korean companies.
The state government has written to US Ambassador to India, Kenneth Juster , where we have mentioned that if the US plans investment in India, Neemrana will make a good choice as law and order is quite good there, besides, it is the right time to invest.
–IANS<br>arc/prs<br>