India
Quarantined migrants protest 'lack of facilities' in Bihar's Nalanda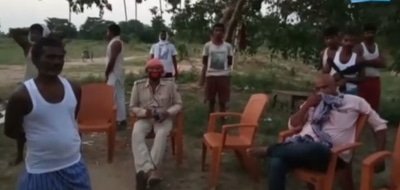 Bihar Sharif, May 23 (IANS) Inmates of different quarantine centres set up across Nalanda district in Bihar are up in arms over alleged lack of facilities, leading to protests and resultant chaos daily.
Authorities, however, said they were ensuring there were no shortcomings in facilities for the returnees.
There are reports of violence among migrant labourers lodged in a high school in Badi Malawan village in Sarmera block on Friday, leading to serious injuries to one of them.
The inmates claimed that they were only served food while items of daily use like jugs and buckets and mosquito nets had not been given, leading to difficulties.
A total of 171 returnees from Telangana are lodged at the quarantine centre, including 13 women and three children.
Ruckus at two other quarantine centres in the block have been reported earlier on.
Circle Officer Shivnandan Singh said that they had received complaints from the migrant labourers and efforts are on to redress them.
A quarantine centre set up in a panchayat centre in Uprawan village in Biharsharif block rued that they were forced to defecate in the open due to lack of toilets at the centre.
The 60 inmates housed there also complained of absence of any boundary wall, due to which its inmates roamed around freely in the village. It increased the health risks both for the inmates and the villagers.
Former Sarpanch Satyendra Paswan said that they had been urging the quarantine centre inmates not to leave the premises but they did not pay any heed.
A similar situation prevails in the quarantine centre in Panhar village in Islampur block, where 45 persons who returned from Haryana and Maharashtra etc are lodged since Wednesday. The inmates rued lack of food and other facilities.
On the other hand, Nalanda District Magistrate Yogendra Singh maintained that senior officers had carried out inspections at around 200 quarantine centres set up from the district to panchayat levels.
He said Block Development Officers concerned were providing the required facilities to the inmates.
The officer claimed that the district authorities were ensuring that the migrant labourers did not face any problems vis-a-vis the required facilities.
–IANS
Hindi/tsb