Education
Protests in BHU over Vice Chancellor's remark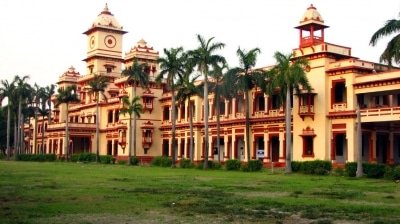 Varanasi (UP), Aug 21 (IANS) Banaras Hindu University (BHU) Vice Chancellor, Prof Rakesh Bhatnagar's alleged disparaging remarks against Mahamana Pandit Madan Mohan Malaviya, the founder of the university, have led to massive protests on the campus.
Students affiliated to Akhil Bharatiya Vidyarthi Parishad (ABVP), National Students Union of India (NSUI) and Samajwadi Chhatra Sabha (SCS) staged demonstrations across campus on Thursday and demanded the Vice Chancellor's resignation.
An audio clip of a telephonic conversation between Prof. Bhatnagar and a student leader Abhishek went viral on the campus which led to the protests.
In the call recording, Abhishek is heard demanding free treatment at BHU hospital, and reviving the old provision of issuing health cards again since students have to pay even for consulting doctors.
Prof. Bhatnagar cites shortage of funds and says the UGC gives only Rs 60 crore to BHU per annum while just the annual electricity bill is Rs 66 crore.
The Vice-Chancellor further says that it is not possible to provide free treatment or else the hospital would have to be closed.
"The Mahamana (Pandit Madan Mohan Malaviya) planted several saplings of mango trees on campus. If he would have planted some of currency notes, we would have given everything for free," he added.
Prof. Bhatnagar further said he himself also pays to avail treatment at the hospital.
"The government is also facing financial constraints as tax collection is poor in Covid-19 period. There are chances that we might not get even Rs 60 crore in next session," the Vice-Chancellor said.
He explained that even IIT-Kanpur is facing problems in paying salaries to teachers and staff, but assured that he would initiate dialogue to find a way for resolving the issue.
As soon as the audio clip went viral, groups of students started collecting at various points in and around the BHU campus.
The ABVP activists staged a protest in front of the Vice-Chancellor's residence, while NSUI staged a sit-in at the central office.
The SCS activists took out a procession and tried to burn Prof Bhatnagar in effigy at the main gate in Lanka, but policemen foiled their bid. Another group of students staged a protest by begging.
The students demanded removal of the Vice-Chancellor for his remarks on Pandit Madan Mohan Malaviya. BHU later issued a clarification saying the Vice-Chancellor was trying to convince a student like a guardian and had been apprising him of the financial problems the university is facing.
BHU spokesperson Rajesh Singh issued the statement quoting parts of the conversation between the VC and a student leader and added that the former had given examples and shared facts to make it clear that the institution was facing increased financial pressure due to the pandemic.
–IANS
amita/rs/avk