Lifestyle
Piyush Goyal to grace the International Day of Yoga Celebrations on Tuesday, 21 June, in Mumbai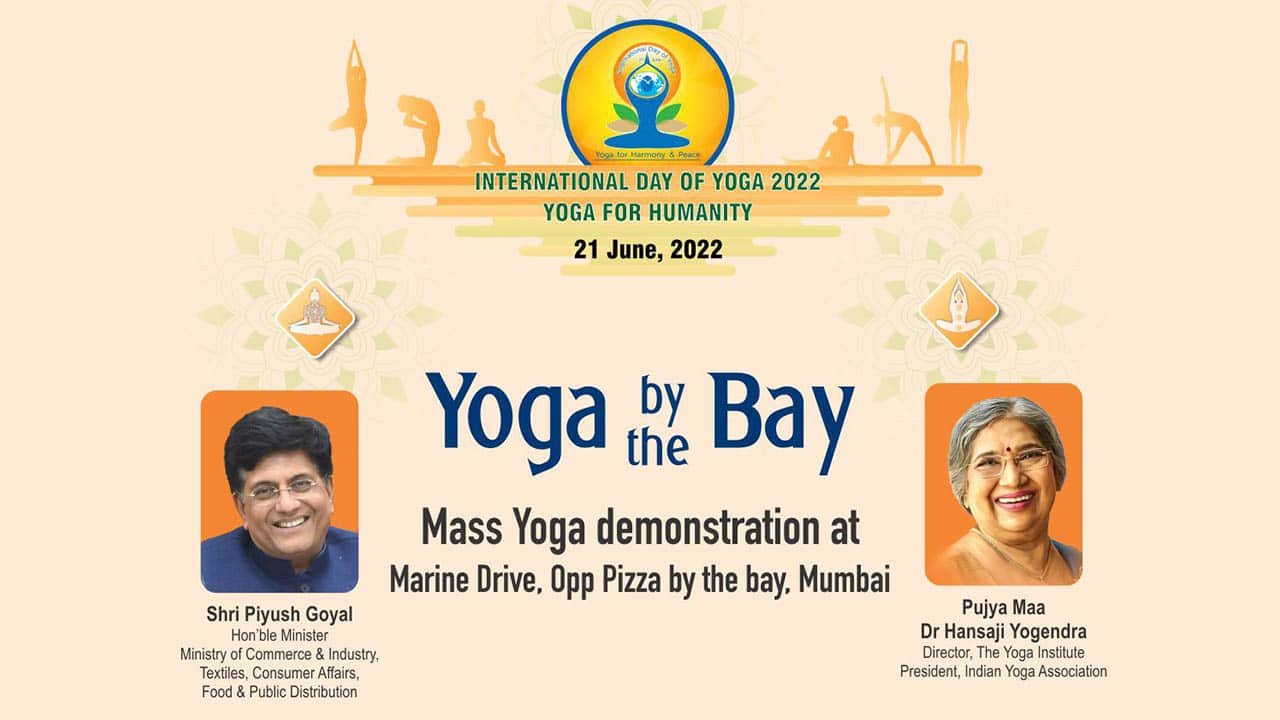 Mumbai, India: The Yoga Institute, Mumbai, will celebrate the Eighth Edition of the International Day of Yoga on 21st June, 2022 at Marine Drive. More than 6,000 people are expected to participate in the event. The event will be graced by the eminent presence of Union Cabinet Minister, Shri Piyush Goyal. Yoga Guru Dr. Hansaji J. Yogendra, Director of The Yoga Institute, the world's oldest organized Yoga institute, will also grace the celebrations.
In addition to this event, The Yoga Institute will conduct over 500 events globally as part of the International Day of Yoga celebrations on 21st June 2022. More than a million people are expected to participate in these events. Some of our notable events will be held at Raj Bhavan, Mumbai International Airport, ONGC, etc.
The objective of celebrating the International Day of Yoga is to raise awareness worldwide of the many benefits of practicing yoga. Over the years, The International Day of Yoga has evolved into one of the largest public health initiatives undertaken by the Government of India. It differs from other public health initiatives because it has taken the form of a mass movement.
The Ministry of AYUSH has been reviving the profound knowledge of our ancient systems of medicine and ensuring the optimal development and propagation of various Indian systems of healthcare including Yoga. Due to the Ministry's initiatives, the International Day of Yoga celebrations has greatly increased the popularity and awareness of Yoga worldwide.
At the Ministry's behest, on the International Day of Yoga, practitioners of Yoga have come together for Yoga demonstrations and for Yoga practice through a standardized set of practices called 'Common Yoga Protocol'. These Yoga practices are a good starting point for beginners to get inducted into the highly rewarding world of Yoga. Irrespective of age, gender, race, and other distinctions, they are guided about how and when Yoga asanas should be performed to receive maximum health benefits.
The theme of this year's International Day of Yoga, is 'Yoga for Humanity', as announced by Prime Minister Shri Narendra Modi. Yoga promotes humanity's collective quest for sustainable lifestyles and harmony with planet Earth.
Around the world, people have embraced yoga to stay healthy and rejuvenated and to fight social isolation and depression, especially during the COVID-19 pandemic. It has been proven that Yoga helps to boost the immune system and helps people to stay energized. Yoga also plays an important role in the psycho-social care and rehabilitation of COVID-19 patients in quarantine and isolation by allaying their fears and anxiety.
At Marine Drive, Mumbai, this iconic event will be organized by The Yoga Institute, Santacruz. The celebrations will start at 6:00 am and are expected to close at 8:00 am.