World
Pakistan's Punjab govt decides to reopen shrines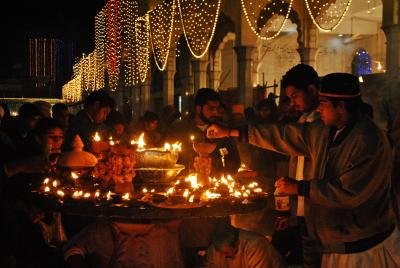 Lahore, May 21 (IANS) The government of Pakistan's Punjab province has decided to reopen shrines for visitors after easing the lockdown imposed to prevent the spread of the COVID-19 pandemic, it was reported on Thursday.
Sources said the proposal to reopen the 544 shrines in the province and finalise standard operating procedures (SOPs) for them was presented during a high level meeting in view of demands in this regard by the people, reports The Express Tribune.
The Punjab Auqaf and Religious Affairs Department has also insisted that the shrines should be reopened as it has so far incurred a loss of 260 million PKR due to their closure.
It was expected that SOPs will be issued after Eid, following recommendations for opening the shrines, the sources added.
Meanwhile, the Sindh government has allowed 'Jumatul Wida' (Ramzan farewell) and Eid prayers across the province but made it clear that all these exercises would be held in accordance with the guidelines issued by the federal government, stressing social distancing.
On Wednesday, Sindh Information and Local Bodies Minister Syed Nasir Hussain Shah said: "Eid prayers should be held at open places and parks. At those places, where a large number of people are expected, two congregations of Eid prayers can be arranged with gaps."
This comes after prominent clerics recently announced resumption of five-time congregational prayers at mosques across Pakistan.
Sindh and Punjab provinces are the worst-hit regions in the country by the pandemic.
Of Pakistan's total 47,394 COVID-19 cases, Sindh has recorded the highest at 18,964, while Punjab registered 16,685 infections.
–IANS
ksk/