Tech
OPPO all set to launch F19, the sleekest smartphone with a 5000mAh battery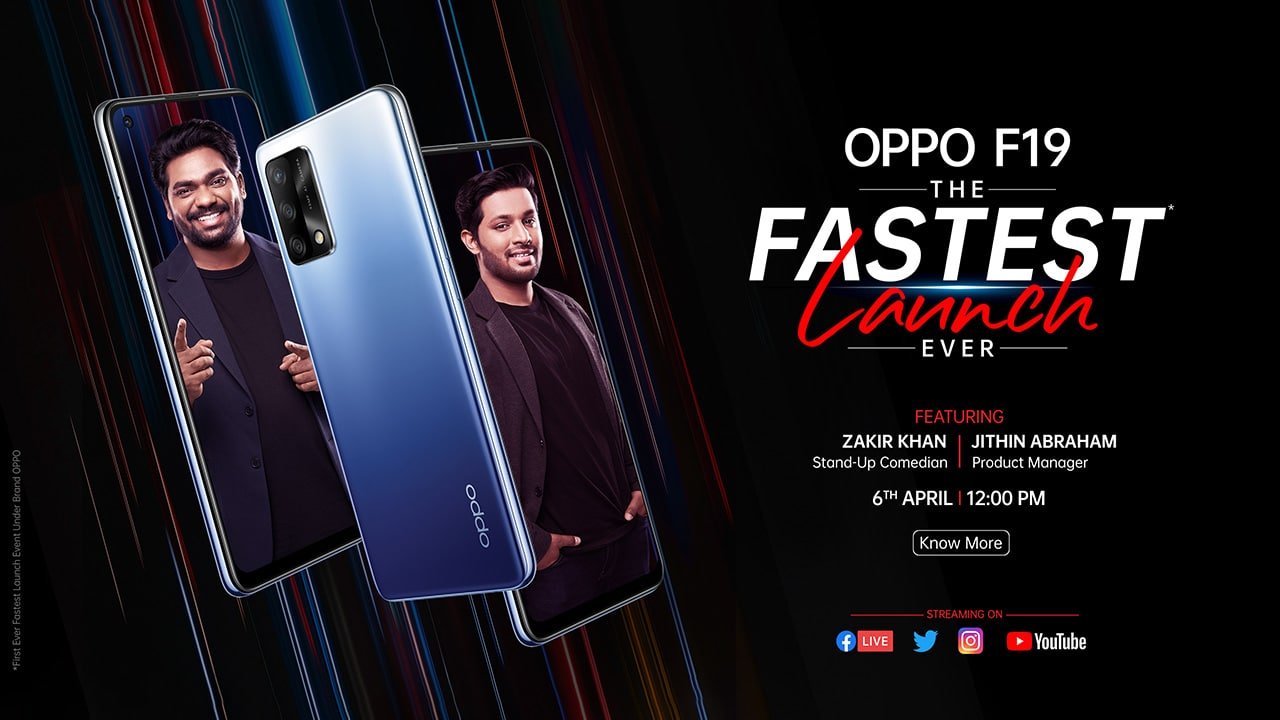 Mumbai: The leading global smart device brand OPPO is all set to introduce the sleekest smartphone with a 5000mAh battery, the all-new OPPO F19.
OPPO has been constantly striving to innovate not only in terms of product but also in terms of launch events that reverberate with the soul of the young audience and highlight OPPO's youthful brand ethos. The F19 launch will continue to mirror the F series' spirit of 'Flaunt'. To match the fast-paced lifestyle of today's consumers and demonstrate the F19's super sleek and fast features, OPPO will be hosting the Fastest Launch Event* with Zakir Khan, the famous stand-up comedian on April 6th, 2021.
providing sleek smartphones for consumers that are easy to use. OPPO F19 is crafted for the youth who looks for trendy and stylish smartphones that not only complements but also augments their lifestyle. The OPPO F19 will sport a massive 5000mAh battery life that's paired with a 33W Flash Charge, and a brilliant AMOLED FHD+ punch-hole display with all-day eye care yet manages to fit all this into a sleek body.
OPPO has been a leader in the industry when it comes to flash charging solutions and the latest offering, OPPO F19 is no different. It will redefine the fast charging solutions in its price segment. With 33W Flash Charge, which runs on a 11V3A solution, OPPO F19 fully charges in only 72 minutes. Or you can charge your phone up to 54% in only 30 minutes. But if you only have a few minutes to spare, you won't fret. In 5 minutes you'll enjoy 5.5 hours of calling, around 2 hours of YouTube use. The OPPO F19 sports bounteous battery life so you'll never need to worry about running out of power, and super-fast charging means less charging time and longer running time.
The OPPO F19 offers all-day power, along with fast-charge technology that will keep you marching ahead in speed. With 5000mAh, OPPO F19 offers ample battery life throughout your day and you'll have lesser moments when you realize you're nearly out of power. On top of that, you will spend much lesser time charging and more time enjoying your day-to-day lifestyle. Of course, at the end of the day, if your phone is nearly depleted, OPPO F19 will get you back up and running in no time.
The launch of each generation of the F series has raised the bar of what consumers expect from a mid-range smartphone. The F Series is a much-loved series with a long history in India. Starting from the very first model, F Series showcased a commitment to bringing the trendiest tech to more customers. On F Series, OPPO has been striving to make technology more tangible and fun with a hint of attitude in its design. Minimalist, trendy, and innovative designs have been a signature among the F series products and the OPPO F19 will continue to the tradition and carry forward the legacy of OPPO's highly acclaimed F series.