India
No new COVID-19 case in Karnataka on Friday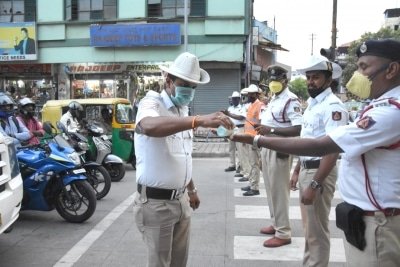 Bengaluru, March 20 (IANS) Continuing at 15 positive COVID-19 cases, Karnataka did not record another case on Friday, an official said.
"No new COVID-19 positive case has been reported till 2 pm on March 20. Till date, 15 cases have been reported in Karnataka, including one death," Suresh Shastri, special officer in the information, education and communication (IEC) wing of the Health Department told IANS.
However, in one day, the number of patients in isolated observation across designated hospitals the state rose from 97 to 145, with highest number of patients, 52, being monitored in Bengaluru.
Karnataka government issued an advisory to the people about social distancing, avoiding sitting in restaurants or eateries and formed 100 teams, consisting a doctor, staff nurse and medico social worker for contact tracing of people who came in touch with positive cases.
"Procure food through food suppliers who can be allowed up to reception in gated communities and till the door steps of individual houses," said an official statement which also encouraged online payments to avoid contact with coins and currency notes from COVID-19 affected people.
Meanwhile, the health department has intensified search for the people who shared a bus rides with the 35-year-old Kodagu Saudi Arabia returnee who tested positive for virus.
Karnataka's 15th positive case travelled in a Vayu Vajra bus from the Kempegowda International Airport (KIA) to satellite bus stop Kengeri at 5.30 pm on March 15, and onward to Madikeri the same day.
"BMTC and KSRTC buses boarded by the 15th case have been disinfected and the driver and conductor asked to be home quarantined," said an official statement.
The health department is also counselling those affected people shying away from home and hospital quarantine.
In addition to the existing 104 helpline, two more numbers have been added.
As many as 1,207 samples of symptomatic persons were collected for testing, of which 970 have returned negative.
Nearly 3,125 people are going through home quarantine across the state, a sudden jump of 845 people in a single day, while 4,030 people have enrolled for observation.
A total of 1.23 lakh passengers have been thermal-screened for the virus in Karnataka till now at the KIA in the city and the Mangaluru International Airport.
Another 5,759 passengers were also checked for the virus at Karwar and Mangaluru seaports.
Meanwhile, Bengaluru division of the South Western Railway (SWR) has imposed safe distance measure for passengers at all reservation centres to prevent the Coronavirus contagion.
"Safe distance limits have been marked near ticket counters in reservation centres. Safe distance is also being ensured in seating arrangements," said a SWR zone spokesperson.
The Bengaluru Metropolitan Transport Corporation (BMTC) announced that the transporter will run reduced services on Sunday, following the people's curfew called by the Prime Minister of India
Similarly, the Bengaluru Wholesale Cloth Merchant's Association has decided to shut shop from March 22 to 25.
Likewise, Mysore Silk Cloth Merchant's Association has also called for a shutdown from Thursday to March 25.
–IANS
sth/tsb