World
NASA and SpaceX blast off to space station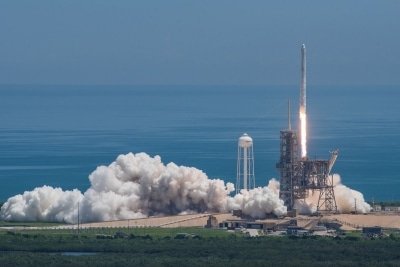 Washington, May 31 (IANS) NASA and SpaceX launched Crew Dragon spacecraft from NASA's Kennedy Space Center in Florida on Saturday, carrying two American astronauts to the International Space Station.
The Crew Dragon, atop the Falcon 9 rocket, took off from the same site used for the first moon landing in 1969 at 15.22ET. It's the first private space vehicle to transport astronauts into orbit, the BBC reported.
They'll reach their initial orbit in around nine minutes, and part of the rocket will return to earth to be reused.
Astronauts Douglas Hurley and Robert Behnken should reach the space station at around 10.30ET/15.30BST on Sunday.
10 minutes after the launch, the first stage of the rocket came down onto the ship, named Of Course I Still Love You.
It was the first return of a Falcon 9 rocket that carried humans into space.
–IANS
rt/