India
Nadda prefers to portray Modi as hero amid corona outbreak (Ld)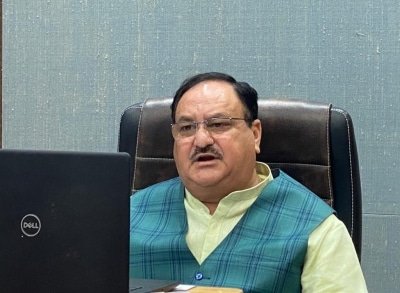 New Delhi, May 30 (IANS) BJP President JP Nadda on Saturday precedence to the Modi governments handling of COVID-19 outbreak and its economic packages to alleviate the hardships over key issues like abrogation of Articles 370 and 35A of the Constitution and Ram Mandir, all vital to the BJP's core support base.
In his address to more than 180 million party rank and file on BJP's Facebook page on the completion of one year of the Modi government's second term, Nadda devoted almost half the time in portraying Modi as a hero amid the coronavirus pandemic.
"Today not only our country but the entire world is plagued by a pandemic like coronavirus. This is a pandemic in front of which even the biggest superpowers are feeling helpless," Nadda said.
He said that if Modi government's first term was known for creating the foundation of a 'New India', the first year of Modi's second term will be known for 'turning a crisis into opportunity'.
Nadda chose to start by highlighting how Prime Minister Narendra Modi sounded the "war cry against coronavirus" rather than harping on the BJP-led Centre's abrogation of Article 370 of the Constitution, that would have a wider appeal among its cadres, given that it connects directly to BJP's mentor Deen Dayal Upadhyaya, who coined the phrase "Ek Vidhan, Ek Pradhan, Ek Nishan" in a bid to bring J&K into India's mainstream.
Instead, Nadda dedicated almost half his speech on Modi's role as a "guardian" to help India manoeuvre through this pandemic, increase public participation and economic decisions to make economic hardship bearable for the poor and marginalised during the numerous lockdowns.
Nadda highlighted how Rs 6,500 crore was deposited in PM-CARES Fund in just one week, "building a health infrastructure" to fight the pandemic in India, manufacture more than 4.5 lakh PPE kits every day in India, more than 650 testing labs for increased testing.
He harped on the fact how the Modi government ensured the migrant labourers returned to their homes in the lockdown, Vande Bharat Mission, announcement of Rs 1.70 lakh crore for Garib Kalyan Yojana, initiatives to provide 5 kg wheat and 1 kg pulses to 80 crore Indian for the next three months, economic help for widows and differently abled.
Of his 17-minute speech, Nadda used more than half the time to make the point as to why Modi had championed the cause of the poor and the marginalized.
However, he mentioned in passing the decisions that made Modi government's first year distinct for adhering to its ideological promises — abrogation of Articles 370 and 35A, Triple Talaq Act, Ram Mandir amid others.
In fact, Nadda didn't let go of the opportunity to allege that it was the opposition Congress who left no stone unturned to create a legal roadblock in the Ram Mandir verdict.
"Articles 370 and 35A of the Constitution were neither in the interest of the integrity of the country nor in the interest of the people of Jammu and Kashmir. This problem, which has been going on since 1950, has been abolished by the Modi government. With this decision, Syama Prasad Mukherjee's resolution of 'Ek Vidhan, Ek Pradhan, Ek Nishan' has been fulfilled," said Nadda.
However, if the BJP chief's speech is anything to go by, these ideology-sensitive decisions take a back stage when it comes to Modi's handling of the corona outbreak. The BJP chief would rather want the first year of Modi government 2.0 to be remembered for the way it handles a crisis — both health and economic — rather than decisions that many believe should matter more to the ruling party.
–IANS
abn/tsb