India
MGNREGA wage hiked by Rs 20/day, farmers to get Rs 2k each in April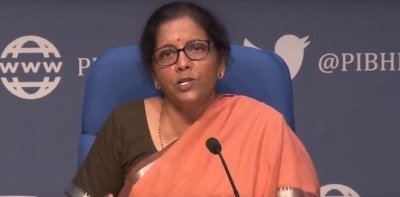 New Delhi, March 26 (IANS) Finance Minister Nirmala Sitharaman on Friday announced an increase of Rs 20 in the MGNREGA rural employment scheme with effect from April 1.
The decision would benefit around 13.62 crore families across the country, Sitharaman said while addressing the media here.
The government would spend Rs 5,600 crore on this purpose, she said, adding that it is part of the Rs 1.7 lakh crore Prime Minister Garib Kalyan Yojana.
The daily wage per worker would be Rs 202 post the hike, compared to the current wage of Rs 182 per day.
Under Pradhan Mantri Garib Kalyan yojana, the government would also provide each farmer with Rs 2,000 during April, this being the advancement of first instalment payment from the Rs 6,000 per annun PM Kisan Yojana. It would benefit 8.7 crore farmers and the total distribution amount would be about Rs 16,000 crore would be distributed to them.
Further, women account holders under the Pradhan Mantri Jan Dhan Yojana would be given an ex gratia of Rs 500 per month for the next three months. A total of 20.40 crore PMJDY women account-holders would get the benefit.
The total government expenditure for this would be Rs 31,000 crore.
The decisions are aimed at bringing relief to the under-privileged and the poor amid the standstill in business and economic activity due to the 21-day lockdown.
Announcing the scheme, Finance Minister said that the primary aim of the government was to ensure that the poor have sufficient food.
–IANS
rrb-sn/prs