India
Lockdown marginally eased in Bhopal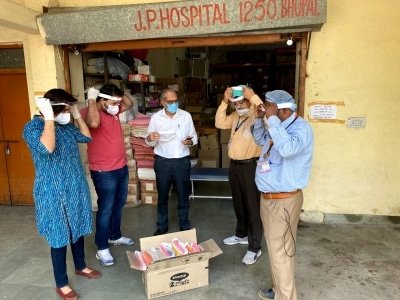 Bhopal May 18 (IANS) Bhopal District Collector Tarun Pithode has divided the capital city into six sectors with conditional relaxations in the movement under lockdown, while restrictions will continue in hotspots, like Jahangirabad, Aishbagh, Ashoka Garden, Mangalwara and Talaiya. Only in emergency cases people be allowed to visit hospitals.
Industries outside the containment zone will be allowed to open with 50 per cent employees. Private and government offices outside the containment zone may be allowed to open with 33 per cent staff. People from the containment zone will not be allowed to come to the office.
The land and building registry offices will open with average time expected for each registry to be 20-25 minutes.
The six sectors are: Kolar, Hoshangabad Road, Ratibad, Govindpura area, BHEL area and Bairagarh. Persons from one sector will not be able to go to another without valid permission.
Infrastructure and construction activity will be allowed in these sectors. In this, the Capital Project Authority, the Municipal Corporation, the PWD and private builders will be allowed to complete projects. But the conditions set by the government will remain in force.
Outside the containment zones in these six sectors, vehicle repair and parts shops can be opened on the SDM's permission.
The CPA will allow the municipal corporation to maintain water supply, sewage, road repair work, parks and gardens. Employees and labourers will have to be residents of the sector and carry their voter ID and identity cards.
People from the hotspot areas will not be allowed to visit the green zone, nor will the people living in the 6 sectors be allowed to visit hotspots and the containment zones.
Spitting, alcohol, gutkha and tobacco consumption in public places will be punishable offence. OPDs and clinics will be banned without permission in the containment zones. Schools, colleges, teaching-training and coaching institutes will remain shut.
Cinema halls, shopping malls, gyms, sports complexes, swimming pools, parks, hotels, spas and saloons will stay shut. All religious, social, political, sports, educational and religious functions are banned.
All public transport services, including private buses, taxis, autos, e-rickshaws, inter-district bus services and rail, will remain closed.
Total lockdown will continue in the district with no person allowed to move out of home. The district boundaries will remain sealed, and traffic restricted. Emergency services will be exempt.
Social distancing during the presence of maximum 10 people at marriages and funerals will be mandatory. Two drivers and one helper will be allowed in truck used in the most urgent conditions.
All shops will be allowed to open in rural areas, except the containment zone.
–IANS
naidu/pcj