India
K'taka contained Covid spread with strict lockdown: Health Commissioner (IANS Interview)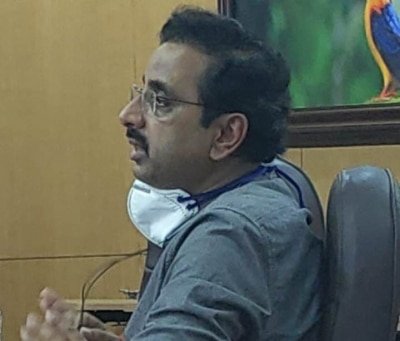 <br>"Karnataka has registered only 651 Covid-19 cases because of strict implementation of lockdown guidelines by the state administration, effective surveillance tracking and contact tracing, institutional quarantine of primary contacts and high-risk international passengers, extensive testing and state-of-the art patient care," said Pandey in an interview with IANS.
As part of Covid-19 combat efforts, the state government enforced strict surveillance of public places, containment zones and buffer zones.
"Regular health check-up of high-risk households, house to house survey of vulnerable population (pregnant women, tuberculosis, asthma and HIV patients, organ transplantees etc.) and detail survey are being done," said Pandey.
Other measures included prompt reporting of Influenza Like Illness (ILI) and Severe Acute Respiratory Infection (SARI), including pharmacists being ordered to report suspicious medical purchases linked to Covid-19 also proved helpful.
Similarly, meticulous tracing of Covid-19 patient contacts, deploying tools such as Covid Quarantined Alert System (CQAS) with geographical markers and apps such as Apthamitra helpline, Aarogya Setu and Quarantine Watch enabled the state in containing unchecked transmission.
From reporting 110 confirmed cases amounting to 5.5 per cent of the country's 1,965 cases a month ago, Karnataka has seen 589 cases at the beginning of May, accounting for 1.5 per cent of India's 37,275 cases.<br> Being <br>"After one month, as on Saturday we have 589 cases amounting to 1.5 per cent of the country's 37,275 cases. Today we stand at number 12 among all the states and Union Territories. In Karnataka, the recovery rate stands at 42.6 per cent compared to 27 per cent all over the country," said the Health Commissioner.
By Friday, the state Health and Family Welfare Department has tested 64,898 samples, out of which 589 have returned positive.
"It means that for every positive person, we are testing 110 persons or we have a positivity rate of 0.90 per cent. This indicates that very liberal and extensive testing done by the state," Pandey said.
In comparison, the rate of positivity in other places is as follows: Delhi 19. 3 per cent, Maharashtra 9.2 per cent, Gujarat 7.2 per cent, Rajasthan 3.3 per cent, Tamil Nadu 3.2 per cent, Punjab 1.9 per cent and Kerala 1.4 per cent, among others.
According to Pandey, on a daily basis, more than 4,500 people are being tested for Covid-19 in the state.
The Health Commissioner, however, ruled out the effect of summer temperature on the relatively low Covid-19 transmissions in the state.
"There is no verified study on the effect of temperature on the virus. It is more of containment measures and implementation of strict lockdown measures like remaining at home by the public at large, maintaining physical distancing, use of masks in public places, use of hand sanitisers and maintaining personal hygiene," he pointed out.
Explaining the reason why only 11 districts, including Bengaluru and Mangaluru, have been turned into red zones, Pandey said that timely identification was the key, along with strict quarantining, testing, stamping and movement restrictions.
Karnataka's Covid-19 red zones, places with 15+ cases, include Bengaluru Urban (162 cases), Bidar (16), Kalaburagi (64), Bijapur (46), Bagalkote (33), Belgaum (73), Davangere (31), Dakshina Kannada (22), Mysuru (90), Mandya (28) and Chikkaballapura (21).
The state's orange zones, places with 5-15 cases, feature Dharwad (10 cases), Uttara Kannada (11), Bellary (13) and Tumkur (7).
Likewise, six districts are in the green zone, places with 1-5 cases. They are Gadag (5 cases), Haveri (1), Chitradurga (1), Kodagu (1), Udupi (4) and Bengaluru Rural (3).
Yadagiri, Raichur, Koppal, Shimoga, Chikkamagaluru, Hassan, Chamarajangar, Ramanagara and Kolar are yet to reports Covid-19 cases.
Bengaluru Urban leads the state's Covid burden with 25 per cent cases, followed by Mysuru (13.8 per cent), Belgaum (11.2 per cent), Kalaburagi (9.8 per cent), Bijapur (7.1 per cent) and Bagalkote (5.1 per cent).
Of the 651 cases across Karnataka, 302 are active, 321 got discharged and 27 patients died of Covid-19.
(Sharon Thambala can be contacted at thambalasharon@gmail.com)
–IANS<br>sth/arm