India
Kashmir authorities dispel alarmist rumours about stock building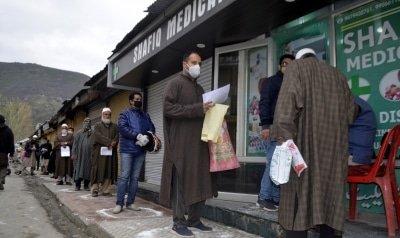 Srinagar, June 29 (IANS) Authorities in Kashmir have dispelled alarmist rumours spread following an official order for two-month long stock building.
Department of food, supplies and consumer Affairs had asked oil companies to build cooking gas stocks for two months in the Valley.
The order was followed by wild rumours that the decision to build stocks was a prelude to 'something big in the offing'.
The rumour came in the background of heightened border tensions between India and China in Western Ladakh.
Trying to set the rumour mill at rest, authorities today said some people are spreading false information regarding a communication with respect to the LPG stock in Kashmir valley.
A statement issued here by the food, supplies and consumer affairs department said some people are spreading all kind of rumours by referring to a letter, written by Director, of the department addressed to Nodal coordinator for Oil companies in J&K, in connection with "ensuring adequate stocking of LPG in Kashmir.
"The same has been written by the Director, FCS&CA Kashmir, to prevent any shortfall of essential commodities (particularly LPG) during the ensuing Monsoon season.
"We all know that the NH-44, between Ramban-Jawahar tunnel stretch, behaves in an unpredictable manner during the rains.
"Currently, we maintain nearly a month of stock in Kashmir. We have requested the LPG companies to explore the feasibility of maintaining the stock for nearly 2 months to prevent any panic situations that may arise in the event of highway closure for longer duration," the statement added.
–IANS
sq/rt