India
Haryana reverses the wheel, labourers set to return from villages to factories (IANS Special)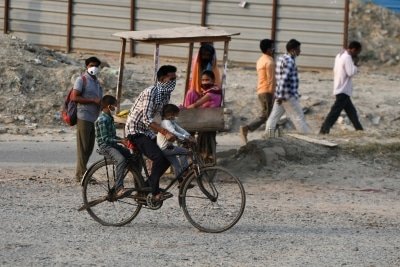 By Sunday evening (May 10), around 1.67 lakh labourers, mostly from eastern UP and Bihar, had registered on the state government portal, showing interest in returning to various industrial sites.
Haryana, being one of the biggest automobile and IT hubs in the country, is seen as a giant power house of manufacturing industry in India.
"For the last few weeks, Chief Minister Manohar Lal ji (Khattar), has been interacting with all top industry leaders and stakeholders. Our government has assured all help to industries to restart operations. We are going out of the way to bring back labourers… and so far we have been quite successful in our efforts, " Amit Arya, media advisor to CM, told IANS.
According to him, details of 167,953 labourers, keen to return to Haryana, have been processed and in the next few days, this figure will be over 2 lakhs.
During the ongoing lockdown, thousands of migrant labourers left for their homes from key industrial hubs like Faridabad, Gurugram, Sonepat, Ambala and other places. The labourers marched to their villages to find some warmth and empathy at their homes.
Sources said the Chief Minister was quick to react, and instructed his officers to make an all-out effort to convince the labourers to stay back.
"Several lakh labourers wanted to go home. However 47,000 were identified to be sent home on priority basis. Among them, 25,000 labourers have been sent to their respective home states. Efforts are on to send the rest," a senior official added.
Meanwhile, the government also set up a portal for those labourers who have either reached their villages or have been at home, and wanted to return to Haryana to resume work.
Amongst the 1.67 lakh labourers who have shown interest in returning to industrial sites, around 60 to 70 per cent are from Uttar Pradesh and Bihar. Sources said that the state government has asked the Railways to run 100 special trains to bring these labourers from their hometowns. The registration portal reveals that 79 per cent of labourers who want to return to Haryana will be joining the work in industrial areas of Faridabad, Gurgram, Panipat, Sonepat, Jhajjar, Yamunagar and Rewari.
In what seems a breakthrough for the state during lockdown, the Chief Minister, also succeeded in inviting 60 foreign companies to Haryana. After a 3-day-long business webinar, which concluded on Saturday, he suggested that prominent MNCs based in Japan, South Korea and Australia want to shift to Haryana and this opportunity can result in an investment of around Rs 2,000 crore.
Khattar also pledged that all manufacturing units in the state would be given relief to run through in a difficult time. Top sources said that to make the wheel of industries move, the CM is personally monitoring labourers' registration portal in bid to bring the workforce back from far off villages to Haryana's manufacturing centres.
Besides a major IT hub in Gurugram, Haryana boasts of industrial giants like Maruti Suzuki, Hero MotoCorp, Escorts, Sony, JCB, Yamaha Motors, Whirlpool, Goodyear, ABB and several others. In addition it has more than 80,000 medium and small scale industrial units.
–IANS<br>ds/vd