India
Dentists, ENT specialists only take serious cases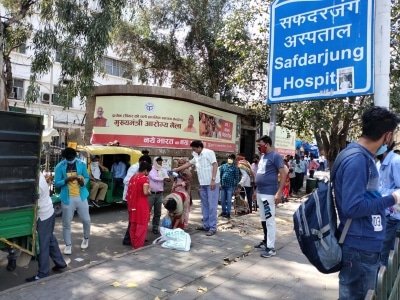 New Delhi, April 26 (IANS) Amid lockdown all non-emergency medical procedures at hospitals have been put off to ease the burden on doctors caring for coronavirus patients.
Though general patients are not denied medical services, hospitals have been asked to avoid crowding to prevent any coronavirus infection.
Dr Jyoti Sheoran of the Department of Ophthalmology at the Safdarjung Hospital told IANS, "We have our emergency services open. Patients are coming and we are treating them. We have a few services open, but we are not making it public to prevent crowding.
"On Saturday, I attended 30-35 patients. Nobody is being denied any service. But we are prioritising our patients and not encouraging those with simple problems to avoid them exposure to Covid-19 infection."
Though the expertise of dentists, ophthalmologist and ENT specialists isn't much required in the Covid-19 battle, they are still on duty, but attending fewer patients.
Many ENT, dentistry and ophthalmology specialists are monitoring patients and providing tele and online consultancy.
Dr Ravinder Chauhan, Head of Department at the Delhi Centre for ENT and Allergic Diseases, told IANS, the tele-medicine had proved a great help during the lockdown.
"Not many OPDs are closed. Doctors are taking precautions. We keep the crowd very low in the waiting area. Load of general patients is low but they are coming. Patients having throat problems are definitely there, but anything that is related to ear and nose, we give them tele-consultation.
"We are not missing any patient. We call those patients who look critical and give them treatment with full precautions," said Dr Chauhan.
Dr Sachin Mogha, a dentist and graduate of the Maulana Azad Institute of Dental Sciences, told IANS the hospital was opening the OPD (outpatient department) for two hours — from 8.30 a.m. to 10.30 a.m. Emergency services were open 24 hours.
"On an average 20-25 patients come to the hospital. We are not providing treatment, but doing only screening. We are also doing tele-consultancy. We ask people to visit the hospital, if required, with full precaution," Dr Mogha said.
–IANS
sfm/pcj