India
Central team continues inspection for third day in Hyderabad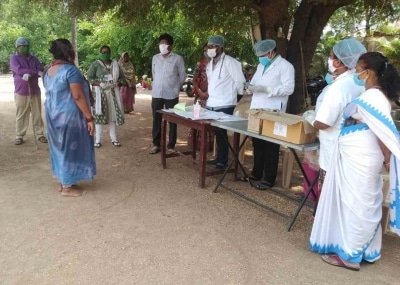 Hyderabad, April 27 (IANS) Continuing its assessment of the COVID-19 situation here on third day, the five-member inter-ministerial central team (IMCT) made an inspection of another containment zone in the city on Monday.
The central team led by Arun Baroka, Additional Secretary, Ministry of Jal Shakti, went around the containment zone in Humayun Nagar area to get first hand information about the steps taken by authorities to contain the virus in the area which reported few positive cases.
The five-member team also interacted with the people in the containment zone and enquired about their problems.
On the second of the visit on Sunday, the team had held a meeting with Director General of Police M. Mahender Reddy and other senior police officials.
The DGP briefed the team on the measures taken by police to enforce the lockdown to contain the spread of COVID-19.
The central officials on Sunday also visited containment centres in Malakpet and Mettuguda. They also visited Rythu Bazar, a couple of quarantine centres and the testing lab at the Centre for Cellular and Molecular Biology (CCMB).
Soon after its arrival in Hyderabad on Saturday, the team had visited Gachibowli Hospital as part of its efforts to assess the preparedness of the health sector in combating COVID-19 . The authorities have transformed a 14-storeyed sports tower into a 1500-bed makeshift hospital for Covid-19 patients.
Later, Telangana Chief Secretary Somesh Kumar had briefed the team on the steps taken by the state government to contain the spread of COVID-19.
Chandrashekhar Gedam, Senior Public Health Specialist, Hemlatha, Director, National Institute of Nutrition, Ministry of Health & Family Welfare, S.S. Thakur, Director, Ministry of Consumers Affairs and Shekhar Chaturvedi, Associate Professor, National Institute of Disaster Management are the members of the team.
It is one of the IMCTs constituted by the Ministry of Home Affairs to visit Hyderabad, Ahmedabad, Surat, Chennai and Thane, the major hotspots where the pandemic situation is described as serious.
–IANS
ms/sdr/