India
B'luru hospital records 100th child birth from Covid positive women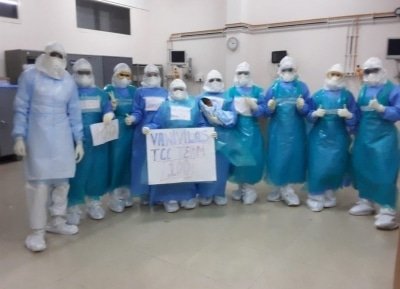 Bengaluru, July 17 (IANS) Doctors at the state-run city-based Vani Vilas Hospital have successfully enabled the birth of 100 babies from Covid positive women amid the pandemic, an official said on Friday.
"On Friday, we reached the milestone of delivering the 100th baby from Covid positive pregnant women," an official from Vani Vilas hospital told IANS.
Health Commissioner Pankaj Kumar Pandey said the doctors have ensured that the birth of new life remains unaffected even in the wake of the Covid-19 pandemic.
"The dedication and commitment of our doctors and health workers at Victoria and Vani Vilas hospital is highly commendable," said Pandey, appreciating the health workers for their achievement.
Ten health workers in full bodysuits and masks posed with the new born baby.
Until now, the hospital has treated up to 350 pregnant Covid positive women and currently there are 150 women in the emergency and trauma care centres of the hospital.
The 100th birth occurred on Friday morning at around 3 a.m. after the mother went into labour at 11 p.m. on Thursday night.
There are also four sets of twins among the 100 newborns.
Health workers tending to the women are required to work for more than a week at a stretch followed by a five-day break, during which they undergo a Covid test and resume duty only when the results return negative.
As many as 22 obstetricians are working in the hospital to help the Covid positive women deliver babies, following their referral to the hospital from various public and private hospitals from other districts.
In normal times, the Vani Vilas hospital is known to deliver nearly 3,000 babies a month.
–IANS
sth/arm