India
BJP lodges complaint against Cong leaders in Raj audio clip case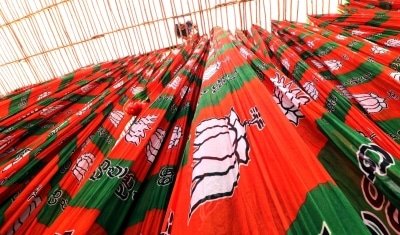 Jaipur, July 18 (IANS) The Bharatiya Janata Party (BJP) has lodged a complaint here against several Congress leaders including party spokesperson Randeep Singh Surjewala for associating Union Minister Gajendra Singh Shekhawat's name with an alleged audio clip related to the horse-trading of Congress MLAs.
BJP leader Laxmikant Bhardwaj had filed a complaint at a police station in Jaipur against Surjewala, Rajasthan Congress president Govind Dotasra, among others.
Bhardwaj, also a spokesperson for the BJP's Rajasthan unit, has said in the complaint that for the past few days,Congress leaders including Mahesh Joshi, Randeep Surjewala have been making false statements to tarnish the image of the saffron party.
He said in a bid to hurt the BJP's image, fake audio clips were prepared, plotting for which was allegedly done at Rajasthan Chief Minister Ashok Gehlot's residence.
Bhardwaj said in a fake telephonic conversation that was released, doctored voices of several prominent leaders of the BJP could be heard. In the audio clips, it has been claimed that Congress MLAs have been "bought for crores of rupees".
He claimed, "the forgery has been done by one Lokesh Sharma, an aide to the Chief Minister".
The BJP leader said false audio tapes were circulated by Lokesh Sharma to the media to target the BJP and Union Minister Shekhawat and others on the night of July 16.
The party spokesperson said in the complaint that on Friday, Surjewala, Dotasra made the audio tapes public in a press conference at a hotel. Cases were also filed against BJP leaders.
"Therefore, all the accused involved in this conspiracy, along with Lokesh Sharma, Randeep Surjewala, Govind Dotasra, Mahesh Joshi, should be identified and arrested," the complaint mentioned.
–IANS
navneet-pgh/