Sports
Babita observes mask production, helps out in food distribution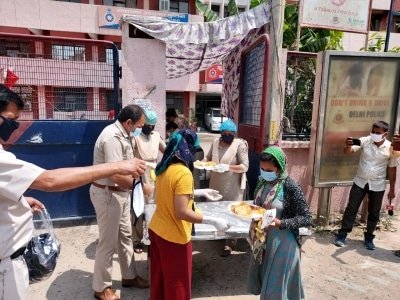 New Delhi, April 21 (IANS) Former wrestler turned politician Babita Phogat on Tuesday visited a police station on the outskirts of the national capital. The Commonwealth Games gold medallist said once she reached the Najafgarh station that she wanted to meet the women officers who were making masks while performing their regular police duties.
Babita oversaw the female officers' work silently and when the other officials proceeded to stop the latter to introduce the former wrestler, Babita said that her introduction is not important and that the officers' work should not be interrupted.
Babita observed the officers for a long time after which she walked out. She asked the police offcers present if they are not dustributing food as they always do to those in need in the locality. Following this, the officers set about making food to be distributed and Babita herself lent a hand in the process. The food was duly served to the hungry in the area.
"Yes, Babita visited the station. She was there for a long time and certainly, her visit went a long way in boosting the morale of those who have been working day and night in the fight against coronavirus," Joint Commissioner of Police (West Zone) Shalini Singh told IANS.
Singh said that she didn't go to the station herself when Babita was there as she didn't want the attention to be shifted to her.
–IANS
rkm/bbh