World
Aus PM demands probe into 'assault' on journo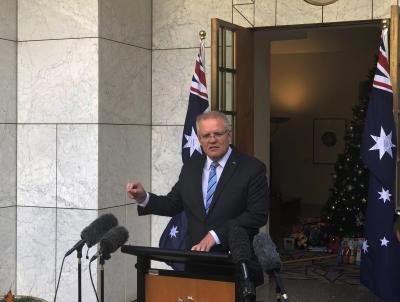 Canberra, June 2 (IANS) Australian Prime Minister Scott Morrison on Tuesday demanded an investigation into the assault of an Australian journalist and cameraman at the hands of US police.
The US correspondent of 7NEWS Australia, Amelia Brace and cameraman Tim Myers were assaulted during their coverage of riots near the White House in Washington on Tuesday morning.
While live on air, Myers was struck in the chest by a riot shield and Brace was clubbed with a police baton.
Morrison has now requested the Australian Embassy in Washingon D.C., to investigate the incident and provide further advice on registering the government's concern.
Craig McPherson, Seven Network Director of News and Public Affairs said: "The attack on our reporter and cameraman in Washington today is nothing short of wanton thuggery.
"They weren't in anyone's way just simply doing their job. To be belted with an armoured shield and then our reporter cop a truncheon in the back is abhorrent."
Opposition Leader Anthony Albanese earlier described the incident as "completely unacceptable" and called for a review, a 7NEWS report said.
The development comes as some 40 cities across the US, including Washington D.C., have imposed curfews to curb acts of violence in extensive demonstrations against police brutality and racism.
Nationwide protests have erupted after George Floyd, an unarmed 46-year-old African-American man, died in Minneapolis on May 25 after Derek Chauvin, a white police officer, held him down with a knee on his neck though he repeatedly pleaded, "I can't breathe", and "please, I can't breathe".
All four police officers involved in the incident have been fired, and Chauvin has been charged with third-degree murder and manslaughter.
–IANS
ksk/