India
Attack on Salahuddin blows lid off 'homegrown' militancy in Kashmir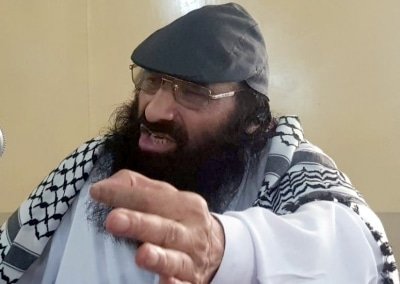 Srinagar, May 29 (IANS) The reported attack on Hizbul Mujahideen chief Syed Salahuddin in Islamabad on May 25 could have far reaching consequences on what has been called 'homegrown' militancy in Kashmir.
A senior leader of the hardline Jamaat-e-Islami (JeM) in Kashmir, Salahuddin is believed by many locals to have opted for the separatist armed struggle after he was defeated in the assembly elections in 1987.
Those elections are widely believed to have been rigged and most of the youth supporting Salahuddin in the 1987 elections ultimately joined militancy.
The HAJY (Hamid, Ashfaq, Javaid and Yasin) group that started militancy in Kashmir as early as 1988 after obtaining arms from Pakistan included election agents of Salahuddin from Amira Kadal constituency in Srinagar.
Salahuddin was seen not only as the prime motivator of the youth for 'Jehad', but also somebody who had faulted by participating in an electoral process that turned out to be a sham.
To keep up the facade of an 'indigenous struggle' against Indian rule, Salahuddin was made the chief of the Muzaffarabad based United Jehad Council (UJC), a conglomerate of all militant groups who were pushed into J&K from the Pakistan side of the border.
Most local commanders other than those who initially started militancy belonged to Kashmiri families who had a 'Jamaati background' as the intelligence agencies referred to such families.
The fountainhead of the so-called homegrown militancy, Syed Salahuddin was given wide coverage in the Pakistani media.
He was projected as the champion of Kashmir's desire to secede from India and any international delegation visiting Pakistan-administered Kashmir would first interact with Salahuddin.
This remained the separatist protocol till foreign terrorists were pushed in to revive what was seen as the dying militancy in Kashmir.
Instead of being controlled by the local militant commanders, the foreign terrorists were instructed by their masters to take charge of such groups in order to inflict maximum damage on the security forces.
It is also reported that Salahuddin had objected to this change of strategy, but his bosses had told him to toe their line.
Reports said the Hizbul was slowly sidelined by not providing them weapons and other strategic support.
Intelligence agencies believe the trend of weapon snatching in Kashmir largely owes itself to the shortage of weapons among the local Hizbul militants.
The reports of the attack on Salahuddin, who was once the darling of the ISI, would definitely act as a dampener for those local youth who believed that the ISI was simply supporting an indigenous armed struggle in Kashmir.
This rethinking is most likely to affect the commitment of the large number of families with a 'Jamaati background' in Kashmir.
For such families, Salahuddin has suddenly become a protected prisoner rather than the supreme commander of the Hizbul who till the other day believed that he pulled all the underground strings in Kashmir.
–IANS
sq/bg