World
Post-lockdown tourists return to Miami Beach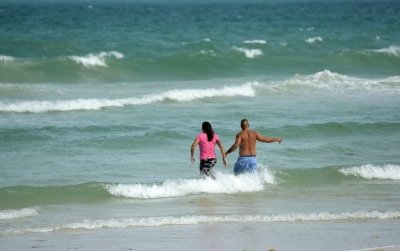 Miami, June 9 (IANS) Tourists have started returning to Florida after lockdown, with hotels in Miami Beach welcoming them amid strict hygiene measures.
Tourism is one of the most important economic engines and generators of employment in Florida and has been one of the hardest-hit sectors by the COVID-19 crisis, reports Efe news.
Bernardo Naval, director of the Hotel Riu Plaza Miami Beach, said: "Recovering the figures we had before the pandemic will be difficult and will take months but what we have done has been to change the market.
"Before 90 or 80 per cent were either European and South American and now we are concentrating on the local market, which is what will be feeding us in the coming months."
The hotel, a 1950s building on the beachfront on the touristy Collins Avenue, reopened its doors last week for the first time in more than two months.
Before the pandemic there were 747,000 tourism-dependent jobs in Florida and it is estimated that more than 336,400 will be lost due to the impact of the pandemic, according to the American Hotel and Lodging Association (AHLA).
The organization warned that the effect of the pandemic will be nine times higher than the 11 September terrorist attacks in 2001.
Florida was no exception, although its hoteliers were trying to make the most of the state's reopening.
Security measures implemented by the Florida hotels include obligatory masks in common areas, except the pool, no buffet service in restaurants and a limited capacity in the rest of their services.
Visitors and staff have their temperatures checked at the hotel's entrance.
The most striking difference is that the golden sands overlooked by the best rooms of Miami Beach's luxurious hotels are deserted.
The popular beach has been closed to the public for months, giving guests at many hotels on Collins Avenue an unusual view.
Restaurants and cafes on nearby Ocean Drive, a popular tourist spot, have started to come back to life.
–IANS
ksk/