World
California indoor businesses to shut amid surging COVID-19 cases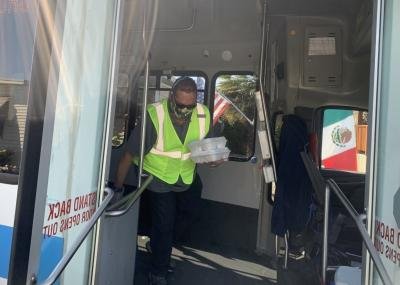 San Francisco, July 14 (IANS) California authorities have announced that indoor activities at restaurants and museums would be closed statewide while other operations, including barbershops and hair salons, in 30 of 58 counties would be shut as well due to a surge in the number of COVID-19 cases.
According to the state government's official website, effective from Monday, all counties must close indoor operations in the sections including dine-in restaurants; wineries and tasting rooms; movie theatres; card rooms, zoos and museums; and family entertainment centres such as bowling alleys, miniature golf, batting cages and arcades, reports Xinhua news agency.
Meanwhile, 30 counties, where 80 pe rcent of California residents live, will now be required to close indoor business operations in fitness centres, places of worship, offices for non-critical sectors, personal care services, hair salons and barbershops, and malls.
Governor Gavin Newsom tweeted the announcements, saying the state made the decision because "COVID-19 cases continue to spread at alarming rates".
As of Monday, California had more than 326,000 confirmed cases of COVID-19 and more than 7,000 total deaths, according to a tally by the Los Angeles Times.
The state' data monitoring system showed that 109,910 new cases and 1,104 deaths have been reported in the past 14 days.
Also in a joint statement on Monday, Los Angeles and San Diego school districts, which have nearly 870,000 students combined, said the new school year will start online only since the pandemic is not yet under control.
"Instruction will resume on Aug. 18 in Los Angeles Unified and Aug. 31 in San Diego Unified, as previously scheduled," the statement said, adding that "both districts will continue planning for a return to in-person learning during the 2020-21 academic year, as soon as public health conditions allow".
The decision was made amid the President Donald Trump administration's threat to withhold federal funding from schools that do not reopen for in-person instruction this fall.
The US Secretary of Education Betsy DeVos on Sunday renewed her push for schools to reopen.
However, the two school districts argued in Monday's statement that the authority should provide confidence to local residents that opening schools in the middle of a public health crisis is the best option for children, saying: "The federal government must provide schools with the resources we need to reopen in a responsible manner."
The Los Angeles Unified School District is the largest public school system in California and the 2nd largest public school district in the country with 734,641 students and 26,556 teachers, while the San Diego Unified School District represents about 135,000 students and 6,500 teachers.
–IANS
ksk/