Business
US stocks fall after Powell warns of 'significant downside risks'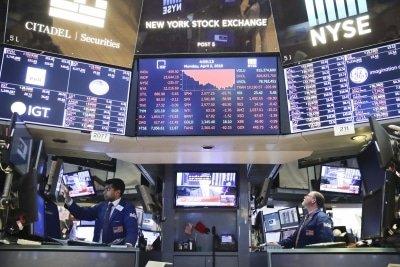 New York, May 14 (IANS) US stocks fell sharply on Wednesday following Federal Reserve Chairman Jerome Powell's downbeat comments on the economy.
The Dow Jones Industrial Average dipped 516.81 points, or 2.17 per cent, to close at 23,247.97. The S&P 500 decreased 50.12 points, or 1.75 per cent, to 2,820.00. The Nasdaq Composite Index was down 139.38 points, or 1.55 per cent, to 8,863.17, Xinhu reported.
All the 11 primary S&P 500 sectors sank, with energy down 4.39, leading the losses among the groups.
Powell said on Wednesday that the US central bank will take further steps to combat the severe economic fallout from the COVID-19 pandemic.
"While the economic response has been both timely and appropriately large, it may not be the final chapter, given that the path ahead is both highly uncertain and subject to significant downside risks," Powell said in a webcast event with the Peterson Institute for International Economics (PIIE).
The remarks came after various data showed the pandemic continues to ravage the world's largest economy.
US total nonfarm payroll employment fell by 20.5 million in April, and the unemployment rate rose to 14.7 per cent, the US Bureau of Labor Statistics said last week.
More than 1.38 million confirmed COVID-19 cases have been reported in the US as of Wednesday afternoon, with over 83,000 deaths, according to the Center for Systems Science and Engineering at Johns Hopkins University.
–IANS
pgh/