World
US equities post weekly losses amid oil chaos, COVID stimulus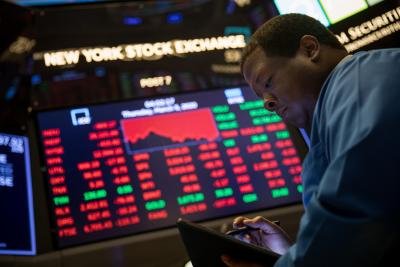 New York, April 26 (IANS) US stocks declined in the week featuring bizarre moves in oil prices and an economic aid package amid the COVID-19 crisis.
For the week ending April 24, the Dow fell 1.9 per cent, the S&P 500 lost 1.3 per cent and the Nasdaq retreated 0.2 per cent. The declines were the first losing week for the benchmarks in the past three weeks.
Wall Street finished the week on an upbeat note on Friday with the Dow closing up 260 points as market sentiment was lifted by the progress in a US coronavirus stimulus.
US President Donald Trump on Friday signed into law a US $484 billion relief package to boost funding for small businesses, hospitals and virus testing. The coronavirus continued to sweep the nation, with the economy devastated and the death toll still rising.
US initial jobless claims, a rough way to measure layoffs, registered 4.427 million in the week ending April 18, the Department of Labor reported on Thursday. That brought the total number of claimants in the past five weeks to more than 26 million amid the COVID-19 fallout.
"With so many millions out of work for a month and still waiting for the safety net to kick in, household spending power is severely constrained," which is likely to take a big bite out of April consumption, Chris Low, chief economist at FHN Financial, said in a note.
Private sector firms in the United States signalled an unprecedented decline in business activity in April, with manufacturing and service sector companies registering marked contractions of output amid the coronavirus pandemic, according to a report by London-based global information provider IHS Markit on Thursday.
The IHS Markit Flash US manufacturing Purchasing Managers' Index (PMI) fell to 36.9 in April from 48.5 in March, while the Flash US services PMI plunged to 27 this month from the March reading of 39.8.
More than 919,000 confirmed COVID-19 cases have been reported in the United States, with 52,100 deaths, as of midday Saturday, according to the Center for Systems Science and Engineering at Johns Hopkins University.
Investors also grappled with the extreme volatility on the energy market.
Oil futures on Friday gained for a third straight session, but US prices posted a record weekly loss of 32.3 per cent, based on the June contract. That was the biggest weekly percentage loss on record, according to Dow Jones Market Data.
Earlier in the week, the May contract for US crude even fell below zero for the first time in history. June Brent declined 23.6 per cent for the week.
Traders eyed on the oil market's chaos as they grew concerned that deep losses for the energy industry would hit the US economy even further, experts noted.
–IANS
rt/