India
UP Cong leader's death triggers infighting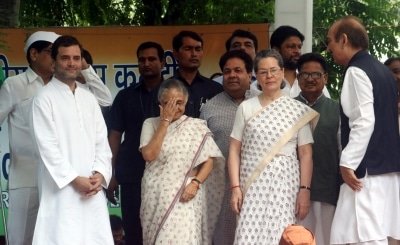 Lucknow, April 14 (IANS) The passing away of veteran Congress leader Ram Krishna Dwivedi last Friday has again fuelled infighting in the Uttar Pradesh unit of the party.
Dwivedi was among 10 veteran Congress leaders expelled by the UPCC in November last year. His expulsion was seen by the party rank and file as an attempt by young Congress leaders to oust committed cadres from the party.
The move was also seen as an 'infiltration' bid by persons with links with outfits like Rihai Manch and AISA, occupying the party centre stage.
As he died on April 8, Rahul Gandhi condoled and termed Dwivedi a former minister and "colleague of Indira Gandhi." Ealier, Dwivedi's expulsion was revoked due to his critical condition.
The young Congress leaders, who have been accusing UPCC president Ajay Kumar Lallu of pursuing anti-upper caste politics, have now revived their campaign against the state leadership.
"The demise of Dwivedi is nothing short of 'Brahma-hayta' (killing of Brahmin). The veteran leader was so demoralised by his expulsion that he could not fight back his illness. The state leadership should be ashamed of not looking after the veteran leader and initiating action against him. The manner in which his expulsion was revoked was even more shameful," said Konark Dixit, who is allegedly running a campaign against the UPCC president.
"We have suspended our campaign in view of the coronavirus crisis and will wait for this to be over before we revive our battle. However, on the social media, we will continue with our campaign," he said.
Incidentally, Konark Dixit and Gaurav Dixit were also expelled from the party for anti-party activities by the UPCC disciplinary committee.
A senior Congress leader said that it was unfortunate that at a time when the party's political fortunes have hit rock bottom, the leadership is more interested in expelling people who do not agree than listening to their points of view.
"If this trend continues, the party will not even find workers — leave alone candidates — in the next Assembly elections in 2022 in UP," the leader said.
–IANS
amita/tsb