Web Solution
Top Website Builder Platforms Of 2019 To Make Your Site
With These Easy Website Builders You Can Create Your Website Easily.
Website builder platforms are used by millions of people and they enable you to build your own website without having coding or technical knowledge.
To build a website we need two primary things, one is the domain name for your site and the second one is web hosting. The domain name defines your website. On the other hand into the hosting, all your website related coding, files and all other essential stuff take place. Some times the development cost is high if you go for website development agencies or companies. The development cost may vary in many circumstances. To get a detailed idea on website creation cost, you can read:- How Much Money Actually You Need To Build A Website.
However, there are millions of people out there who don't need a high functionality website or looks for an alternating way to create a site. For them, the best option is a website builder platform. In this article, we are going to tell you about some top website builder platforms. But before that take a look at a brief introduction on-
What is a Website builder
A website builder is an online tool or web application which allows you to create your website within a short time without having programming knowledge. Online website builders are designed very simple and easy to use so that even a newbie can build their website quickly. You get lots of templates to choose, so many media files, web applications to use on your site. Now if you want to create your website by using simple website builders, you have too many options. Lots of professional website builder platforms are available you can go with.
In comparison, every site builder has its special and unique strength and features. Below we are talking about some top website builders, which might be a good option if you want to create your own website.
Wix is now a quite popular website builder platform. If you are looking for an easy website maker and if you want more detailed control over website design then Wix is best for you. Their drag and drop website building feature gives you complete freedom to customize your website. You can move every element on Wix. There are many platforms where you can use drag and drop functionality but in Wix, you get the ultimate level of freedom.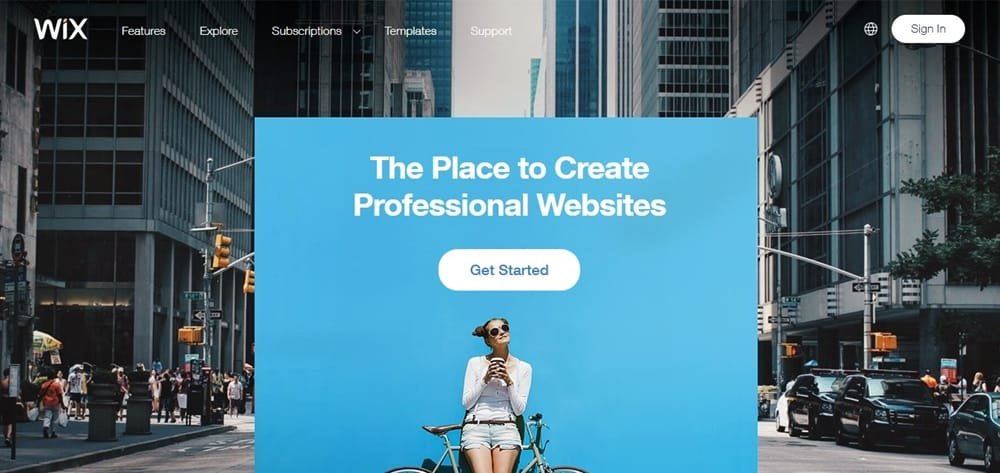 On other platforms, you can move elements on a pre-designed layout from the builder, but in Wix, there are no barriers. Features like so many designers made templates, Wix SEO wiz, lots of web applications you use and many more are available. Now like the Squarespace you get a free plan in Wix, as well as some premium plans. To know in detail about the features and premium plans of Wix, you can read:- Wix Website Builder Plans Features Review.
If you are looking for a simple website builder platform, then Weebly is best for you. It has many features like blogging, e-commerce, you can add your custom domain name, powerful SEO tools. Also, you can embed videos from YouTube to your website or can upload videos directly. They have video player option which gives you expert control on your site media. Weebly has an app store where you can find apps on e-commerce, communication, marketing, and social related. On Weebly, you will get so many various kinds of themes to choose and if you can easily switch to a new theme if you do not like the previous ones.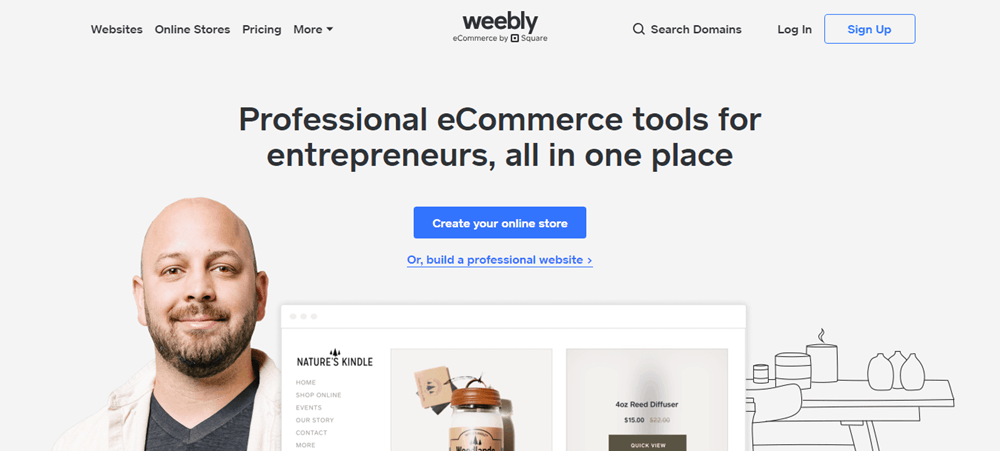 You can add video backgrounds to your Weebly site. You can create your website on Weebly without spending an amount. But if you need additional features, you have to go with their premium plans. To create a website on Weebly, there are three premium packages Connect ($5 per month), Pro ($12 per month), and Business ($25 per month).
At the beginning of the writing, you asked, every website builder platform has some specific features.  This website maker Strikingly is recommended for the one-page websites. One page websites are where visitors scroll up and down the navigation and see the website. The page of the site is generally long because all the website content is on a single page. Usually, one-page websites are built for particular type websites like information about your brand or identity, personal websites, portfolio websites, single service providing site and many more. But it is not fixed that you can only create a one-page website on Strikingly.
In fact, you can create multi-page websites too. On Strikingly you get four plans, FREE, PRO, LIMITED, and  VIP. Their plans are on monthly, yearly, 2 years, 5 years and 10 years. All the plans come within a 14-day free trial.
If you are looking simple and easy to use website builder platform to make an e-commerce website, then Shopify would be an excellent option for you. They Shopify is mainly for making shopping websites, and they have some sophisticated e-commerce features which lead you to create a great shopping site. You get 70+ professional looking mobile friendly themes, marketing, and SEO benefits, store management facilities and many more. As it is a website builder for shopping, they have an app store named Shopify app store.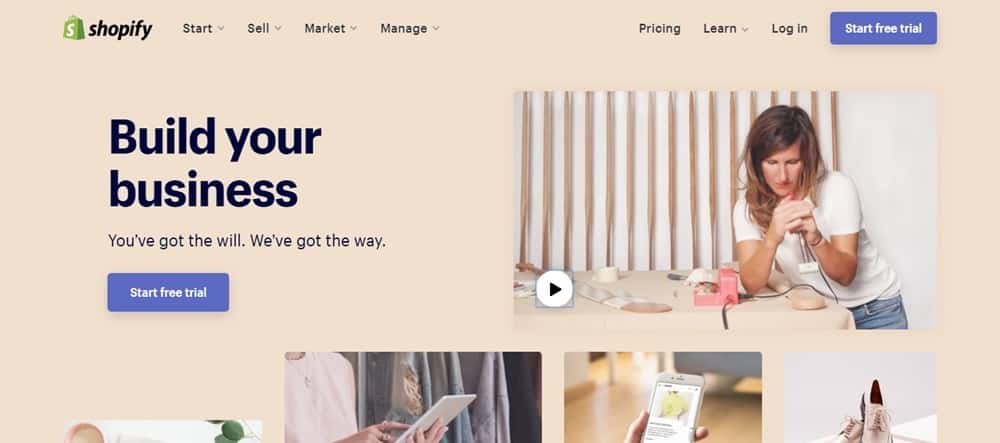 There you can find lots of apps to suit your business. You will see different categories like orders and shipping, store design, and marketing. SEO related apps like SEO image optimizer, SEO manager and so on. On Shopify, you get three packages, Basic Shopify, Shopify, and Advanced Shopify. The Basic Shopify plan is $29 per month, Shopify is $79 per month, and Advanced Shopify is priced $299 per month. A 14-day trial is also available there.
Compared to other website builders, Squarespace has the best modern, craftsman and clean templates. It is very easy to create a website on Squarespace. You just need to create an account on Squarespace, and that's it. You get 14 days trial, and after that, you have to choose a plan. Most of the website maker tools have both free or paid plans, but in Squarespace, you have to choose packages. You can make a blog site, e-commerce, restaurants, nonprofit website, and so on. They have a beautiful and integrated audio player. You can upload music to Squarespace and share that.
You can build pages by adding content blocks. Whatever feature you need you can find that on the content block. From gallery blocks to map blocks, video to social blocks, you get almost everything to create your site. As we told before their service is premium and they have two plans. One plan is for personal usage and the second one is for business. For personal websites, if you pay annually, it will cost you $12, and if you pay monthly, it will cost $16. For business purposes, it will cost $18 for annually, or if you pay monthly, it will charge $ 26.
Tribe is a ready-made e-commerce store solution build on Laravel Framework. It is a secure, customizable, and self-hosted e-commerce platform that enables business owners to start a free e-commerce store. The platform delivers the standard features that you need to start selling your products online.
Also, Tribe comes with a drag-and-drop option that enables you to design the front-end of your e-commerce store. It comes with e-commerce features like multiple payment gateways, multilingual functionality, shipping management, tax management, etc. As said, there are no setup costs to build an ecommerce website with Tribe along with zero transaction fees. You only need to pay for support, design, and migration services.
Thanks for reading. We hope you have enjoyed the article. If you have any suggestion or queries, please comment below.