India
There is never a dull moment in my life: Boman Irani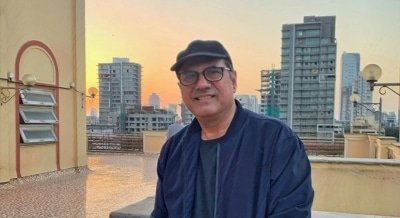 In a candid chat with IANSlife, Irani who is also a big sports lover, opens up about his schedule during the lockdown period and how he is utilizing time to teach, polish his photography skills and connect with his friends, family and the Parsi community. He also shares his favourite sport and how much he misses sportspersons playing on the ground. Read excerpts:
Q. How you are spending your lockdown days?<br>Irani: One may not believe me but during this lockdown, I am busier than I was before. Every morning after waking up, my wife and me usually chat for some time about life in general and my work.
After that, I prepare for my online sessions, which I have recently started on Zoom every day at noon. Considering that I am not tech-savvy, I do a lot of preparations before I take the session that is attending by nearly 45 people. The photography session goes on for 1-2 hours.
Once I get done with it, I quickly finish my lunch and get ready to moderate the next session with a group of most eminent photographers in the country where every day one photographer takes a session. They talk about their personal and professional journey during the session attended by almost 100 people.
I also do sessions with people like Johnny Lever, Gopal Das, people from the Parsi community, my friends and sports fans on my twitter and Instagram handles.
Let's say I am trying to make the most out of the lockdown days since staying indoors in the only way of survival and we must consider it a privilege.
Q. How are you motivating yourself at this time?<br>Irani: I usually enjoy chatting with my group all evening after I am done with my sessions for the day. Also, what keeps me busy is preparing for my discussions for the next day. In fact, those attending my photography sessions now want me to take sessions on acting. So, there is a lot to talk about in these online sessions and this is what keeps me motivated.
To be honest, there is never a dull moment in my life and I don't need any factor to keep me motivated. If we look at the brighter side, we are getting to spend so much time with our families. Panicking during such situations is only going to lower the immunity level.
Q. What are you missing the most during the lockdown days?<br>Irani: I just hope that the entire sports calendar this year resumes without any cancellation. And we get to see all the sportsmen/ sportswomen play regularly.
Q. What is your favourite sport?<br>Irani: I love tennis and I've been watching every tennis match ever since I was a kid.
Q. How are you keeping yourself engaged with the world of sports?<br>Irani: I will follow the games on Rooter and probably will watch some old football or World Cup games that I have missed out during my childhood days. I think I will also watch some old cricket clips, which one will never get to see today as they aren't on television but have been recorded in films.
I am also using this time to connect with sports fans on Rooter through Live video sessions. I usually take a fan online and video chat with them about sports. I also check it for all updates on sports. Their sports feed is very interesting.
Q. Do you have any tips for sports lovers? <br>Irani: Well! It is always important to love the game! You need to make it a passion to be able to enjoy it to the fullest.
Q. What are your post lockdown plans?<br>Irani: I haven't thought about it yet. Right now, I am simply enjoying every day by spending some quality time with family and being online with my close friends. I am not counting days as it tends to make each day longer. The lockdown will be lifted when the time is right.
Q. Are you learning any new skill?<br>Irani: I believe sharing is the best learning. During my photography sessions, even as a moderator, I try learning photography during those two hours from the experts. So, I would say listening is yet another skill I am learning these days.
(Puja Gupta can be contacted at puja.g@ians.in)
–IANS<br>pg/tb/