Web Solution
Sucuri WordPress Security Plugin Review And Features
Use The Securi WordPress Security Plugin To Protect Your Website From Hacking Related Threats.
Is it a big concern for you to keep your website safe from online hackers? Then the Sucuri WordPress Security Plugin would be an excellent solution for you.
There are lots of differences between an offline business and online business. On traditional businesses the whole environment is different; you need more workforce, more resources. But on the other hand, online businesses are quite different from that. Online ventures can work in a minimal workforce and work remotely from a place. Now, so many companies are online who are making billions of dollars. Besides that, lots of offline businesses have changed their business model and came online.
Related; 5 Best WordPress Security Plugins For 2020.
That gave lots of flexibility and more significant customer outreach. However, online business is, of course, can be operated from anywhere and can be expanded rapidly, but there is a big concern where we need to put our thinking.
Why is Website Security important?
If we are running any one business, we need to seriously put our effort into the security of our online activities. Why we are saying so, below, have a look at why you should give focus on your online business security.
First of all, it is about trust:
When you are running any business, you have lots of clients, and it is essential for you to make yourself trustworthy to them. After starting your business, if any security flaw happens, your business will get stuck. On your platform, there would be lots of data or transaction-related information that is on risk under the attack of hackers. It will create panic among your customers. They will lose trust in you.
The second thing is to lose in revenue:
Once your site is under attack, you need to shut your business for the time till it does not get fixed. Once your website is under any attack, you need to stop your business running. You need to stop giving the service to your customers, stop receiving payments. So, in that duration, you lose revenue. You need to fix that issue as soon as possible otherwise, your clients might get angry that they have made the payment but not receiving the service quickly. That will be a mess.
The third one is the reputation:
In an online business reputation is everything. If your site once gets attacked by spammers or hackers, put some wrong information on your website, it will be a massive humiliation for you and your business. It will impact your reputation severely. After putting the effort if you could be able to gain access to your site again, it is hard to say that you could be able to do business with that same name same website. Clients would think that once your platform was under attack, it may be risky to deal with you. They will skip you and will be looking for another option.
WordPress site and its vulnerabilities
Due to the increase of malware, brute force attacks, and hacking attempts, online businesses are on a significant threat. It is becoming challenging to manage a secure online business for that. Due to these activities, you may lose your web access, and hackers can steal your data or the data belonging to your customer. They can sell them out to the dark web that will be devastating. These incidents can immensely damage to your business. That's why, as a website owner, you need to take some serious action to protect your website against security vulnerabilities.
As we know, WordPress is the most popular CMS in the world. So, hackers are also mostly interested in hacking WordPress based websites. According to securityweek, on average, 18.5 million sites are infected with malware at any given time. An average website gets attacked 44 times per day. Roughly 90,000 websites that get hacked each day, 83% of them are using WordPress.
WordPress usually brings constant updates for enhanced security, but sometimes third-party themes and plugins make the WordPress site weaken. Sometimes hackers find these vulnerabilities in your WordPress that help them hack the whole server. So, if you are a WordPress user and want to keep your site safe from hackers, then you can use the Sucuri WordPress Plugin. This is one of the best and popular WordPress security plugin on the web. They provide advanced security solutions to keep their users safe from hackers. Now before we go into the details about it, let's take a look at what the Sucuri WordPress Security plugin is.
What is Sucuri?
Sucuri is a well-reputed website security company that specializes in WordPress security. The company provides a cloud-based Web Application Firewall (WAF) to protect your website from hackers, malware, DDoS, and blacklists. As well as, it also offers different products and services such as CDN, malware scanning, DNS monitoring, brute force protection, file change detection, and much more. This security firewall is specially designed to stop website hacks, attacks, and bad traffic.
Sucuri is an Us-based company founded in 2010, and it maintains a global presence with its professional team in over 23 countries across the major continents. It remediates over 700 infected websites a day. As well as, it monitors over 2 million sites and handles over 30 billion unique page views a month. Their dedicated team takes a defense-in-depth approach to website security with multiple layers and provides the most comprehensive solution on every matter.
Sucuri has a cloud proxy firewall that bypasses all your traffic before coming to your hosting server. So, if you enable the Sucuri WordPress Security Plugin on your site, it blocks any malware attack or hacker's attempt to put your website at risk, and you'll get only real visitors. As well as, it can help you to improve the speed and performance of your website, which can be helpful in your overall SEO.
Why do you need to use Sucuri as a WordPress Security Solution?
Securi is one of the reliable company that offers a wide range of website security features to all sizes of business around the world. Their useful tools make your site clean and secure for every moment. You can easily set up this plugin on your WordPress website. Now we are going to discuss some of the main features and benefits of the Sucuri WordPress security plugin.
Sucuri Website Malware cleanup:
Malware refers to any software which is created for malicious purposes. Hackers are routinely uploading malware to a legitimate website. They input malware to your website in different ways, such as; disguised plugins, source code manipulation, malicious redirection, drive-by downloads, phishing, or via backdoors, etc. So, if you use the Sucuri WordPress security plugin, you can easily remove and fix any malicious code in your website file system and database.


As well as, you can restore your hacked websites before it damages your reputation. Their capable malware scanner scans your website remotely to find any malicious payloads and malware. If the remote scanner isn't able to find payloads, you can also go to their manually check. Moreover, their Web Application Firewall (WAF) system also assures you that it will prevent any future attacks on your website.
DDoS protection and mitigation:
A distributed denial-of-service (DDOS) is any type of attack where hackers try to prevent legitimate users from accessing your website. Sometimes attackers demand ransom from web owners to stop DDoS attacks. So, to solve this problem, Sucuri provides a powerful plugin that can detect and block all types of DDoS attacks very easily. Its machine learning technology automatically prevents fake traffic and request from malicious bots. Their cloud-based network can mitigate massive network attacks with different layers.
Advanced Brute Force attack protection:
A brute force attack is a popular cracking method in the virtual world. This is known as an extensive search that relies on guessing the possible combination of targeted passwords until the correct password is discovered. Every website has the potential to be targeted by automated bots. Once attackers gain unauthorized access to your website, they will destroy your business.
The Sucuri WordPress security plugin has excellent functionality that can prevent your brute force attacks automatically and keep your site always safe. To stop brute force attacks, this plugin uses different methods such as; Signature detection, 2FA, Captcha, or passcodes, Limit login attempts, Country or geo-blocking, Whitelisting, etc.
Monitor your Domain Name Server with Sucuri:

Domain Name Server (DNS) is the most important aspect of the internet. The main function of the DNS is to translate domain names into IP addresses, which the computer can understand. Domain Name Servers (DNS) transmission the visitors to the correct places on the internet when they enter a website address or click a link. Moreover, it is an essential part of your website security. The Sucuri WordPress Security plugin provides a DNS monitoring tool for its users. This useful tool can help you check the reliability of the servers and changes in the DNS configuration.
Get a free SSL Certificates for your website:
SSL stands for the (Secure Socket Layer) and having an SSL certificate on the website ensures you protect your data from being misused. These certificates provide a specific method of encryption connection between an individual computer and your website.
SSL certificates are playing an essential role when a user doing a secure data transfer, credit/debit card transactions, individual logins, and other important information. These certificates provide a sense of security to customers and make visitors more likely to stay on a website for longer periods of time. In addition, it also affects your SEO rankings. So, as a web owner, you should always use an SSL certificate to protect the user data. If you use the Sucuri WordPress plugin, then you can get a free SSL certificate for your site. Securi WordPress security offers various free SSL Certificate options that are available on the internet today.
Improve your website performance and speed with Sucuri CDN:
As a blogger, we know what Content Delivery Network and its benefits are. Sometimes, we spend lots of money on buying our CDN. But if you use the Sucuri WordPress Security plugin, you can get their CDN service for free. This is one of the attractive features of Sucuri.
The Sucuri's global content delivery network helps you to improve your website speed up to 70% on average by caching your website content automatically. Their multiple datacentres situated around the world, such as; USA, Europe, Asia, Australia, and Brazil. So, you can quickly improve your website performance no matter where you are.
Security Alerts system:
Sucuri has an event monitor tool that detects all actions performed by WordPress. This plugin is very useful if they found any suspicious activity on your website; they will inform you quickly through their mail. The email alerts are enabled by default. You can customize the email and recipients for any alerts generated by this plugin. Additionally, it monitors global setting changes and core WordPress updates.
Secure and reliable backups:
The main reason for data backup is if there is a system crash or hard drive failure so that important files can be saved very easily. Every website should have additional backups if the original backups resulted in data corruption or hard drive failure. Sucuri Security plugin provides you with secure and reliable website backup to covered in the event of a critical data failure. Sucuri Backups service allows you to backup sites remotely via FTP or SFTP. As well as, you can set your back up system as a daily, weekly, or monthly. You can see all of the backups on your dashboard. Making restorations the file is very simple. Just you need to click on the desired backup date and your data will be downloaded to your device very easily. Sucuri takes only $5/Month for this backup service from its users.
The excellent support team:
Sucuri's dedicated team always (24/7/365) ready to help their customer. So, you never have to worry about dealing with a hacked site. You can contact with Sucuri by e-mail, live chat, call, or submit a ticket.
Affordable Pricing and Plans of Sucuri:
Sucuri and its complete website security solution provide reasonable pricing and plans for its users. You will be surprised to hear that they start their Basic plan at $199.99 for a year, which is cheaper than other security plugins. They have two more popular plans that are available at very reasonable prices. Besides that, you can also use their free option for your need. Now we are going to discuss them in detail. Let's check out it.
1. Basic plan:
This plan will cost you $199.99/Year. Some key features of this plan are,
Malware Removal and Hack Cleanup.
Brand Reputation and Blacklist Monitoring.
Advanced DDoS Mitigation.
CDN Performance.
Firewall – HTTP and PCI Compliant.
Customer Support.
30-Day Money-Back Guarantee.
2.  Pro Plan:
This plan will cost you $299.99/Year. Some key features of this plan are,
Malware Removal and Hack Cleanup.
Brand Reputation and Blacklist Monitoring.
Advanced DDoS Mitigation.
CDN Performance.
SSL Certificate Support.
Firewall – HTTP and PCI Compliant.
Customer Support.
30-Day Money-Back Guarantee.
3. Business Plan:
This plan will cost you $499.99/Year. Some key features of this plan are,
Malware Removal and Hack Cleanup.
Brand Reputation and Blacklist Monitoring.
Advanced DDoS Mitigation.
CDN Performance.
SSL Certificate Support.
Firewall – HTTP and PCI Compliant.
Customer Support.
30-Day Money-Back Guarantee.
Moreover, if you need enterprise features or coverage for multiple sites, they also have custom solutions. For this, you need to contact them directly.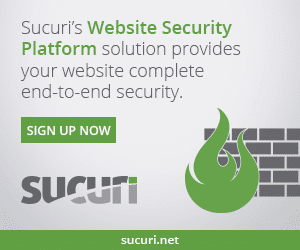 Final Verdict
The Sucuri WordPress Security plugin is simple to use. Once you install the plugin, you need to generate its free API key, which you can do directly from your WordPress dashboard. Sucuri will automatically help you with most of its security features. Since Sucuri is a cloud-based web application firewall, So it doesn't require any technical maintenance from your edge. As well as, once you set up this plugin, you don't have to worry about updating or managing it later. So, if you are looking for an all-in-one web security solution, Securi would be an excellent option for you.
Thanks for reading. We hope this was informative. If you want to read more web solutions related articles, then you can also read;