Business
SpiceJet plans to commence cargo ops to Myanmar; hauls over 4k tons of freight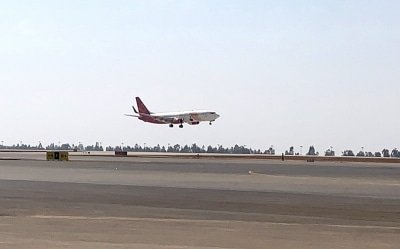 <br>Ever since March 26, SpiceJet has operated special cargo flights to and from Abu Dhabi, Kuwait, Singapore, Ho Chi Minh City, Hong Kong, Shanghai, Bangkok, Colombo and a host of other places carrying vital supplies and general freight.
Since then, the airline has operated more than 400 domestic and international cargo flights carrying more than 4,000 tons of cargo.
The company's dedicated cargo arm SpiceXpress has been doing doorstep deliveries to pharmaceutical companies, hospitals, diagnostic centres across the country.
Besides medical cargo, the airline has also operated freight flights to Abu Dhabi, Kuwait and other countries taking fruits and vegetables from India.
In one such instance, the airline operated a dedicated freighter services from Chennai and Vishakhapatnam to Surat and Kolkata to transport shrimp seeds.
At present, the airline is reaping benefits of diversifying its business model with addition of freighter operations.
The budget airline had a couple of years ago diversified into running a full-fledged freighter operation.
As fate be it, the airline's 5 aircraft strong fleet of freighters along with other planes and turboprops have till date since late March have ferried over 4,000 tons of commercial and medical cargo.
According to Ajay Singh, Chairman & Managing Director, SpiceJet: "SpiceJet is putting its freighter and passenger aircraft to maximum use to carry medical and other vital supplies in these difficult times and is firmly committed and honoured to be a part of the government's 'Lifeline Udan' initiative."
"Since the lockdown began, we have operated more than 400 flights transporting more than 4000 tons of cargo. Our domestic cargo operations have been significantly boosted by our passenger aircraft fleet where both our B737 and Q400 aircraft have been deployed to operate cargo-on-seat flights."
Presently, the airline has hauled over 60 per cent of the total cargo that have been moved by domestic airline sector.
Lately, in the absence of railways, which is the largest and insurmountable competitor in the domestic market, local players are having a field day in hauling cargo.
It is also not surprising that some of the largest aircraft fleet owners globally are cargo companies.
Not just the international cargo flights, the airline has played a big part in the government's Lifeline Udan scheme.
As part of India's war against COVID-19, the Civil Aviation Ministry had launched Lifeline Udan flights on March 26 for movement of medical and essential supplies across the country and beyond.
On April 7, SpiceJet operated India's first cargo-on-seat flight carrying 11 tons of supplies in passenger cabin and belly space from Delhi to Chennai.
The airline has been regularly deploying its B737 passenger aircraft to carry cargo in the passenger cabin. It is also using the Q400 turbo-prop aircraft to ferry medical supplies.
Currently, no foreign or domestic passenger flight operations are allowed in the country.
(Rohit Vaid can be contacted at rohit.v@ians.in)
–IANS<br>rv/sn/rt