Education
Simplilearn partners with the University Of Massachusetts (UMass) Amherst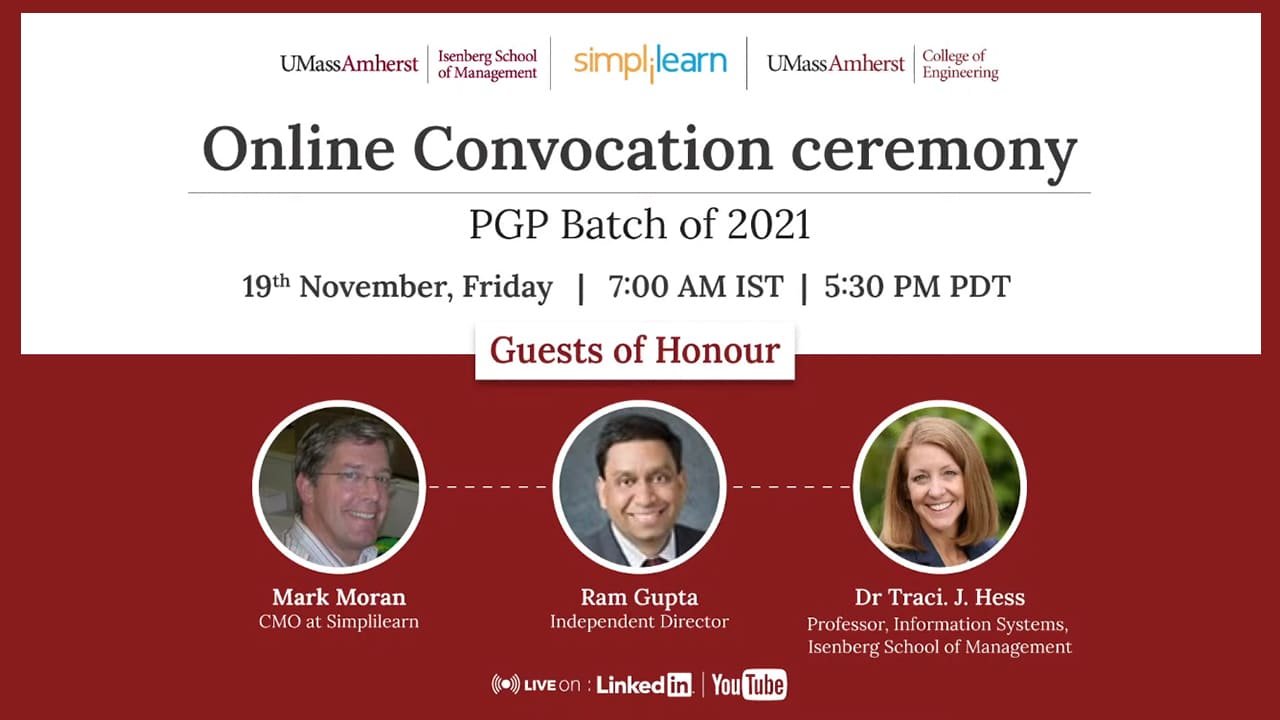 Mumbai, India: Simplilearn today, hosted its first virtual convocation ceremony in partnership with UMass Amherst, congratulating over 106 learners for successfully completing their post-graduate learning with Simplilearn. Gracing the event with their presence were Dr. Traci J. Hess, Associate Dean, UMass Amherst, Ram Gupta, UMass alum, and Independent director on the board of directors of a number of early and growth-stage companies, and Mark Moran, Chief Marketing Officer, Simplilearn.
The online valedictory ceremony is a joint celebration by the University of Massachusetts Amherst (UMass Amherst) and Simplilearn of the successful competition of the Post Graduate Program of learners in three categories: Project Management, Lean Six Sigma, and Agile. The graduation ceremony, filled with energy and excitement, was live-streamed on YouTube and LinkedIn. The graduates shared their testimonials and experiences during the program.
Speaking at the convocation, Mark Moran, Chief Marketing Officer, Simplilearn, said, "It gives me immense pleasure to be here with this batch of eager, talented, and vibrant learners who have successfully completed their post-graduate programs in their chosen streams. While the nature of jobs may shift with technological intervention, everyone, irrespective of their age or level, will have to invest time in either upskilling or reskilling. I am certain that the learnings from the programs will enable the graduates to excel in their respective careers despite the fast-changing job landscape. I hope all of you will try to be consistent in delivering the best in your professional spheres."
He added, "Simplilearn has always been at the forefront with upskilling students with industry-relevant courses. Together with the University of Massachusetts Amherst, we are pleased to have upskilled over 106 students with relevant and applicable skills. Learnings from these programs enable the graduates to stay ahead in the digital world and make them industry-ready."
Congratulating the students, Dr. Traci J. Hess, Associate Dean, UMass Amherst, said, "Congratulations to the learners on completing their Post Graduate Programs. As the technology landscape continues to expand, especially during the past year and a half, the Project Management, Lean Six Sigma, and Agile skills from these programs will help graduates succeed in their roles and contribute to efficiencies and innovations in their respective workplaces. As they consider the next steps with their graduate education goals, I look forward to seeing them utilize their new knowledge and skills to advance in our digitally-driven new normal. Wishing each one of them all the very best as leaders in their fields."
Mansi Shah, who completed the postgraduate course in Lean Six Sigma, said, "The Lean Six Sigma course provided valuable insights related to continuous improvement. The tutors were very knowledgeable and helped me understand difficult topics with great ease. The masterclass from UMass Amherst helped me understand current trends in lean six sigma, and the KPMG capstone project helped me gain practical exposure. Overall, it was a wonderful experience."
This event is the first virtual graduation ceremony completed with UMass Amherst.